What makes the Flight Bag PLC Pro the ultimate flight bag?
Designed by pilots to meet the exacting needs of the cockpit environment, the PLC Pro is built from the ground up to be the ultimate solution for storing and protecting all of the gear you will need while flying, with a special focus on your most important tool, the iPad. It has a specially designed, airport check-point friendly protective pouch to hold an iPad, laptop computer or many other electronic flight bag devices. All of the compartments are easy to see into, making it simple to find what you are looking for. There is room for everything a pilot needs to take with them in-flight. The Flight Bag PLC™ Pro bag is designed by pilots for pilots to be the ultimate flight bag for all aviators. This bag gives you the style, storage, organization, compact size and functionality like never offered before.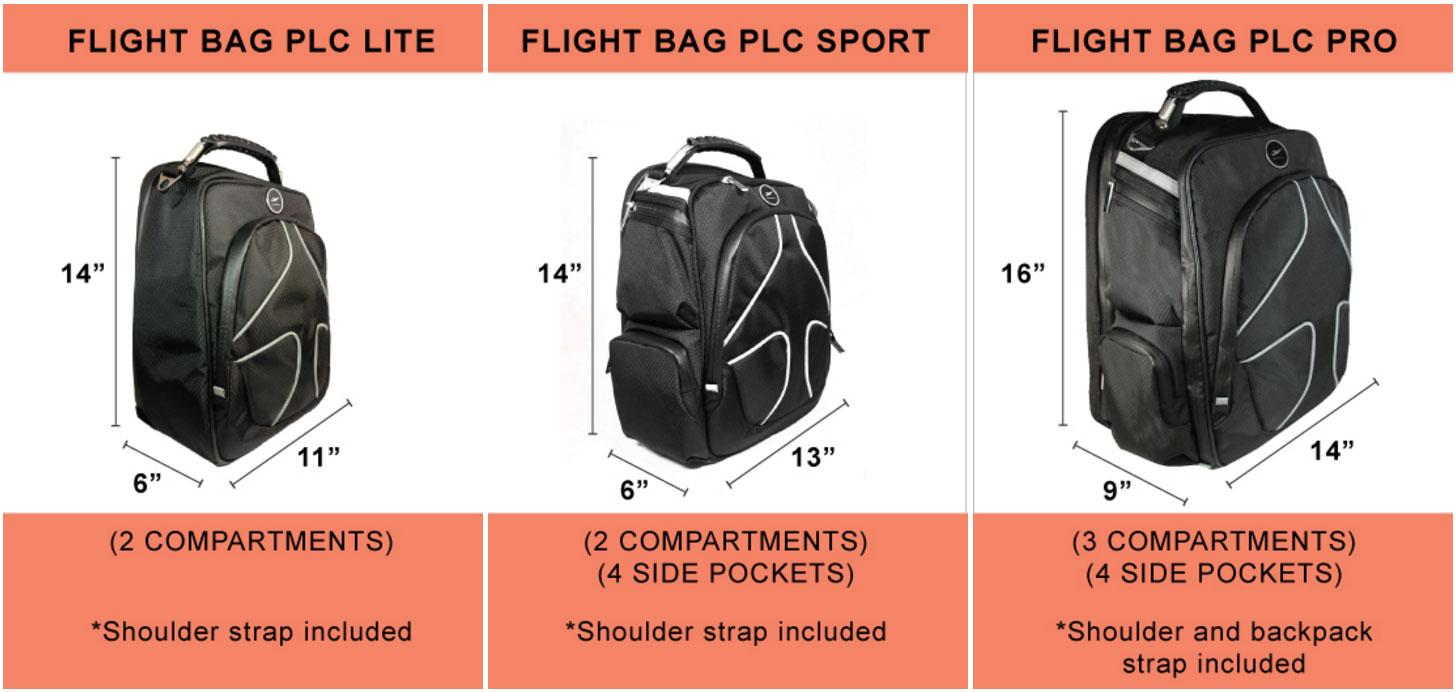 STORAGE LAYOUT
Front Compartment - Business pocket provides storage for pens, business cards, flashlights, documents, cell phone/iPod/PDA, keys, etc.
Quick Access Pocket (Top) - Store items you will need to access quickly such as wallet, sunglasses, keys, etc.
Middle Compartment - Accordion style pocket provides easy access to store 2 headsets side-by-side or one on top of the other. Compartment also used for overnight items.
Rear Compartment - Strap to secure glasses in case or an optional Air-Tight Fuel Tester container, see through zippered mesh pockets, zippered document pouch, Airport check-point friendly EFB/Laptop/iPad protection pouch (just unzip bag and fold open, computer stays inside).
Side Compartments - Large side pocket provides storage for hand held radio. 3 other side pockets provide storage for batteries, water bottle, etc.
Back - Hidden I.D. badge keeps your identity protected, back pocket unzips to allow bag to fit onto luggage cart or luggage handle, or keep back pocket zipped to store magazines or other documents.
HEADSET STORAGE:

Storage for 2 headsets or overnight gear

iPAD STORAGE:

Padded pocket designed to protect the iPad or other tablets

LAPTOP STORAGE:

Padded pocket can also store and protect up to a 16" laptop.

RADIO/BOTTLE STORAGE:

Large side pocket is designed to hold a hand held radio securily. Or it can fit a water bottle.

MESH POCKETS:

Interior pockets are made out of mesh to easily locate and access your gear.

WATER RESISTANT:

Exterior of the bag is made of sail cloth making it water resistant.

CHECKPOINT FRIENDLY:

Laptop pocket lays down flat to make it airport checkpoint friendly.
Dimensions: 16" L x 14" W x 8" D
Carrying Choices: Ergonomic rubber handle, aircell shoulder strap &/or aircell backpack strap
Compartments: Front, top, 2 side, middle, & back
Weight: 3lbs 6oz
Heavily padded backpack and shoulder strap included.