Avionics Capabilities
 RVSM Installation and Testing
 KING GOLD CROWN- Series I,II,III
 24-month PITOT/Static checks
 ELT 121.5/406mHZ
 TCAS I & II - Traffic Avoidance
 EFIS-Panel Upgrades
 Panel Modifications
 TAWS, GPS/FMS, RADAR, EGPWS
 NAV/COM, MFD, ADF, DME
Aircraft Maintenance
 Annual Inspections
 50/100 Hour Inspections
 Pre-purchase Evaluations
 Oil Changes
 Aircraft Detailing
 Paint Correction
 Propeller Balancing
 Corrosion-X Treatment
 Oxygen/Nitrogen Service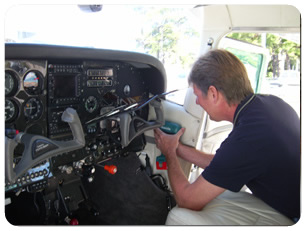 WIRING HARNESS / CUSTOM PANELS
Sarasota Avionics can provide a number of solutions for Light Sport and Experimental customers. Our wire harness packages provide a no-hassle, quick and easy way to install the equipment yourself. We also have the capability and expertise to design and produce custom metal panels in-house.
Contact us today to get a customized quote for your aircraft!
AUTOPILOT REPAIR
Sarasota Avionics offers expert autopilot repair. Our Chief Technical Advisor and autopilot specialist, Larry Viergever, brings over 40 years of experience. We have the expertise and capability to troubleshoot and repair your autopilot in a timely manner. Don't waste your time and money on a shop that doesn't have the knowledge or resources to fix your problem. If you want your autopilot to work correctly, call Sarasota Avionics!
 S-TEC System 20, 30, 40 , 50, 55X, 60-1, 60-2, 65 and PSS
 Bendix King KFC 150, KAP 140, KFC 200, KFC 225, KFC 250, KFC 325
 Century Century II, IIB, III, IV, 2000, PIPER AUTO CONTROLS