We know the aviation industry is small, and word spreads fast (good or bad!). Which is why we work diligently to keep up our excellent reputation. The testimonials below are actual comments from some of our satisfied customers. If you would like to include a comment of your own, please Contact Us and let us know!
---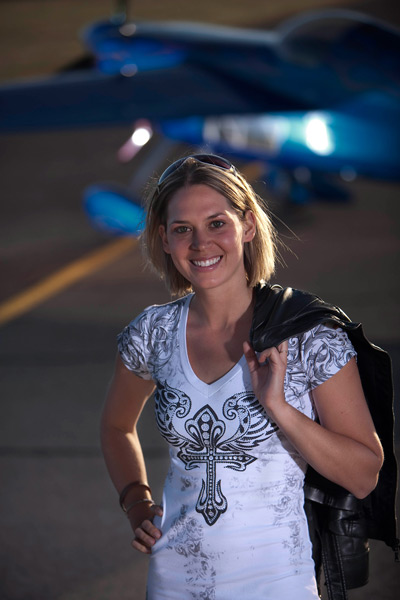 Melissa Pemberton
I first met the crew from Sarasota Avionics at an airshow and instantly got along with them! If you take the time to visit their booth at Oshkosh or Sun'n Fun, you will have the chance to learn what real customer service is about. They installed the best panel for me that any aerobatic airplane has ever seen, and used space that I didn't even know existed in the Edge!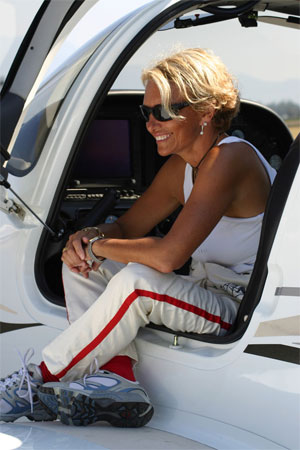 Patty Wagstaff
As you might guess, I'm a demanding customer. Let me give you an example. I was recently ferrying the Extra over a remote Mexican jungle miffed that my Sat weather wasn't working. From the cockpit I sent a text message to my friends at Sarasota Avionics explaining the problem and got an immediate text back saying they would look right into it. You could say that pretty well re-defines the term "Customer Service!" Of course, while I can't promise that every transaction with Sarasota will come with a text message option, I'll bet if you meet the guys at the Sarasota Avionics booth and get to know them, you might get the same great service.
---
Awesome Panel
I have been trying to find the time to type an email to you guys to let you know how awesome the plane is and how proud of it we are. I love the panel. We did our first approach to minimums going into Asheville KAVL this past Sunday and it was flawless. I have gotten some good time in the plane and think its a good platform for us. I flew one of my instructors in the plane and he was very impressed with the autopilot and the rudder bias on the hands of ILS approach.
John W.
---
Service After Memorial Day
It was a great experience. I was thrilled you could find a way to fit me in after a holiday weekend and with all the other scheduled work. The team and the professionalism was great. Thanks again for making it possible for me to get home.
George J. - Boca Grande, FL
---
Quality and Timely Work
I just got back from our trip last Friday afternoon. According to Foreflight we covered 4858 miles and about 32 hours of flying. Everything worked flawlessly! I wanted to thank you and Garrett for not only the quality work, but also meeting our timeline. Your efforts are greatly appreciated.
Lynn S. - Vero Beach, FL
---
Praise for Lantana Shop
I recently had my V35A at Sarasota Avionics in Lantana,Florida. It was in for a new Garmin GTN750Xi, GTX345, GI275 (x2), etc. Henrique was fantastic in the way he presented all the different options and came up with the perfect panel. The shop is spotless, and all the people working for Sarasota Avionics at Lantana are professional and courteous. I have recommended your shop to all my Pilot A/C owners, that there's no better shop and manager like Henrique DaSilva. All the best.
Stephen P. - Deerfield Beach, FL
---
Everything Works Flawlessly
Hi Kirk, I own a 1982 Cessna 414A that TJ, Larry, Mark, and Gilbert just did a total Garmin update to. After going through what I would describe as the normal teething pains of a job of that size, the airplane is now performing as I had expected. I use the airplane for personal, business and to do 3 to 5 Angel Flights a month. I flew 225 hours last year. Yesterday, I had a flight from KPIE-KPNS-KOPF-FXE-KPIE. With all the weather that was here in Florida, I certainly got to put all the new Garmin equipment through its paces. Attached are a few pictures, and a couple of short videos of yesterday's trip -- almost 1400 miles, 6 hours and 45 minutes of flight time. Everything worked flawlessly. I couldn't be more pleased with the work that Sarasota Avionics did on my 414A. Having spent a number of days at the Sarasota shop while the work was being done, I can tell you you have an excellent crew there.
John T. - Largo, FL
---
The Communication Stands Out
I am absolutely loving the equipment that you installed. Everything seems to be working great and I am still working on learning all about it! I am so happy there are so many less cords running around open in the cockpit and I have so many new features! I even made a phone call in the plane the day I brought it home. I am beyond excited about all the new things I can do! Again, still trying to learn it all.
Thank you guys so much for your help! I am so glad I chose you all to install the equipment! You did a great job and communicated with me the entire way! The communication stands out to me as I've had horrible communication issues with almost everything I've ever done in aviation and it gets really annoying. You guys responded quickly when I emailed and at other times informed me of information without me even reaching out. You guys treated me like I was paying millions of dollars and it means so much! Thank you guys for all your hard work!
Matthew S. - Jefferson City, MT
---
Lantana - Great service!
I met you at Sun N Fun in December 2020 at the Winter Fly-in. Since then I purchased an IFD 440 from you and had nothing but great luck with it. While traveling in Florida last month I stopped in Lantana for a scuba trip in West Palm Beach and had problems with my transponder on the trip down from Virginia. After diving, while driving to the airport with the plan of pleading for forgiveness from ATC for not having a working Mode C, I noticed your Sarasota Avionics sign from the road coming into the FBO. I didn't even know you had a shop there (I landed at night on the way in, so I didn't see your sign from the field). I went over and asked about getting a new transponder and if you had one in stock. Thats when Henrique Da Silva went above and beyond what I expected. He drove out to our plane and helped to identify the exact transponder and altitude encoder we had and called several of your shops/warehouses to find parts to get us out of there that same day. His crew was able to identify that it was only the encoder that was the problem and had me out of there in less than an hour. I left feeling much safer flying home and happy to have such an honest sales interaction that he didn't try to sell me on something that I didn't need, even though I was asking for it. I will do everything I can to always do business with Sarasota Avionics and refer anyone I know to your business as well. Thanks!
Scott S. - Roanoke, VA
---
Great Customer Experience
Just picked up my 182 today after an extensive avionics upgrade and was very impressed with my whole experience. Met Ryan and John at SunNFun and I could tell they were very customer oriented. TJ was my POC throughout the process, always available, quick response to all queries. Perhaps the highest compliment I can give is how TJ addressed a technical issue about the legacy display. Although it cost additional man-hours, Sarasota Avionics configured to my wishes even though not specifically spelled out in the initial work-order. Great job crew and thanks for the personalized pickup and delivery!
Larry P. - Steinhatchee, FL
---
Help with Older Equipment
I fly a 1981 F33A and typically most of the avionics shop in the Atlanta area have absolutely no interest in looking at the older equipment - period. They are only interested in dealing with you if you fly a jet or if you're willing to spend 40K on a complete panel upgrade. I've heard of Sarasota Avionics before and I know you guys are not a small operation, but It's so refreshing to see that you guys are still willing to treat us "smaller guys" with respect and a willingness to help fix a problem, even if it's small. Sadly that's not something I see very often in general aviation. I will definitely remember this interaction and you guys will be the first call I make when I need something else done. Please thank Larry again for his help and knowledge and please pass my appreciation up the chain as well.
Jeff C. - Atlanta, GA
---
Prescient Awareness of Humanity's Wanderings
Valerie, Garrett, Henrique. Sarasota Avionics, Lantana. Immaculate performance, prescient awareness of humanity's wanderings. Our complete replacement of G1000 and Comm board on time on price. Varlerie's and Garett's beyond performance examplified when Textron, Garmin, and Yingling Aviation in Wichita created a one off that no one should endure. These talented and so professional people got us up and out. Valerie will get it done. But also, respect Valerie. Thank you.
John H. - Brighton, CO
---
Continued Outstanding Service
Just a quick note to thank you and everyone at Sarasota Avionics for the continued outstanding service I receive from you all. I am thrilled with the Aspen Max you installed and I am receiving the glide slope as advertised now. Fred did a great job on both. I noticed in my log book when I attached this entry that it was 16 years ago that Kirk installed what was then a state of the art avionics suite. I'm as happy with this panel now as I was then. What a great relationship we have had all these years. It's good to know if I have a problem I have a friend to call. Thanks again.
Ron C. - Clearwater, FL
---
Quite a Journey
This has been quite a journey, and today marked the completion with a successful test flight. We started the upgrade in late November and this has been a long half-year, yet a great experience for me (and I hope for you as well). It has been a pleasure to get to know all of you. I am sincerely impressed by the professionalism, the creativity and dedication that you have all brought to the table. The outcome is excellent – and I am certain you know that and expected it to be. The various changes such as adding the GFC500 in the middle of the project were certainly not easy for you, yet it appeared you mastered those with ease. I would recommend you all day long and will hunt down other C182 owners to send them your way! I look forward to the continuation of our work together; I am sure more is to come. In the meantime, thank you very much. See you on the field at KLNA.
Oliver C. - West Palm Beach, FL
---
Great team and great experience!
Ryan, my sales person was extremely knowledgeable about all avionics available for my aircraft. He worked within my budget and had great ideas for making a beautiful panel. The office Manager, Monica, is amazing. She kept me aware of the progress at every juncture and helped me stay compliant with FAA Regulations. Every business should be as fortunate to have someone like Monica working on their team. The installer, Danny, was meticulous with the complete installation and was detail oriented as to the performance and operation of all the avionics in the aircraft. The A&P mechanic, Dan oversees all mechanical issues and as a pilot himself, brings another level of expertise into the work they do. Kirk, the owner oversees the entire operation. Great team and great experience!
Dan R. - Naples, FL
---
You guys are "That good"
My instructor/neighbor/friend flew the plane today (the guys that said something always doesn't work when you get a plane back from major maintenance) and could not find any issues at all. All perfect. You guys are "That good". Thank you for all your hard work. Did a pass over the house and she looks, and sounds awesome.
Bruce S. - Coral Springs, FL
---
Breath of New Life
From Barry in sales, who commented the only thing that could improve the package would be a second Nav/Com like the Garmin 255A in his personal opinion. I went with that advice later after delivery of my airplane to Punta Gorda. To George and his wizards who effectively brought my 1978 tired and sad Cessna into 2020 ADSB compliance for the 21st century breath of new life she deserves. Thank you to Sean for the tutorial. I admit I was a bit overwhelmed with it all in the beginning, but it was reassuring when you told me to take my time, I had all day. The flight home was awesome, dodging CBs for an average altitude of 8,500, lean of peak, and trimmed smooth, I felt comfortable enough to play with things, and really was amazed with the traffic all around me. Sarasota Avionics exceeded the word well. What you can do better is to continue as the efficient team that you are.
William S. - Blountstown
---
Smiling testimonial
I have been dealing with Sarasota Avionics for three years. They have completed major avionics upgrades, minor upgrades as well as aircraft maintenance. Always the same; on time, on budget, on spec! Dan and his team are always there for my minor & complex problems, Monica so organized! Kirk, his team always has time and Mary Ann always pleasant and helpful! Sarasota is the only U.S.-based avionics company I will deal with, they always make me happy.
Robert L. - Venice, FL
---
Tullahoma install
Just a note to tell you how pleased we are with the purchase and installation of the KT74 from the start with you at Oshkosh to the completion at Tullahoma. Chuck and the staff were outstanding individuals with whom to work. Their professionalism and quality of work is second to none. The "icing on the cake" was to the extent that everyone involved has made us feel like valued customers. I have no doubt that your partnership with them will continue be very successful.
Paul L. - Smyrna, TN
---
Appreciation for George Menosky & the KPGD Team
I want you to know just how pleased I am with your shop at KPGD. George Menosky and his team have done an outstanding job in ensuring that everything related to my avionics install was perfect. In fact, when one of my components was defective from the factory, George personally communicated with me frequently via email to give me updates on what was going on and what he was doing to get the problem resolved. It took quite a bit of doing with the manufacturer, but in the end I flew away with everything I was promised and everything working just right. What's more, everyone has a great attitude and is happy to see me whenever I'm there; I feel like part of the family. Congratulations to you for the organization you have developed. It may be hardware that you sell and install, but it's great service that creates loyal customers. I know, I'm one of them! I will soon be considering some additional work for my aircraft and it is because of this that Sarasota Avionics is my first choice.
Ralph R. - Miami, FL
---
Transponder Repair
Transponder now triggers on "alt" automatically on the T/O roll and goes to "ground" ops after landing. The shop in Sarasota IS the best in Florida (no doubt). They quickly figured it out and reprogrammed it for FREE. Two other shops couldn't get that figured out for us. When we eventually have to replace the HSI or AI next time, I really think we need to consider Sarasota. They are very big and light years ahead of other shops in all regards (people, professionalism, equipment, organization and expediency).
PremoAir Inc. - North FL
---
Satisfied Customer
Sarasota Avionics has provided service and installation on my last three aircraft. They have provided everything from three full glass panel installations, to supportive aircraft maintenance, wingtip tank installations, and engine installations. In each and every instance the staff, under the watchful eye of their management, has performed without hesitation and with un-equaled professionalism. When squawks arise they diagnose and provide solutions that continue to keep my planes in the air so that I can fly without worry! All this has been done in a thoroughly cost competitive manner from technician to ownership. I have been many places in the life of my aircraft and none equal Sarasota Avionics. If you try them out you will be a satisfied customer.
Barry D. - Earlsville, VA
---
Thank you for a job well done
I've finally completed my panel and interior upgrades with Sarasota Avionics in FL. While the project took longer than I anticipated, I was blown away by the final product. The new panel and avionics are a breeze to operate and make it where the plane nearly flies itself. The interior is on par with my automobile and is incredibly comfortable. I requested several mods which hadn't been done in an original 36 Bonanza before such as contoured G36-style side panels and a newly designed one-piece headliner with LED touch lighting. The inertial-reel BAS shoulder harnesses were a major upgrade from my old harnesses. The final piece to this project was the excellent instruction on the ground and in the air by Leonard van Linschoten (Sarasota Avionics' instructor and pilot) who had me instinctively flying the new system remarkably quickly. To Kirk, Bert, John, Ryan, Tom, Monica, Jessica, Leonard and all the rest...thank you for a job well done.
Cameron G. - Eastland, TX
---
Getting Used to the Magic
We arrived safely back home after about 12 hours via Savannah GA, Salisbury MD, Syracuse NY and CYSH. The avionics worked as advertised. It took me the first leg to get used to the "magic" before filing IFR on the remainder of the flight. Helen really loves the new stuff and has been reading lots to get use to the glass instruments. The aircraft is a moving advertisement for Sarasota Avionics and I am referring lots of people to your company. Looking forward to seeing you in the winter.
Ron & Helen M. - Smiths Falls, Ontario
---
Thanks for the Help
I wanted to contact you today and thank you so very much for all the help. I had the most enjoyable flight of my life. No problems and all works great. Thanks again for the help and also for following up.
Anthony C. - Southampton, NY
---
Phenomenal Work
Everything is going great! We've been flying the Twin Beech quite a bit. A couple of weeks ago we flew it to Tullahoma, TN to the Beechcraft Heritage Museum fly-in and it was a big hit. The work you guys did is phenomenal. John Caldwell et al did a fantastic job. You did exactly what I asked and you did it very well and I've had zero problems. I hope all of you guys are well and happy and I hope to see you one day soon.
David F. - Midland, TX
---
Dual Aspen Install
Everything is working well, and the more I learn the more I like the simple displays. My biggest concern with the Aspen equipment was temperature and shutdown, but I have not seen that once. I was at KSFB today and an A36 owner was looking at my plane. He was really impressed with the plane and the Aspen install. He asked a lot of questions and wanted to know how I liked the overall display. He was concerned about too much clutter. I found myself telling him the same words you told me. "Find the things you like and display those and do not show those that are too much." Anyway, thanks for doing such a great job on the installation. I kept expecting to have some sort of problem but nothing has surfaced so all I can say is you guys did a super great job. You can be sure I will point people to you anytime they are looking for any avionics work.
Bill J. - Richmond Hill, GA
---
Keep Up the Good Work!
It's hard to put in words the level of service you provided this past weekend. You guys went above and beyond what a normal shop would have done. I will proudly show off my panel and recommend you guys to other owners. KEEP UP THE GOOD WORK!!
Bruce B. - Nicholasville, KY
---
Thanks for the hard work
Ki, The GTN-750 worked great on the way home! Sadly, thunderstorms on the return leg, my work schedule, and tropical storms kept me from giving her a full workout so far--but all of the basic functions appear to be flawless (and I have no doubt that everything is good to go). Thanks again for your flexibility and hard work. As you're aware, purchasing it by the 15th and installing it while I was in town for work significantly reduced the time and cost—thanks again for a flawless install. Cheers
Curtis S. - Navarre, FL
---
Baron upgrades
Kirk, I recently received a letter in the mail from you asking for feedback about my recent installation. My most recent installation was actually my 3rd one with you all. This was for a Flightstream 210 which I absolutely love. My previous installations were for some Aspen upgrades (synthetic vision and AOA) and before that we did a major panel upgrade. I've been very satisfied in every interaction I've had with your team – especially with the crew in Tampa. Ryan at Tampa is an amazing service rep for you all. He's patient, responds promptly, and he's super friendly. You need to do whatever you can to keep him around. People like him are really hard to find. I'm sure I'll be back as I continue to do more upgrades on the Baron. I appreciate everything that you all have done so far. Keep up the good work!
Mike D. - Daytona, FL
---
You lived up to your reputation!
Just replaced 2 Garmin 430W's with the GTN650 trade-in upgrade. The install and service went without a hitch. Got it right the first time!! Overall the best avionics shop I have dealt with in the industry. Knowledgeable and great staff at the Venice location. Very happy with Sarasota Avionics.
Brad M. - O Fallon, IL
---
Pilot
Picked up information on Sarasota Avionics through other people in area. My airplane is Cessna twin T310R which is used for business. Was having a problem with the autopilot, explained the issue to Larry he knew right away where to begin. Was very detailed with everything he was going to do, explained to him that time was of the essence as we had trips planned. They did an excellent job of communication, getting the job done quickly, also had genuine concern on the work that was done by them as he said for me to call him and to do a test flight. They did unbelievable work. Also, was very detailed on the paperwork which is extremely important to me. In the aviation world everyone knows there are a lot of people out there whose work not to the best standards. I really expected a lot as down time is not really an option for us and Sarasota Avionics did everything I could have expected and more!
Alexander M. - St Petersburg, FL
---
Superior customer service
Great customer service. About two months ago I ordered a Sennheiser S1 Passive headset from Sarasota Avionics to start my schooling off right. After 24 hours in the cockpit my headset quit transmitting. Upon notification of the problem, Sarasota Avionics sent me a RMA to return the headset so they could deal with Sennheiser directly vs. me dealing with them. I sent my headset back on a Saturday and I had a new S1 on Tuesday before I went to class for night navigation. You just can't beat great customer service. I will seek Sarasota Avionics out for as many of my future purchases as progress through my program. Thank you to all of the staff for getting me back on track again with a good, comfortable headset.
Tracie C. - St Johns, FL