NEW SOFTWARE AVAILABLE FOR GTN Xi, TXi AND GI275
Adds Database Sync Improvements, GI 275 Interface Capability
Garmin is pleased to announce the approval of multiple software upgrades across several products, including GTN Xi series navigators, TXi flight displays, and GI 275 flight instruments. Software version 20.30 for the GTN Xiseries, version 3.50 for the TXi series, and version 2.60 for the GI 275 are available now on the DRC. These updates improve the database update process in several ways, add GI 275 and G500H TXi interface capabilities as well as many other improvements. Part 23 and Part 27 STC updates for the GTN Xi series, TXi series and GI 275 have received FAA approval.
Database Update Improvements
GTN Xi, TXi and GI 275 installations can now leverage faster Database Sync speeds – up to 10 times faster than before, increasing sync speeds from up to 10Mb/s to up to 100Mb/s. This speed improvement allows pilots to sync databases between all compatible units in just a matter of minutes. In installations where the database source is a GTN Xi, the primary comm remains usable while database updates are syncing – so preflight work is not interrupted. Once the database sync process is complete, coordinated restarts allow all units that received new databases to restart without manually power cycling the avionics. Expired or mismatched databases can now be more easily identified on the new initialization page, which only displays the individual database statuses if there is a mismatch or expired database.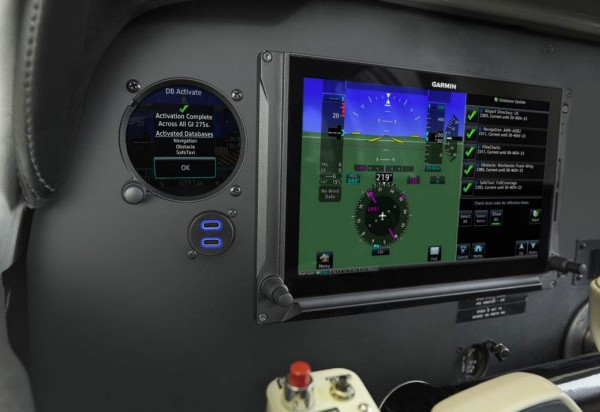 Along with database update improvements, GTN Xi software version 20.30 includes the following feature updates:
Fly-over waypoints are now designated with their own unique icon on the map page.
Flight plan waypoints that are used for transitions are now displayed in gray text on the flight plan page, allowing pilots to easily identify transitions.
G500(H) / G600 / G700 TXi Updates – Version 3.50
Along with database update improvements, TXi software version 3.50 includes the following feature updates:
This STC approves interface between the G500H TXi and GI 275, allowing it to serve as a standby AI (altitude, attitude, and airspeed) instrument in approved Part 27 rotorcraft.
Fly-over waypoints are now designated with their own unique icon on the map page.
New aircraft reports containing system and database information and can be exported to Garmin Pilot or an SD card.
Improved support for Synthetic Vision Technology (SVT™) enhances terrain and runway depiction.
Database source selection list now gives users an opportunity to view the download source of a database to determine if databases were updated wirelessly via Connext®. This will assist users with troubleshooting database update issues if they arise.
GI 275 Updates – Version 2.60
Along with database update improvements, GI 275 software version 2.60 includes the following feature updates:
New miscellaneous user-selectable data fields on HSI and HSI map pages. Pilots can now select ground speed, OAT, TAS or wind information to be displayed.
Users will now be able to view additional FIS-B weather products including Center Weather Advisories, Cloud Tops, G-AIRMETs, Icing Forecasts, Lightning, and Turbulence Forecasts. These features are included in the subscription-free* FIS-B weather services.
Newly relocated RP mode engagement is now available at the top of the Menu page to allow for simpler access.