Scalable Glass Cockpit Touchscreen Solutions
Bright, crisp 10.6" and 7" LCD touchscreen displays offer industry-leading scalability and flexibility in a wide range of panel configurations
Meets higher software assurance levels required for Part 23 Class 3 aircraft (MTOW more than 6,000 lbs and 12,500 lbs)
Engine information system (EIS) optionally available on dedicated 7" display or 10.6" display with split-screen data strip
HSI mapping enhances situational awareness with MFD-like geographical map detail, weather, traffic display and more — overlaid within HSI portion of the primary flight display (PFD)
Interfaces with popular avionics and autopilots, offering full touchscreen system continuity with Garmin's GTN™ 650/750 series¹
Full compatibility with original G600 system sensors for a simplified, cost-effective upgrade path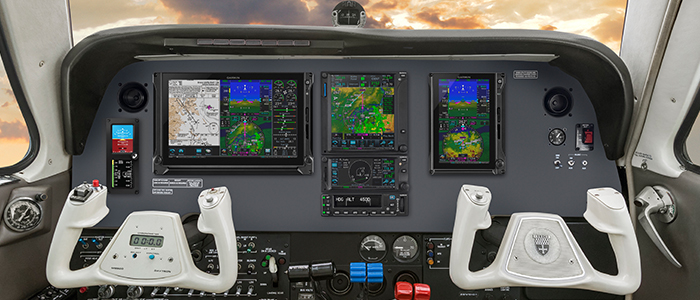 G600 TXi is a revolution in retrofit flight displays. It boasts a clean-sheet touchscreen design and builds on the proven capabilities of the original G600 glass flight display series to offer you a vastly expanded array of features, options and panel layout possibilities. It also includes system software that meets the higher assurance levels required for FAR Part 23 Class 3 aircraft (typically piston or turbine aircraft weighing between 6,000 lbs and 12,500 lbs). Backed by Garmin's No. 1-ranked product support team, the G600 TXi upgrade makes it easy to bring next-generation technology to virtually any cockpit you can fly without a type rating.
Going with Glass Just Got Easier
G600 TXi glass touchscreens integrate with the GTN touchscreen GPS/Nav/Comm series¹ to provide a fully certified glass suite solution — with reliable attitude/heading reference system(s) (AHRS) replacing the old-style, maintenance-prone mechanical gyros in your system. Available in 7" portrait or landscape orientations — and in a larger 10.6" horizontal format — the G600 TXi displays offer a variety of configurations to fit your panel and budget. The 10.6" displays accommodate primary flight (PFD) and a multifunction display (MFD) within the same unit. Optional engine, fuel and electrical readouts can also be viewed in a vertical strip alongside the PFD/MFD information on the 10.6" display. The 7" portrait format can be dedicated to PFD (with HSI map), MFD or EIS displays. And the 7" landscape format is configured to provide a dedicated, standalone EIS display.
Flexible Configuration Options
In configuring your system, you can mix and match up to 4 of the high-resolution touchscreen displays in your cockpit. Or you can start with a single 7" portrait display serving as your PFD, and expand the system's capabilities by adding additional G600 TXi displays. The variety of G600 TXi screen sizes and display orientations can support more than 25 different approved cockpit configurations and more than 600 aircraft makes and models. And each display offers the capability to have a built-in AHRS along with an air data computer (ADC) module integrated on the back of the display unit. As an additional option for remote mounting, a combined air data and attitude heading reference system (ADAHRS) is available, or AHRS and ADC units are available separately. For aircraft already equipped with the orginal G600 series flight displays, full TXi compatibility with existing system sensors makes for an easy, cost-effective upgrade path.
Standalone or Integrated Engine Information
Whether it's integrated in a split-screen view on the 10.6" display or shown on a dedicated 7" display, engine and fuel monitoring data is easy to access and interpret with G600 TXi. The optional engine information system is compatible with most popular Lycoming or Continental 4- to 6-cylinder engines (whether normally aspirated or turbocharged) and can provide support for both single- and twin-engine aircraft. Prominent engine gauges on the display provide real-time indications and support for lean assist mode, pilot advisories and more — enabling you to optimize fuel economy while maintaining high efficiency and performance from your engine(s). Better still, EIS data is automatically logged to an SD™ card and, with Connext®, is wirelessly downloaded to the Garmin Pilot™ app to export for analysis¹.
State-of-the-art Touchscreen Technology
Leveraging the experience gained in designing and fielding thousands of integrated flight displays, Garmin built the TXi series from the ground up. The displays feature an intuitive menu interface that lets you use familiar knobs and/or touchscreen inputs to quickly access the functions, screen views and other flight information you want to see. Powerful dual-core processors boost the system's graphical display capabilities — with faster zooming, panning and map rendering. Plus, modernized fonts and backlighting offer improved readability and increased display clarity to help lighten your in-flight visual workload.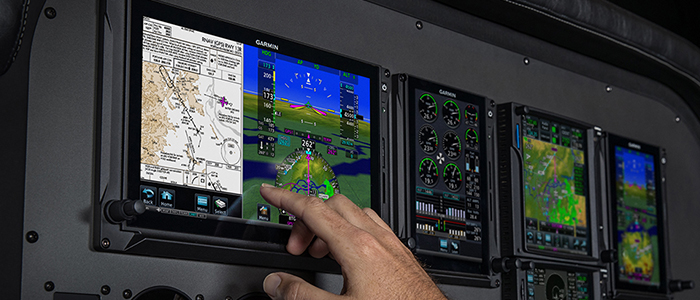 HSI Mapping Helps Focus Your Scan
To provide even more situational awareness, G600 TXi includes HSI mapping capabilities that put an MFD-like perspective map view within the HSI portion of your PFD. In addition to the geographical map, the HSI map view can also support the overlay of NEXRAD imagery and weather inputs from ADS-B and SiriusXM® datalinks. Additional overlays include SafeTaxi® airport diagrams, traffic, terrain and more. HSI map control and onscreen navigation are a snap, thanks to a Garmin innovation that lets you zoom in or out on the map, using a simple and natural single-finger swipe gesture.
Synthetic Vision Comes Standard
Garmin's 3-D SVT™ synthetic vision technology comes pre-installed on your G600 TXi system. Using sophisticated graphics modeling, SVT provides a virtual reality perspective view of ground and water features, obstacles and optional traffic — all shown in relative proximity to your aircraft. So, rather than looking at the PFD, you'll have a sense of looking through it, to "see" what lies beyond the nose of your aircraft. SVT clearly enhances your view of primary flight data by giving it a realistic visual frame of reference — especially in solid IFR or nighttime/marginal VFR conditions.
High-level Avionics Integration
G600 TXi was designed to interface with a wide range of avionics equipment, including Garmin's digital GFC™ 600 series and other popular autopilots installed in FAR Part 23 piston and turbine aircraft.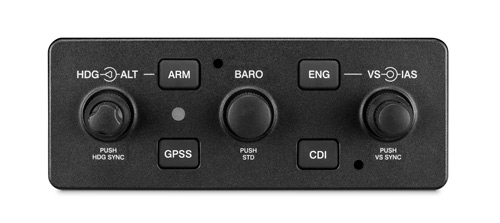 You can use the G600 TXi touchscreens for control/display of heading, course and navigation source inputs as well as autopilot mode annunciations and more (with compatible inputs). As an option, separate dedicated PFD controllers are also available in 5 different control layouts for continuity with the specifc autopilot system installed in the aircraft. G600 TXi also offers advanced integration capability with GTN series navigators, providing full touchscreen continuity between the navigation, communication and flight display functions in your panel.
Redundancy Adds Assurance
For extra piece of mind in systems where multiple displays are installed, G600 TXi is designed to enter a reversionary mode — allowing a single 7" portrait or 10.6" display to present primary flight instrumentation and engine indications (if EIS equipped) — in the unlikely event of another display failing or shutting down. The displays have backup GPS receivers built-in as well, providing redundancy in the event your system's primary GPS navigator ever fails. In addition, an optional backup battery is available for the 7" portrait TXi displays. If there's ever an unexpected loss of power to your avionics, this backup battery will provide power to your display for 30 minutes — allowing time for you to locate and land at the nearest airport.
Connext Cockpit Connectivity
For even more ease-of-use functionality, team your G600 TXi displays with a GTN 650/750 series navigator and Garmin's Flight Stream 510 wireless gateway¹. This setup enables Garmin's Connext wireless cockpit connectivity, which lets you stream information in real time between your avionics and compatible mobile devices running the Garmin Pilot or ForeFlight Mobile apps. This turns your tablet or smartphone into a true cockpit interface. You can use your mobile device to create flight plans whenever and wherever it's convenient, and then easily transfer the data to your avionics once you get to the airport. You can also wirelessly stream weather, traffic, attitude information and more from your avionics to your compatible device². Plus, by using Database Concierge via Flight Stream 510, you can wirelessly transfer aviation databases downloaded to the Garmin Pilot app on your mobile device to your GTN 650, GTN 750 and G600 TXi system.
Add Weather, Traffic and Other Options
G600 TXi seamlessly integrates with a variety of optional sensors and datalinks to support the latest weather and traffic monitoring capabilities. Garmin's Doppler-capable GWX™ 70 onboard color radar features a reliable, solid-state design as well as optional turbulence detection and ground clutter suppression capabilities. For pilots flying in the U.S., the GTX™ 345 series all-in-one ADS-B transponders provide easy access to subscription-free ADS-B weather and advanced dual-link traffic services. Plus, by installing a GDL® 69A satellite receiver with your system, you can add ground-and-airborne-accessible SiriusXM satellite weather and audio entertainment channels to the mix (subscriptions required). For a worldwide datalink solution, the Garmin GSR 56 receiver provides weather data and radar imagery through the Iridium® global satellite network. And for even more advanced traffic surveillance in high-density airspace, G600 TXi integrates with select TAS or TCAS systems, including Garmin's GTS™ family of traffic surveillance products.
It's Nice to Be Remembered
To help you keep things the way you like them, your individual pilot profile settings on G600 TXi can be saved³ within the system or loaded onto a removable SD card. This also means you can also take your settings with you to another G600 TXi-equipped aircraft. Pilots operating within a flight department will especially appreciate this feature. Your preferred settings for backlighting, map settings and more can all be configured under your custom profile — allowing you to easily restore your system preferences prior to each flight.
Learn More About G600 TXi
With installation approval soon to be available for hundreds of aircraft models, retrofitting your cockpit with G600 TXi is a straightforward, all-bases-covered proposition. You can select from a wide range of display formats. And no matter which configuration you choose, you'll be flying with the peace of mind that comes with an industry-leading 2-year warranty (and optional FlightLevel Extended Warranty), backed by Garmin's award-winning product support team. See your authorized Garmin installation center for more information on scheduling the G600 TXi upgrade for your aircraft.
1
Additional hardware may be required and is sold separately.
2
Weather streaming requires compatible ADS-B or SiriusXM datalink; Traffic streaming requires compatible ADS-B datalink.
3
Requires display with MFD capability.
10.6" Display
Leveraging industry-leading integrated cockpit technology, the large 10.6" TXi series touchscreen can accommodate PFD and MFD capabilities as well as optional engine instrumentation — all in 1 split-screen format positioned directly in the pilot's primary field of view. The display area is more than 20% larger than earlier-generation G500/G600 series displays designed with side-by-side 6.5" screens.
7" Portrait Display
This versatile display can be used in a variety of configurations to fit your panel space and avionics budget. It can serve as part of a multi display system or as a dedicated stand-alone PFD, MFD or EIS display. The PFD includes an HSI mapping feature, allowing an MFD-like perspective map display to be viewed together with directional and attitude information. Pairing two 7" portrait displays gives you 30% more pixels than the original G500/G600 combo screens, offering increased clarity.
Touch and Knob Controls
With its flexible, intuitive menu interface, TXi lets you use familiar knobs and/or touchscreen inputs to quickly access the functions, screen views and other flight information you want to see.
An MFD in Your HSI
With navigation inputs, the TXI series can put an MFD-like perspective map view within the HSI portion of your primary flight display. This HSI map can incorporate NEXRAD imagery and weather data as well as SafeTaxi® diagrams, traffic, terrain alerting and more.
3-Dimensional SVT
Available SVT synthetic vision uses sophisticated graphics modeling to provide a virtual reality perspective of terrain and water features, obstacles, runways, traffic targets, flight path information and more.
Dynamic Mapping
TXi dynamically draws moving maps with airspace boundaries, navaids, flight plan routings and more, overlaying the aircraft's position on top so it's easy to understand what matters most. Georeferenced FliteCharts®, SafeTaxi diagrams and optional Jeppesen®-format ChartView™ approach charts are also available.
Track Weather Wherever
A wide range of available weather solutions can be displayed on your TXi series touchscreens — everything from onboard digital radar to Stormscope® lightning detection to animated NEXRAD imagery from various satellite or ADS-B ground network links.
Advanced Traffic Display
TXi displays will integrate with a variety of traffic alerting technologies — everything from ADS-B "In" network traffic links with TerminalTraffic™ airport surface monitoring to Garmin's patented TargetTrend™ relative motion technology and active traffic surveillance systems.
Streamlined Touch Interface
The icon-based menus and touch-control interface of the TXi displays are similar to Garmin's other products, especially the GTN™ 650/750 series navigators and the Garmin Pilot™ app for mobile devices. Together they provide full touchscreen continuity between the navigation, communication and flight display functions in your aircraft.
Wireless Connectivity
A GTN navigator with a wireless Flight Stream 510 gateway can provide even more connectivity between your avionics and compatible mobile devices running the Garmin Pilot or ForeFlight apps. Upload flight plans. Sync databases. Stream weather, traffic and more. Turn your tablet or smartphone into a true cockpit interface.
Expansive Third-Party Interfaces
TXi was designed to interface with a wide range of avionics and autopilot systems. Garmin invested heavily in test equipment and certifications, to ensure the system will accomodate most popular brands of GA equipment.
Say Goodbye to Standby
Aircraft owners who install G500 TXi dual 7" portrait displays with dual ADAHRS and Garmin's optional backup battery can forego the requirement for standby flight instruments in their light aircraft panels (Class 1 and 2 aircraft under 6,000 lbs max takeoff weight). The all-glass cockpit is now a reality with TXi.
Display Features
10.6" or 7" diagonal color LCD options
RGB backlighting technology
High resolution: GDU 1060 - 1280 pixels (W) x 768 pixels (H), GDU 700P - 480 pixels (W) x 800 pixels (H)
Direct sunlight readable
Auto, manual, or lighting bus inputs for dimming
Field upgradable software
Dimensions
GDU 1060: 7.25"H, 11.4"W, 3"D
GDU 700P: 7.25"H, 5.5"W, 3"D
Weight
GDU 1060: 6.49 lbs. (without integral ADAHRS), 7.25 lbs. (with integrated ADAHRS)
GDU 700P: 3.99 lbs. (without integral ADAHRS), 4.45 lbs. (with integrated ADAHRS)
Electrical
GDU 1060: 10-40 VDC, reverse polarity protected, 70 watts typical
GDU 700P: 10-40 VDC, reverse polarity protected, 42 watts typical
Environmental
-20C to +55C operating temp
-55C to +85C storage temp
2 degrees C per minute temp variation
95% at 50C humidity
35,000 feet max altitude
Internal cooling, external cooling not required
Certification
TSO-C2d, TSO-C8e, TSO-C10b, TSO-C34e, TSO-C36e, TSO-C40c, TSO-C41d, TSO-C43c, TSO-C44c, TSO-C45b, TSO-C47a, TSOC49b, TSO-C44a, TSO-C63d, TSO-C87a, TSO-C106, TSO-C110a, TSO-C113a, TSO-C118a, TSO-C147a, TSO-C151c, TSO-C157b, TSO-C165a, TSO-C195b, TSO-C198, TSO-C201
Interfaces
Click here to view
Garmin products have been designed for compatibility with a wide range of avionics. To confirm compatibility of Garmin equipment with your specific aircraft make/model and current avionics configuration, please contact our sales department.
Garmin's TXi system has many different configuration options. Sarasota Avionics has developed two pages dedicated to helping you find a custom TXi configuration for your aircraft.
Not sure which components you'll need?
Our proprietary TXi Wizard will guide you through the process, and then our sales department will put together a quote for the features that you are looking for based on the answers provided.
You've done your research and just want to get an idea about pricing: