IFD540: The most intuitive FMS/GPS navigator for your aircraft
Avidyne's IFD540 FMS/GPS/NAV/COM is a 5.7" powerful, touchscreen navigator with all the benefits and features the IFD Series has to offer. Not only does the IFD540 feature Avidyne's signature Hybrid Touch, Page & Tab interface with 3D synthetic vision and SBAS/LPV precision, it also includes CMax™ Approach Charts and Airport Diagrams.
Utilizing Jeppesen's Jeppview® charts subscription services, CMax provides worldwide approach charts and a database of over 6,000 airport diagrams, most of which are geo-referenced, allowing for the display of your township and flight plan position right on the chart or airport diagram. The IFD540 also supports optional European VFR (Bottlang) Charts for over 2,200 airports in 29 European countries.
FMS Preview™
Avidyne's exclusive FMS Preview is a powerful flight planning feature that makes it even more intuitive to load flight plans by showing you a real-time graphical depiction of each proposed modification in cyan prior to selection. FMS Preview makes it easy to visualize before selecting a desired waypoint, airway, hold or hold geometry, Direct-To, approach, approach transition and any other terminal procedures.
FMS Preview also allows you to view each of the available approaches graphically prior to selection. Unlike previous generation navigators, the Avidyne IFDs allow you to quickly load any number of destination airports and multiple approaches into your flight plan.
Graphical flight planning capability allows for easy editing of your flight plan with the touch of the screen. The convenient 'rubber banding' feature on the IFD540 allows you to stretch any leg in the flight plan to easily deviate for weather or to accommodate an amendment from ATC.
Avidyne's GeoFill™ Technology
GeoFill™ intelligently predicts the next waypoint entry, not based on its order in the database, but on its proximity to your current location or the previous waypoint in your flight plan. The IFD540 auto fills the remaining characters in the entry based upon distance from the current position, avoiding the need to go through "bad" choices to get to the desired entry. This feature dramatically reduces the number of pilot actions. GeoFill can reduce data entry by as much as 75%, reducing head-down time, and ultimately increasing efficiency and safety. GeoFill is available on all IFDs.
Synthetic Vision: Improved situational awareness
All IFDs are equipped with Avidyne's enhanced Synthetic Vision (SVS) for improved situational awareness. SVS is fully integrated and requires no additional boxes or wires.
3D Terrain Terrain Awareness (SVS-TA) is provided via terrain coloration, providing visual Caution-Warning Alerting System (CAS) alerts and aural alerts terrain hazard awareness and alerting.
FLTA Forward Looking Terrain Alerting (FLTA) alerting provides an extra measure of safety by displaying a solid yellow or red impact point based on projected flight path in the event that a collision with terrain is projected. FLTA also provides visual CAS messaging & aural alerting.
Obstacles Standard high, low and grouping symbology is used to clearly depict obstacles on the SVS display.
3D Traffic Uses standard traffic symbology with traffic depictions indicating relative threat level by their size and relative altitude and bearing. As traffic draws nearer to you, the traffic symbols grow in size on the IFD.
Airport Flags Airfields are depicted with a METAR-style flag when in field of view. With valid METAR data from your datalink, airfield flags will be color-coded to represent the ceiling and visibility, consistent with the moving map presentation.
Wireless and Blueooth ® Connectivity
With built-in WiFi and Bluetooth, the IFDs feature a number of ways for you to control your unit. Avidyne's IFD100 tablet application gives pilots a full display and complete wireless remote control of their panel-mounted IFD System.The Avidyne MK10 wireless keyboard provides a convenient way for pilots to remotely control their IFD System.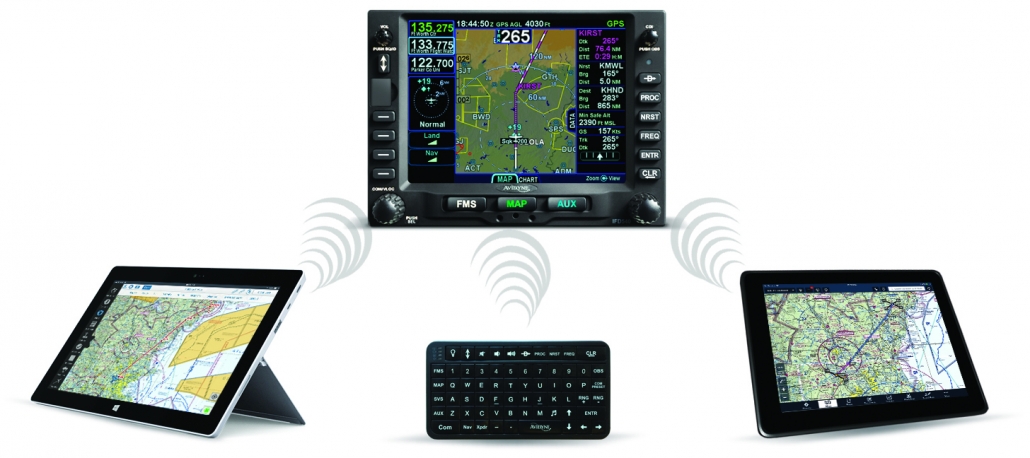 Third-Party Flight Planning Applications
Open wireless connectivity to flight planning & mapping applications such as ForeFlight®, FlightPlanGO®, Seattle Avionics FlyQ®, AvPlan® EFB, Jeppesen® Mobile Flight Deck, Cloud Ahoy®, and AeroGlass®.
Touch Screen
High-density AMLCD w/super bright LED backlighting
Easy-to-use FMS
Exceptional color-contoured terrain & water base map
Display
5.7" Diagonal w/Touch Screen
Full VGA - 640 x 480 pixels
65,535 colors
Ultrabright sunlight readable w/LED Backlighting
Dimensions
Width: 6.30" (16.0cm)
Height: 4.60" (11.7cm)
Depth: 11.00"(27.5cm) behind panel including connectors
Weight
8.50 lbs (3.79kg) including rack & connector
Power Requirements
Environmental
DO 160E
To 50,000 ft.
-20C to +55C Operating
+70C Short Term
Cooling
External forced air cooling not required
Warranty
2 Years parts & labor included
FlexCare™ extended warranty service available
Applicable TSO
TSO-C34e ILS Glide Slope Receiving Equipment
TSO-C36e Airborne ILS Localizer Receiving Equipment
TSO-C40c VOR Receiving Equipment
TSO-C110a Airborne Passive Thunderstorm Detection
TSO-C113 Airborne Multipurpose Electronic Display
TSO-C118 Traffic Alert & Collision Avoidance (TCAS)
TSO-C146c Stand-Alone Airborne Navigation Equipment Using GPS, Class 1, 2, 3 (LPV)
TSO-C147 Traffic Advisory System (TAS)
TSO-C151b Class B TAWS (Optional)
TSO-C157 Flight Information System -Broadcast (FIS-B)
TSO-C165 Electronic Map Display
TSO-C169a VHF Radio Transceiver Equipment
Multi-channel VHF Voice/Data Transceiver
10 Watt transmitter (Class 3, 5) -16 Watts (Optional)
Capable of simultaneous reception of up to four channels, voice or data
8.33KHZ or 25KHZ Operation (Class C, E)including offset carrier
118.000 MHZ to 136.975 MHZ operation
GPS
16-Channel GPS/SBAS Receivers
1,000 user-defined Waypoints
99 Flight plans, Up to 128 waypoints each
RTCA DO-178B and DO-254 Level B
RTCA DO-160E
Meets DO-229D, Beta Class 3
Accuracy:
-Autonomous Position
3 meters (CEP 50%)
5 meters (95%)
-SBAS Differential Position
1 meter (CEP)
3 meters (95%)
-Velocity Accuracy 0.1 knots (95%)

Dynamics:
Acceleration - 10g max.
Speed - 1,000 knots
Altitude - 50,000 ft
VOR Receiver
Flag sensitivity Set to –103dBm (Actual sensitivity exceeds –107dBm)
108.0 MHZ to 117.95 MHZ operation
Meets RTCA DO-196 requirements
CDI output: ±150 mV full scale
DME channeling: 2x5, BCD, Slip Code Narco 890/891, King Serial

Audio sensitivity: –103.5 dBm for 6 dB S/N with 1 kHz 30% mod.

Audio output: 100 mW minimum into 500 ohm load; external amplifier required
VHF Localizer Receiver
Flag sensitivity set to –101dBm (Actual sensitivity exceeds –107dBm)
108.1 MHZ to 111.95 MHZ operation
Meets RTCA DO-195 requirements
CDI output: ±150 mV full scale
Centering accuracy: < 4.5 mV
Flag sensitivity: –103.5 dBm
Audio sensitivity: –103.5 dBm for 6 dB S/N with 1 kHz 30% mod.
Audio output: 100 mW minimum into 500 ohm load; external amplifier required to drive cockpit speaker
UHF Glideslope Receiver
Flag Sensitivity Set to –86dBm (Actual Sensitivity Exceeds –107dBm)
329.15 MHZ to 335.00 MHZ operation
Meets RTCA DO-192 requirements
CDI output: ±150 mV full scale
Centering accuracy: 0 ddm ± .0091 ddm
Basic System includes:
IFD540 GPS/NAV/COM (10W, Black bezel)*
Synthetic Vision Enablement
MK10 Keyboard
WiFi/Bluetooth Activation
FLTA/500' Activation
Install kit, tray, backplate, and product information kit
*GPS antenna, if needed, is not included in price.
Additional Enablements & Options:
RS170 video input, capable of displaying video from aircraft-mounted IR/EVS or other compatible sources.
16W VHF Activation
Radar Enablement Activation