iFly GPS by Adventure Pilot Version 7.6 Software Update
Adventure Pilot delivers RealView, AutoTaxi+, Clarity and iLevil ADS-B support and more in the Version 7.6 Software Update.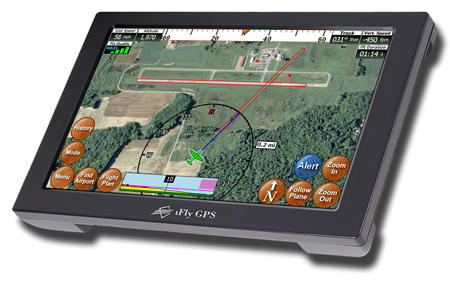 Adventure Pilot LLC, announced the release of the Version 7.6 Software Update. New features will include RealView
TM
Airports, Auto Taxi, Enabling WAAS, and support of the Clarity and iLevil ADS-B receivers. Additional features include a new hybrid Compass Rose with an integrated Nav feature, larger position icons and many other enhancements. All
iFly GPS units
will be pre-loaded with these new features and current iFly GPS owners may also update to the Version 7.6 Software.
RealViewTM Airports
Adventure Pilot adds a revolutionary feature with RealView Airports. iFly 720 owners can now preview satellite airport images for over 12,000 US airports with runway outlines upon approach, during taxi or before take-off. RealView satellite images are specially processed and stored on the iFly 720 so no internet required!
"We've diligently processed, filtered and geo-referenced over 12,000 public and private airports so pilots may never have trouble finding that small hidden strip again. Notice the plane, in Figure 1, is lined up with an obscure grass runway. RearView brings both runways to sight, while outlined in red", says Walter Boyd, owner of Adventure Pilot.
AutoTaxi+TM
The AutoTaxi+ feature includes geo-referenced Airport Diagrams for over 950 U.S. airports. AutoTaxi+ automatically shows an Airport Diagram during the taxi phase of your flight, when available. During the takeoff roll the iFly seamlessly transitions back to map navigation. AutoTaxi+ allows the pilot to quickly identify runways, taxiways and hangars, all while seeing the aircraft's exact location on the screen to better follow arrival or departure taxi instructions with confidence.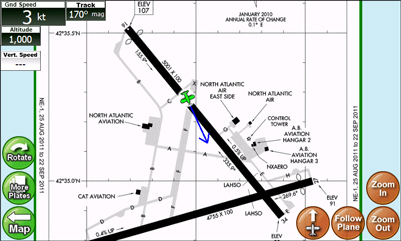 Adventure Pilot takes AutoTaxi+ to another level with the iFly 720 model. iFly 720 owners gain access to over 12,000 of the additional geo-coded RealView satellite airport images for on-field and visual awareness referencing. AutoTaxi+ determines whether there is an official Taxi Diagram to use, if it's a smaller or private airport without one, the iFly 720 will use the satellite image that is pre-loaded on the iFly 720 instead.

Clarity and iLevil ADS-B Support
The latest Version 7.6 Software Update adds additional ADS-B and AHRS support for the Clarity and iLevil ADS-B and AD-AHRS devices. When an AHRS is connected, the iFly enables the on-board Flight Attitude Recovery System. The iFly 720 will connect to the Clarity and iLevil via the Wi-Fi interface, also allowing additional expansion through a wired connection to drive an autopilot or EFIS. ADS-B provides the ability to view current weather including NexRad radar images, TAFs, METARs, Winds Aloft, and PIREPS without monthly fees. ADS-B Traffic is supported if an ADS-B receiver with 978 and/or 1090 TIS data is detected.
iLevil and AHRS-G Mini Support for WX, 978mHz Traffic and AHRS
Clarity and Clarity SV Support for WX, 978Mhz & 1090mHz Traffic and AHRS
Additional Features and Enhancements
Other features and enhancements in the latest software include enabling WAAS, adding an on-screen GPS Fix Meter, a new hybrid Compass Rose w/Nav, larger aircraft icons, and dynamic distance ring for distance referencing. Helicopter and Rescue Pilots can quickly fly to a Lat/Long using the new Direct-To Lat/Long feature. The above features and more are available for download to the iFly GPS models using a PC, MAC or Wi-Fi on the 720 model. iFly Connect is a PC based tool providing the ability to quickly and easily keep your iFly GPS current.