Garmin Introduces Smart Rudder Bias
Garmin is pleased to announce upgrades to the GFC™ 600 digital autopilot including the addition of Smart Rudder Bias for select piston twin-engine aircraft. Smart Rudder Bias provides additional assistance against hazardous effects of a one-engine inoperative (OEI) event when appropriately equipped. The addition of Smart Rudder Bias to the Garmin Autonomi™ family of automated flight technologies provides pilots assistance in maintaining control of the aircraft while determining the next course of action, simultaneously reducing workload in a high-stress and time-critical flight environment. Additionally, the GFC 600 autopilot recently received approval for Supplemental Type Certification (STC) on the Piper PA-31, further growing the list of GFC 600 compatible aircraft. Smart Rudder Bias is now approved in the GFC 600 autopilot for select Piper Navajo and Beechcraft Baron aircraft.
Help Manage Aerodynamic Performance with Smart Rudder Bias
Twin-engine aircraft inherently have aircraft controllability concerns in the event of an engine failure and pilots can expect a significant yaw toward the inoperative engine, resulting in an unstable aircraft state. In addition, due to a sideslip condition and a wind milling propeller, there can be decreased lift on the wing associated with the inoperative engine and simultaneously an increase in drag, all factors contributing to degraded performance and a critical loss in airspeed. Through close integration with multiple onboard Garmin systems, Smart Rudder Bias helps address these major concerns and assists with controllability issues. This gives the pilot time to take the action required to better maintain positive aircraft control and help keep the aircraft in a safe flight condition.
Positively Identify Inoperative Engine Quicker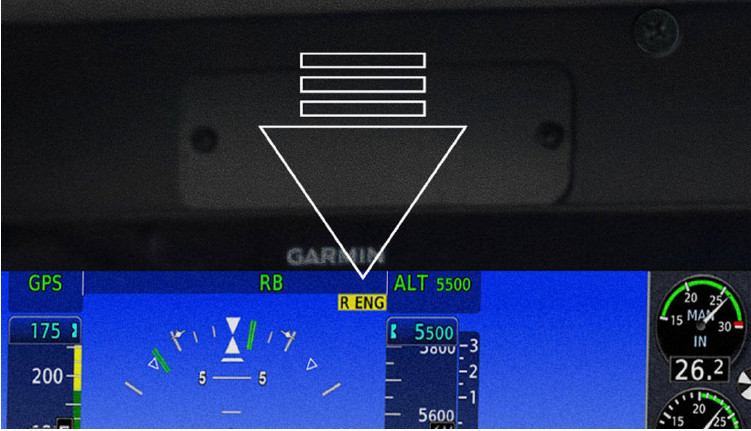 When the aircraft reaches the manufacturer's published minimum control speed (VMC) during the takeoff roll, Smart Rudder Bias is automatically armed. Smart Rudder Bias continuously monitors engine parameters using Engine Indication System (EIS) data displayed on a G500 TXi or G600 TXi flight display and activates when the system detects a predetermined power differential between each engine. Once activated, rudder force is dynamically adjusted to aid a pilot in providing enough force to the rudder to help control a sideslip. A yellow annunciator for the associated inoperative engine is conveniently displayed along with autopilot annunciations on the G500 TXi or G600 TXi flight display, helping the pilot identify the issue quicker. Smart Rudder Bias can be deactivated via a panel mounted switch.
Smart Rudder Bias Enhances ESP Settings for OEI Condition
Garmin's Electronic Stability and Protection (ESP™) functions independently of the autopilot, working in the background to help pilots avoid inadvertent flight attitudes or bank angles and provides airspeed protection while the pilot is hand-flying the aircraft. Smart Rudder Bias applies enhanced ESP settings tailored to engine-out flight. Roll protection is modified to help correct for the roll tendency caused by the inoperative engine, while underspeed protection activates at a higher airspeed to help keep the aircraft away from the critical VMC speed and the associated loss of positive aircraft control.
Smart Rudder Bias System Requirements
Smart Rudder Bias requires the installation of a Garmin G500 TXi or G600 TXi flight display with software version3.12 or later, configured as a primary flight display, with EIS (which can be displayed as a strip on the G500 TXi orG600 TXi PFD, or as a separate display). Additionally, a GFC 600 digital autopilot with the yaw servo option mustbe installed or added to an existing GFC 600 installation and a Rudder Bias switch must also be installed. Initial certified aircraft include the Baron 58and 58A, as well as the Piper PA-31,PA-31-310 and PA-31-325. Additional certifications of Smart Rudder Bias will be forthcoming.

GFC 600 Approvals Received for Piper PA-31, PA-31-310, PA-31-325 & PA-31-325(CR)
Intended for high-performance piston and turbine aircraft that have a wide range of aircraft speed and performance characteristics, GFC 600 incorporates solid-state attitude and robust self-monitoring capabilities to provide superior autopilot performance, greater reliability and safety benefits. New for the PA-31 and PA-31-310/325(CR) installations, a new Yaw Trim Servo option is available. Similar to pitch trim, yaw trim allows for manual rudder trim control with the press of a button, and automatic control of the rudder trim when the GFC 600 is coupled. While a Yaw Servo is required for Smart Rudder Bias, the Yaw Trim option is not required for Smart Rudder Bias.