Garmin Introduces GLO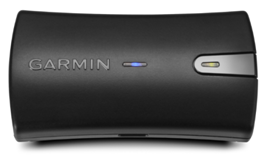 A Portable GPS and GLONASS Receiver for Mobile Devices
Garmin® is announcing GLO™, a portable GPS and GLONASS receiver that brings Garmin's industry-leading GPS technology to mobile devices. GLO wirelessly connects to Apple® and Android® devices via Bluetooth®. It offers up to 12 hours of battery life and a position update rate of up to 10 times per second (update rate may be limited by the host device). This is approximately 10 times faster than the internal GPS receivers of most mobile devices. GLO is approved by Apple for use with its products.
When using both GPS and GLONASS satellites, the time it takes for the receiver to "lock on" to a position is, on average, approximately 20 percent faster than using GPS alone. Furthermore, when using both GPS and GLONASS, the receiver has access to 24 more satellites than using GPS alone.
Garmin has developed a special GLO for Aviation package. The GLO for Aviation package comes with an anti-skid mount, power cable, USB cable, and a free six-month trial for Garmin Pilot, the newest aviation navigation app for Apple and Android mobile devices. There will also be a basic version of GLO available that will include a USB cable.
Garmin Pilot's electronic flight bag capabilities help minimize the amount of paper needed for navigation reference in the cockpit. The app comes with IFR high and low enroute charts, VFR sectionals and Garmin FliteCharts®. Optional geo-referenced FliteCharts and SafeTaxi® diagrams are available to assist in navigating approach procedures and unfamiliar airports, and all charts are downloaded to the device for easy access while in flight. For more information please call or email us today.
Description/
Part number
USB Cable
AUX Power Cable
Anti-skid Mount
Garmin Pilot trail
Price
GLO
010-01055-10
X
$99.00
GLO for Aviation
010-01055-00
X
X
X
X
$129.00