Garmin GI 275 Adds GFC 500 Autopilot Compatibility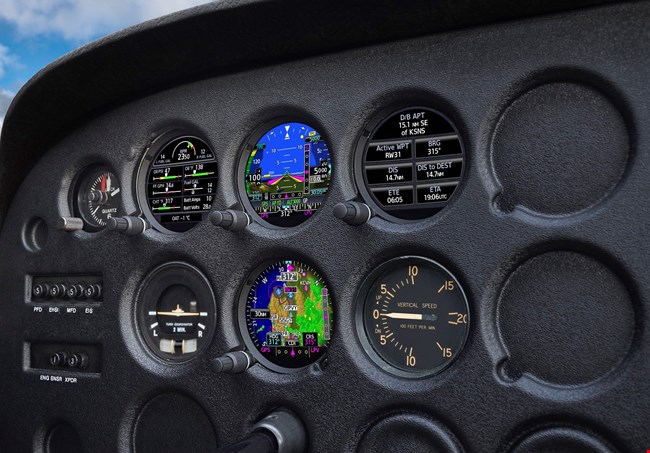 Garmin is pleased to announce that the GI 275 electronic flight instrument can now be interfaced with the GFC™ 500 autopilot to deliver superior in-flight performance and added redundancy when multiple GI 275s are installed in an aircraft. In addition to GFC 500 compatibility, the GI 275 can serve as a replacement attitude indicator and/or horizontal situation indicator (HSI) to legacy Century II/III autopilots. Additional features of the latest GI 275 upgrade include the display of outside air temperature, ground speed, true airspeed and wind on the attitude indicator, as well as data field enhancements on the multi-function display (MFD) page.
GFC 500 Compatibility
A single GI 275 ADAHRS variant (with Mod 1) can now be used as the attitude source to drive the GFC 500 autopilot, while displaying mode annunciations and flight director indications. In addition, added redundancy is possible with two GI 275s ADAHRS models installed. In aircraft equipped with dual GI 275's, the secondary GI 275 is capable of coupling to the GFC 500 autopilot, as well. In the unlikely event of a primary GI 275 failure, the autopilot remains fully functional when paired with the secondary GI 275. Additional redundancy is extended to include the G500 TXi/G600 TXi flight displays, which also allows the GI 275 to couple to the GFC 500 autopilot if needed. Unique to the GI 275 and TXi, pilots will receive a mis-compare notification if the AHRS sources between the two do not align.
Century II/III Autopilot Compatibility
The GI 275's autopilot interface compatibility continues to grow with the addition of the Century II/III autopilots, which can now be paired with the GI 275 ADAHRS + AP (with Mod 1) variant to replace an antiquated attitude indicator. When replacing the old attitude indicator, pilots receive a reliable electronic flight instrument with additional capabilities beyond the traditional display of attitude information. Even further, unlike legacy attitude indicators paired with the Century II/III autopilots, the GI 275 is capable of disconnecting the autopilot in the unlikely event of an attitude upset or in the event of a mis-compare of attitude data between two GI 275's. Depending on the Century autopilot variant, dual GI 275 ADAHRS + AP units may be required.
Additional GI 275 Display Enhancements
The GI 275 electronic flight instrument is capable of displaying outside air temperature (OAT) and true airspeed (TAS) using a temperature probe. Wind speed and direction can also be displayed. Additionally, MFD data field enhancements allow pilots to easily edit and change data fields on the MFD page.
The latest upgrade for the GI 275 is expected to be available in August. Through July 31, 2020, customers can purchase one GI 275 Engine Indication System (EIS) system for single-engine aircraft or two for a multi-engine aircraft and receive $1,000 USD (per GI 275 system) via a mail-in rebate.