Garmin Enhanced Situational Awareness Rebate
Garmin has announced a fantastic customer rebate opportunity! If you're still waiting for avionics upgrades, the wait is over, get flying with a range of safety enhancing Garmin products thanks to a comprehensive rebate.

Ranging from glass cockpits, GPS/NAV/COM, traffic, weather solutions, ADS-B, and Connext, there is something here for those looking for a complete cockpit upgrade, or just adding to their already existing Garmin product range.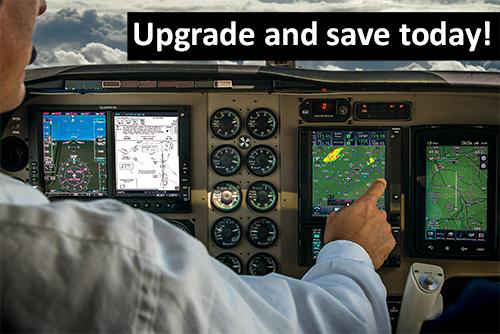 • Customers upgrading to an all digital EFIS G600 system qualify for a $2,000 rebate. Purchase a G500 system with the SVT option and also receive a $2,000 saving.

• Receive $1000 off a combined purchase of a GTN, plus an ADS-B capable product (such as the GDL 88 or GTX 33 ES), plus a Flight Stream 110 or 210.

• Traffic can be added with the GTS 800, 825, and 855 for a further $1,000 saving.

• Need worldwide weather, in-air phone calling, position reports, or inflight text messages? The GSR 56 Iridium weather receiver also qualifies for a $1,000 rebate.
The full combination advanced situational awareness upgrades could save you a total of up to $5,000 off!

There is no better time than now to upgrade thanks to Garmins latest version of software for the G500 and G600 systems. Version 7.00 allows you to take advantage of enhanced map and display functionality, weather support, altitude preselect for additional select autopilots, GRA 55/GRA 5500 radar altimeter support, GMA 350 marker beacon display, selected altitude arc and more!

This rebate begins on May 20th, 2015 and will run through June 20th, 2015, so take advantage of this limited time offer. Don't forget to complete product registration for the avionics and complete the rebate form to receive the rebates on offer. To download the rebate form, click here.
G600, G500, GTS, and GSR 56 Savings
GTN, ADS-B and Flight Stream Savings
Pick any variant of one product from each of the 3 categories to save!
GTN
ADS-B
Flight Stream
Savings
GDL 88, GDL 84, GTX 33ES, GTX 330ES