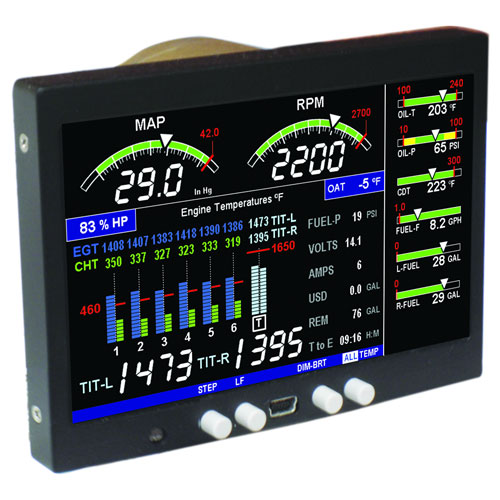 The EDM-900 has a built-in EDM-800 plus many other gauges in combination together.
The reliability and ingenuity of many JPI products are bundled together in one spectacular "all-in-one" instrument. Your EDM-900 will be monitoring your engine conditions four times per second and will warn you instantly if any measurement exceeds the programmed limit.
Fly with confidence as your EDM900 acts as youron-boardflight engineer. Not only is the EDM 900 TSO'd (available as non TSO'd for experimental aircraft as well), but all of the functions covered by the EDM 900 are TSO'd and STC'd as PRIMARY functions.
Features
FAA STC approved to replace all engine instruments in over 1000 of aircraft
GPS input/output to all GPS's including handheld
Over 40 functions displayed and recorded including fuel level
Proven data recording once every 6 seconds
Specifically configured for your aircraft per the POH
Hardware Included
EDM-900 all-in-one bright VGA display
Pre-wired harness for all functions
All EGT/CHT probes
Oil pressure transducer
Oil temperature sensor
Fuel pressure transducer
OAT sensor
RPM sensor, one required
Manifold pressure transducer
100 amp shunt (2)(for amps)
Volts pick-up V-1 and V-2
2GB memory download/upload stick
FloScan fuel flow transducer w/firesleeve
Demo DVD
Functions Included:
RPM Engine
MAP Manifold Pressure
% HP Percent of Horse Power
EGT Exhaust Gas Temp
CHT Cylinder Head Temp
O-T Oil Temperature
O-P Oil Pressure
F-P Fuel Pressure
OAT Outside Air Temp
VDC Voltage
AMP Current amps/load
GPH Gallons per Hour
REQ Required to wp or destination
USD Fuel used
MPG Miles per Gal
L-R Main Fuel Quantity, level
CLD Shock Cooling on All cylinders
DIFF Gami spread high low fuel flow
USB Memory stick 2GB
Data Recording 800 Hrs every 6 sec
EZTrends Graphing Software free
Available Options
Fuel Pressure (Transducer & Harness)
Amps - 2
Volts - 2
TIT 1 & 2
CDT (Compressor Discharge Temperature)
IAT (Induction Air Temperature)
Diesel MAP to 105 in hg
Diesel RPM
The EDM900 is available in the following configurations:
4 or 6 Cylinder
0, 2 or 4 tanks
Certified or Experimental
ALL probes, sensors and transducers included. TSO'd and STC'd to replace all engine instruments in your panel, including fuel quantity.