SkyView continues the Dynon tradition of technologically advanced GA aircraft with the next generation of glass panels, offering redundant networks and systems, incredibly bright screens, design flexibility, and future upgradability unsurpassed by anything else flying.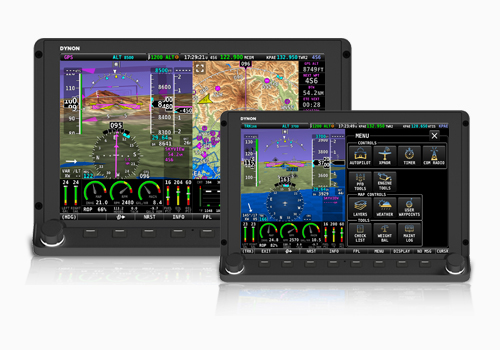 SkyView™ HDX
SkyView HDX features improved displays, beautiful design, unrivaled control ergonomics, and an upgraded touch interface. Displays are compatible with all existing SkyView components and feature identical mounting profiles and electrical connections.
Skyview Order Worksheet
---
Skyview Components
Autopilot Control Panels
Individual buttons for all autopilot modes let you use your SkyView menus exclusively for other features like navigation and flight planning. Built-in 2-axis speed-sensitive trim controller.
VHF COM Radio
SkyView's revolutionary COM radio interface will change the way you fly with dedicated buttons for tuning Tower/CTAF, ATIS/WX, ATC, and Ground frequencies.
Knob Control Panels
Dedicated controls for your barometric altimeter setting and the two bugs you use the most.
Two-Place Stereo Intercom
Stereo, two-place intercom with audio connectivity for SkyView alerts and music that is usually only found in full-size audio panels.
ADAHRS-Primary & Secondary
Provides primary flight instruments, including attitude, airspeed, altitude, magnetic heading, DG, VSI, AOA, G-meter, turn rate, slip/skid ball, OAT, and TAS. Add a secondary ADAHRS for redundancy and SkyView and AFS EFIS systems automatically cross-check your instruments for you. For aircraft where the desired ADAHRS placement would result in interference due to proximity to ferrous metal or power, an optional remote magnetometer is available.
Engine Monitoring Modules
The EMS module receives signals from engine sensors for display on your EFIS. Order the SV-EMS-220 for most engines, SV-EMS-221 for the Rotax 912 iS only. Engine sensor/harness packages for Lycoming/Continental/Jabiru/Rotax engines sold separately. Sensors/harnesses available a-la-carte for other engines. Two modules can be used to monitor dual engines or to provide up to 28 EGT&CHT inputs for large engines (SkyView only).
Mode-S Transponders with ADS-B Out
Lightweight TSO'd Mode-S Transponder with TIS traffic reception (US only) and 1090ES ADS-B Out. US customers should choose the SV-XPNDR-261 for 2020 ADS-B mandate compliance (requires SV-GPS-2020 or other suitable position source).
Dual Band ADS-B Traffic/Weather Receiver
The new dual band SV-ADSB-472 receives ADS-B traffic via 978 MHz (UAT) and 1090 MHz. In the US, it also receives free text and graphical weather from the FAA's network of ADS-B ground stations. Unlike portable ADS-B receivers, you get FULL ADS-B and radar traffic when you pair this with our Mode-S transponder.
Autopilot Servos
Just add servos to your system to add a fully IFR-capable autopilot. Mounting kits are available for various aircraft. The optional SV-AP-PANEL adds dedicated autopilot controls. It also features a digital, dual-axis trim controller with proportional speed control and autopilot auto-trim.
AOA / Pitot Probes
The rest of GA is starting to see the value of AOA as a major safety-enhancing device. Meanwhile, it's been available for all Dynon and AFS EFIS systems for over a decade. Provides progressive audible approach-to-stall alert.
SkyView VP-X Support
The SkyView system integrates support for the Vertical Power VP-X Pro and VP-X Sport electronic circuit breaker systems.
Harnesses/Network Cables
Prefabricated cables interconnect SkyView Network components to make sure your installation goes as smoothly as possible. These connect displays, ADAHRS, EMS, ARINC, COM radio, and Knob & AP control panels. Displays also have their own color-coded harnesses available, as do EMS sensor kits.
---
Skyview Possibilities
Light and Sporty
Looking for a simple, clean VFR panel for your sport aircraft? A single 10" SkyView SE Display can do everything you need, with all controls easily accessible on the front panel. The menu system is intuitive and logical to use. The left and right joystick knobs make it fast and easy to make adjustments and navigate the map. Opt for SkyView Touch and it's even easier to use.
Weekend Warrior
Just because you're in a sporty tandem aircraft doesn't mean you can't also have the capability to fly through weather. A configuration like this, with dual displays, redundant ADAHRS, battery backup, and an IFR navigator equips you for legal, safe IFR flight.
The Airliner
We admit, it's a lot of panel. But it's possible and extremely capable. SkyView's architecture supports configurations that span from a single display all the way up through what is shown here. In fact, the Sportsman that several Dynon pilots co-own has this same three-screen configuration. Please ask one of us about it!
Cross-Country Cruiser
Want a cross-country panel with more features for long distance travel? A second display makes navigating easier and is also a great backup. Add a control panel with dedicated knobs for Altitude, Barometer, and Heading/Track so they are always there for quick adjustments. The autopilot control panel adds immediate control of all autopilot modes.
---
Skyview Features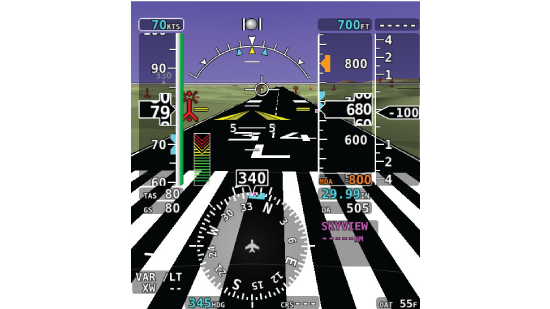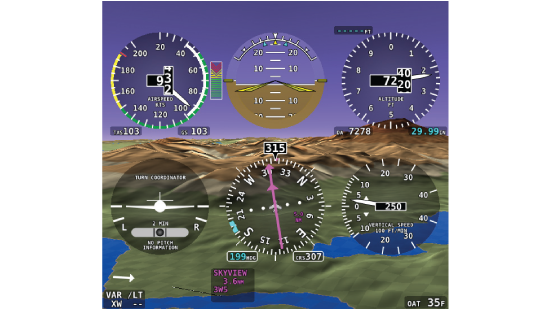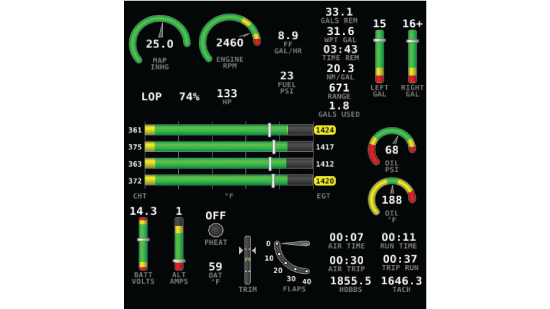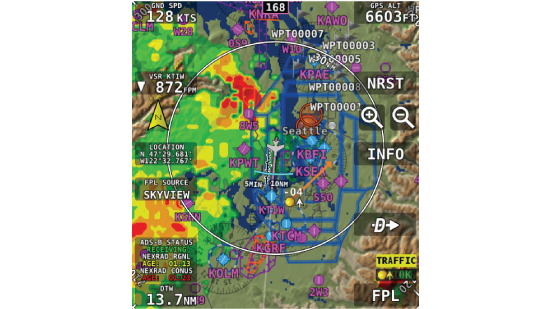 SkyView's PFD display enhances situational awareness with realistic and accurate 3D depictions of runways, obstacles, terrain, and water.

New to glass? SkyView's "six-pack" mode bridges retro analog gauges with the state-of-the-art.

The tools you need to completely manage your powerplant, including the industry's only automatic EGT lean/rich mixture detection that requires no pilot action and the most accurate percent power calculations possible. Modern cars know their range to empty and instantaneous MPG; Shouldn't your airplane?

Equip with the SV-ADSB-470 (US-only) to gain graphical NEXRAD weather radar imagery, text METARs, TAFs, winds aloft, traffic, and more.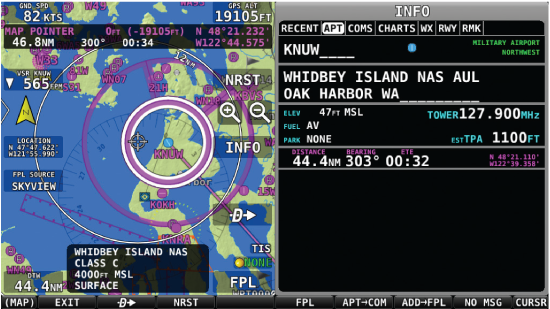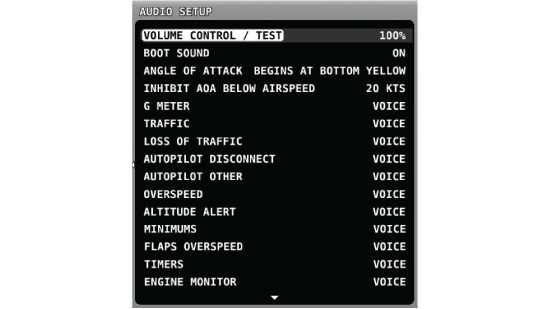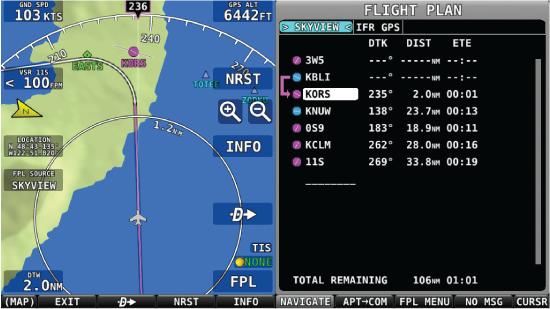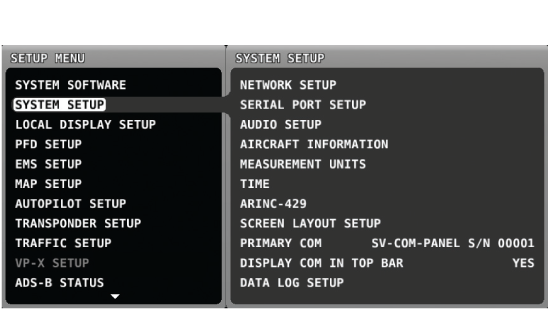 Point at airports, airspaces and more for instant information about them right on the map. From there, one button press gets you virtually all the information available for airports, including TPA, frequencies, services, charts, weather, and even the airport facility directory remarks.

Voice alerts detail specific warning and caution conditions as they occur. A tone that gains intensity as your angle-of-attack increases helps you grease your landings and avoid stalls before they happen.

SkyView's navigation engine flies like you would. It anticipates waypoints and turns just before them to avoid needless overshoots. You can even display the graphics and waypoints from external IFR GPS flight plans.

You shouldn't have to be a computer programmer to install your avionics: An intuitive, hierarchical setup menu helps you configure your system with ease.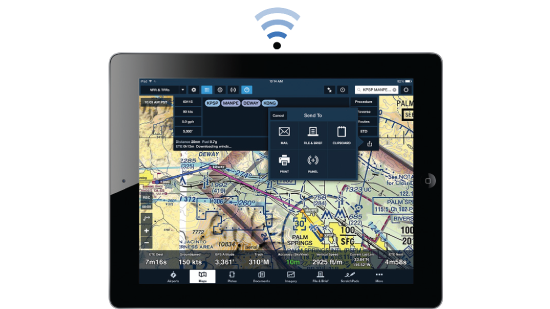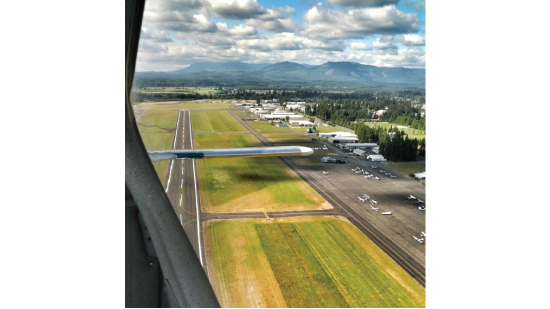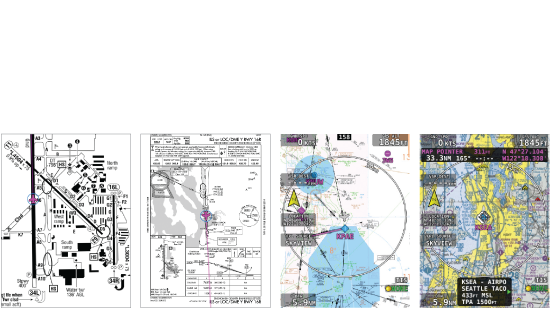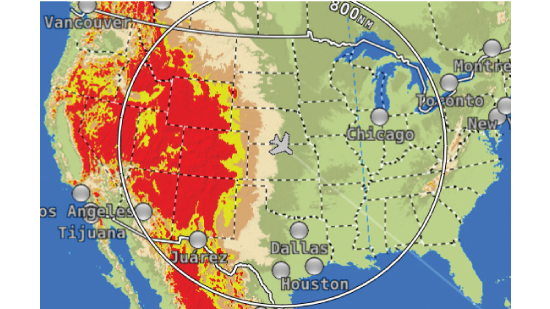 Plan your flight at home using ForeFlight Mobile's flight planning features, then save time at the airplane by sending the planned route to your SkyView system via the Wi-Fi Adapter.

Connect up any device with s-video or composite output with the optional video input adapter. Perhaps a forward looking taxi camera for your tail-dragger.

With procedure charts (plates), airport diagrams (including ~5000 Flight Guide diagrams in the US), IFR en route charts, VFR sectionals, and SkyView's own map, you can truly achieve a paperless cockpit at the lowest prices in the industry.

SkyView's free worldwide terrain data is the highest resolution available. Terrain colors are designed to look similar to charts while you're en route. They alert in vibrant yellow and red when altitude clearance is a factor.