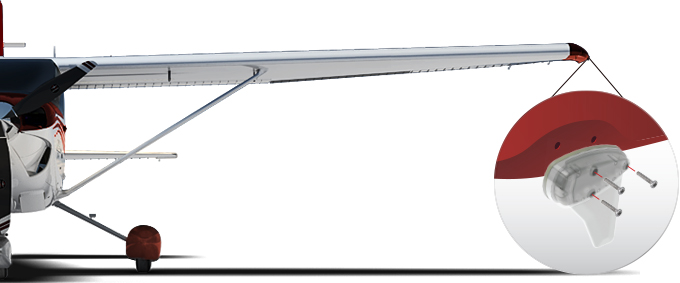 Easy Installation
Installation is as simple as replacing your nav light.
No airframe modifications or additional antennas are required, skyBeacon uses the existing mounting location and wiring.
All-in-one ADS-B solution includes:
UAT ADS-B Out
Integrated WAAS GPS
Works with any Mode C transponder wirelessly
Supports Anonymous Mode
Integrated LED Navigation light

Goof-Proof Configuration
Don't know your ICAO or lateral GPS offset? No problem.
The skyBeacon mobile application will automatically configure the ICAO address, emitter type, aircraft length, width and GPS offsets by accessing the aircraft registration information stored online.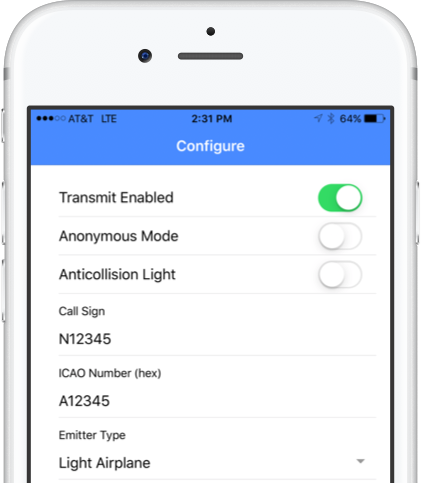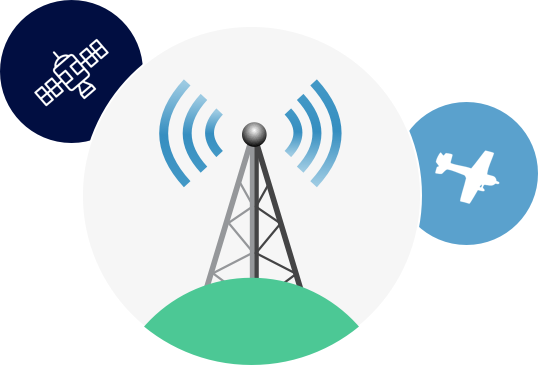 Ready for 2020
Everything you need for 2020 and beyond
Broadcasts on the UAT/978MHz frequency for operation up to FL180 within the U.S
WAAS GPS
Supports Anonymous Mode
Coming early 2018 for Certified Aircraft
Input Voltage: 11-31V DC
Operating Power: 3 watts
Size: 124x116x48mm
Weight: 90 grams
SDA/SIL: 2/3
Operating Temp: -45°C to 80°C
978MHz UAT Transmitter Power Classification: DO-282B Medium Power
WAAS GPS: Tracking -166dBm, Reacquisition -160dBm, Cold Start: -148dBm
LED Color: Aviation Red
LED Intensity: 40 candelas
Wi-Fi Configuration: 802.11b/g/n
App Compatibility: iOS, Android
Power Transcoder: Decodes Mode A, C and S via DC input