When configured as primary to display engine information, the GI 275 is capable of interfacing with single-engine and multi-engine normally aspirated or turbocharged aircraft with select powerplants, including Lycoming and Continental 4/6-cylinder engines. When the GI 275 replaces mechanical gauges and is configured as primary for engine information, the GI 275 can display RPM, manifold pressure, oil pressure and temperature, cylinder head temperature (CHT), exhaust gas temperature (EGT), turbine inlet temperature (TIT), fuel flow, fuel quantity, fuel pressure, volts and amps. Lean assist functionality is also available so pilots can choose to operate rich of peak or lean of peak. The GI 275 also features exceedance alerting, allowing installers to configure caution and warning alerts per the Pilots Operating Handbook (POH). Advisory alerts such as "high oil temp" or "high CHT" can be configured by the pilot. These exceedances, as well as additional engine data can be shared wirelessly with the Garmin Pilot app on Apple mobile devices and can also be viewed on the flyGarmin website for post-flight analysis. In multi-engine aircraft, dual GI 275's are required to display engine information.
REPLACE ANALOG GAUGES WITH ELECTRONIC DISPLAYS
Adaptable to a full range of instrument formats and functions, our GI 275 electronic display lets you keep the classic look of your panel while upgrading with modern, reliable glass touchscreen display technology.

Out with the old, in with the new. It flush mounts in a standard 3-1/8" round cutout.

From piston singles to jets, it's STC'd for over one thousand make/model aircraft.

How do you see it? Attitude, altitude, airspeed, CDI, HSI, MFD or EIS.

It's available with precise digital ADAHRS and interface to drive select autopilots.

Connect your cockpit with built-in Wi-Fi® connectivity and BLUETOOTH® technology.

Know you'll get home with up to 60 minutes of optional backup battery power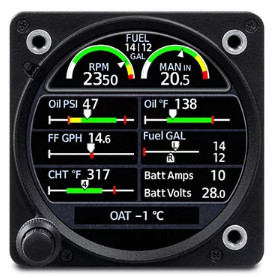 ENGINE INFORMATION SYSTEM
With optional interface module and sensors, GI 275 can serve as a primary EIS display for piston engine, fuel, electrical and other data. Use dual GI 275 displays to monitor twin-engine aircraft.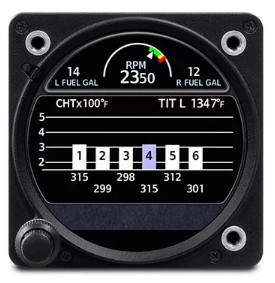 EGT/CHT MONITORING
Graphical display of cylinder head and exhaust gas temperatures allows you to pinpoint the optimal fuel/air mixture for efficient power management.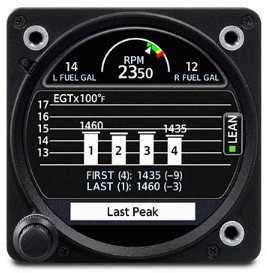 LEAN ASSIST MODE
This function of the Garmin EIS automatically checks the EGT of all cylinders and identifies your preferred rich/lean setting to balance efficiency and performance.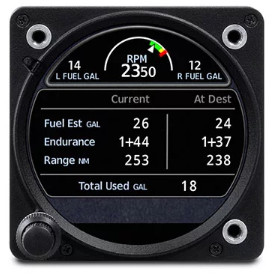 INTEGRATED FUEL COMPUTER
In addition to fuel quantity, the Garmin EIS monitors fuel flow and GPS information to estimate how much fuel, range and flight time you have left to go at current settings.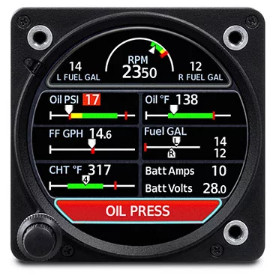 EXCEEDANCES ALERTING
With EIS on your GI 275, color-coded pilot alerts/advisories help maintain engine performance and safety. Flashing cues quickly identify out-of-limit exceedances.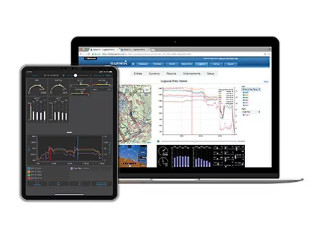 AUTOMATIC DATA LOGGING
EIS data on the GI 275 electronic display is automatically logged and available for wireless Connext® streaming to your mobile device — with automatic cloud storage in the flyGarmin.com® website.
Width: 3.25" (82.6 mm)
Height: 3.25" (82.6 mm)
Depth: 6.44" (163.6 mm)
Depth with Connector: 7.40" (188.0 mm)
Unit Weight: 1.9 lbs (0.86 kg) to 2.4 lbs (1.1 kg)
Active Display Size: 2.69" diameter
Display Resolution: 480 x 433 pixels
Operating Voltage: 14/28 VDC
Operating Temperature Range: -20°C to +55°C
Altitude Range: -1,500 ft to 55,000 ft
Wi-Fi Class: 802.11b/g/n
Standard GI 275 w/GEA 110 includes the following:
GI 275, Base
GI 275 Connector kit
GI 275 Product registration
GEA 110 -1, Standard
GEA 110 Install tray
GEA 110 Connector kit, Sealed
*NOTE: One GI 275, GEA and engine sensor kit is required per engine.