uAvionix introduces AV-Mag External Magnetometer for AV-30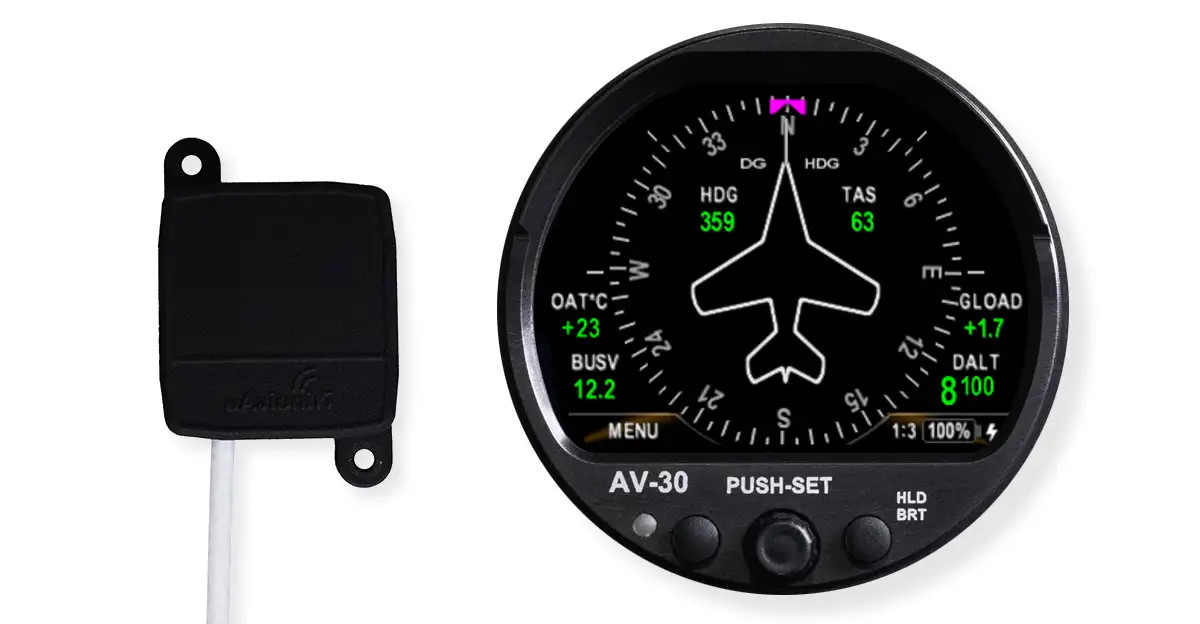 June 1, 2022 - Bigfork, Montana
uAvionix today announced AV-Mag, the high precision 3-axis external magnetometer for AV-30 panel displays. AV-Mag, when paired with an AV-30, will provide consistent and accurate magnetic heading information. With its ability to precisely measure the earth's magnetic field and aid the AV-30 directional heading measurement, AV-Mag offers the long-term high-accuracy Directional Gyro (DG) solution that pilots have requested.
Optimal performance of AV-Mag is achieved by innovative calibration and measurement techniques, including precise integration of attitude and magnetic field data in all orientations, and the use of the World Magnetic Model (WMM) to aid in calibration. Added features like Wind Direction and Speed are planned for an upcoming release.
Eliminate the need to set the DG upon Pre-Flight
With AV-Mag, pilots have the option to allow AV-30 to utilize the magnetic compass data from AV-Mag, rather than manually setting the DG to compass heading. Pilots wishing to use the AV-30 as a traditional user-adjusted DG can also override the measured magnetic heading and set a specific heading for aerobatic maneuvers or other practice procedures.
Easy Installation
AV-Mag supports a number of installation orientations – simply wire and mount AV-Mag in a location away from ferrous metals or magnetic interference, ideally in the tail or either wing. Then perform the AV-Mag calibration procedure and enable AV-Mag, all accomplished directly from the AV-30 user interface.
And much more to come
The improved long-term heading stability provided by AV-Mag allows for additional integrations and exciting new functionality moving forward. That includes features like Wind Speed and Direction, and improved accuracy of autopilot navigation functions. uAvionix continues to partner with innovative aviation companies, pursuing integrations and working towards the ultimate connected cockpit powered by AV-30, AV-Link, and AV-Mag.