Smart Glide Now Available for G3X Touch™ and G5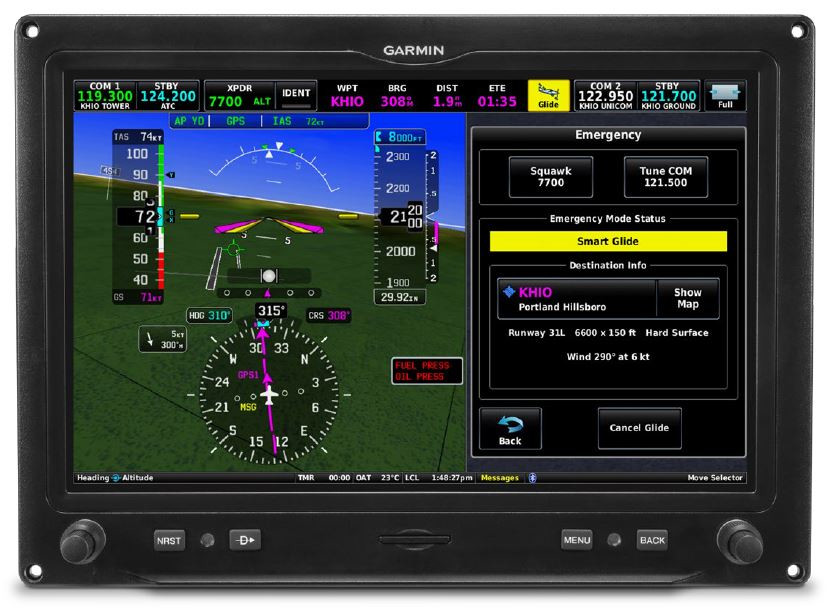 Garmin is pleased to announce that Smart Glide™ technology is now available for the both the G3X Touch™ and G5 in certificated aircraft that are equipped with a GTN™ Xi series navigator. Smart Glide is a revolutionary safety tool that helps pilots in loss of engine power emergencies by automating tasks to reduce pilot workload and is available now via a software update to the applicable products, including the GI 275 and G500/G600 TXi.
Part of the Garmin Autonomi™ family of autonomous flight technologies, Smart Glide assists the pilot in the event of a loss of engine power in a single-engine aircraft by recommending a suitable airport estimated to be within glide range1. In addition, Smart Glide will provide critical information to the pilot and optimize select avionics settings, helping save the pilot precious time and workload. When paired with a compatible Garmin autopilot, Smart Glide can automatically engage the autopilot and pitch for the aircraft's best glide speed while simultaneously navigating the aircraft to the vicinity of the selected airport so the pilot can execute an approach and landing.
In certified aircraft, Smart Glide can be activated by pressing the Direct-To button on the GTN Xi, by pressing the Smart Glide button the new G3X EMER page introduced in software version 9.00 or via a discreet switch installed in the panel.
G3X Touch Software v9.00
Software v9.00 provides new features, such as:
Smart Glide support
New Emergency page
Adds ability to simultaneously arm flight director VNAV along with GP or GS mode
Support for G3x5D diversity transponders
Additional Fuel quantity updates
Improved synthetic vision pathways display
Improved Connext® data processing and more
G5 Software Version v8.00
With software version 8.00, the G5 can now engage the GFC500 autopilot automatically when Smart Glide technology is activated. In addition, this software version provides improved detection and indication of G5 battery failure and provides support of all G5 battery packs (Version 1 through Version 3). For a full list of features, please reference the STC Service Bulleting 22011.