S-TEC System 30 Autopilot Now Certified for the Piper PA-32RT-300 T-Tail Lance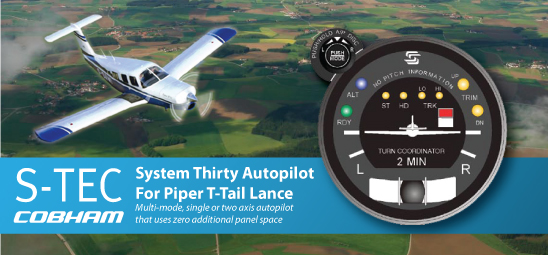 For all Piper PA-32RT-300 T-Tail Lance owners, the wait is over. You finally have an opportunity to upgrade the autopilot in your aircraft! As the result of a joint effort between S-TEC/Cobham and Sarasota Avionics, the System 30 Autopilot is now STC'd for the PA-32RT-300. Avoid expensive repairs on your old autopilot by taking advantage of this opportunity to upgrade, brought to you by Sarasota Avionics.
For a limited time, SAVE $2,000 off our normal installation price:
Get the System 30 installed for only $12,989.00*
* Due to the limited number of units available at this deeply discounted price, the above promotion can only be offered to the first 10 customers. Please call for a customized installation quote for your aircraft. Or
send us a Quick Quote Request here
.
Multi-Function control knob. Turn command and push for mode select (push and hold for A/P disconnect).


Ready. Indicates A/P ready status and reliable gyro speed.


Roll stabilization mode. Holds wings level and activates turn command knob for A/P commanded turns up to 90% standard rate.


Heading preselect and hold.


VOR/LOC/GPS tracking, dual-LO for en route VOR tracking and smooth station passage. HI for GPS en route and LOC, VOR and GPS approaches.


Altitude hold.


Pitch trim annunciator. Advises if up and down elevator trim required when altitude hold engaged.
System Thirty: features and functions
Options

3" panel mounted
Internal lighting
Roll axis computer entirely within turn coordinator
Heading preselect and hold
Turn coordinator in "ST" roll stabilization mode
Low and high gain VOR/LOC/GPS tracking (track only)
Altitude hold (only)
Compact, remote pitch computer
Pitch trim annunciation