New Packages for Global Weather, Texting, and Calling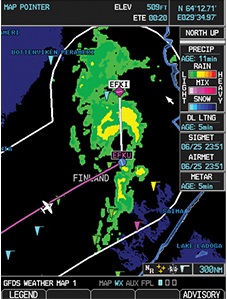 Garmin is pleased to introduce great new, limited time promotional packages to allow you affordable access to global weather, texting, and calling! Whether you're flying around Europe, Australia (or anywhere), or just trying to stay in touch with those on the ground, these great new packages are the most affordable way to stay connected and get the weather you need to complete your mission.
Get equipped today with our GSR 56 satellite link system and our award winning GTN touchscreen navigator products or G500/G600 glass cockpit systems while saving save money in the process. Packages start at around $16,500 for a GTN 650 and GSR 56 and run through April 30th, 2015! (Iridium antenna for the GSR 56 sold separately).
With Garmin's GSR 56, you can enjoy the safety-enhancing benefits of subscription based datalink weather when operating worldwide. Weather data is requested on demand using the GSR 56 satellite link. Global weather data includes Meteorological Aviation Reports (METARs) that provide current temperature, dew point, precipitation, wind speed and more, as well as Terminal Aerodrome Forecasts (TAFs) that show predicted weather for up to 30 hours in advance. Throughout most of Europe, Canada, Australia, and the U.S., the GSR 56 can also receive high-resolution radar imagery, which displays in full color on the GTN systems and G600/G500/G500H series of displays.
The GSR 56, when used with the GTN navigator, can also be used to provide 2-way text messaging via SMS to any compatible mobile phone or email address along with Position Reporting information to both owners and operators, ultimately increasing safety and situational awareness. You can easily make and take calls while in flight via your aircraft's audio/intercom system.
| | | | |
| --- | --- | --- | --- |
| Package | Regular Price | Instant Discount | Special Pricing |
| GTN 650 + GSR 56 | $18,638.00 | (3,400.00) | $15,238.00 |
| GTN 750 + GSR 56 | $23,378.00 | (3,400.00) | $19,978.00 |
| G500 (Standard Left-Side PFD) + GSR 56 | $22,878.00 | (4,000.00) | $18,878.00 |
| G600 (Standard Left-Side PFD) + GSR 56 | $35,858.00 | (4,000.00) | $31,858.00 |
* Discounted prices only valid when the GSR-56 is purchased in conjunction with a GTN750, GTN650, G500 or G600. Units must be ordered at the same time to receive the reduced pricing. Installation not included. Please call for complete details.
Garmin Subscription Service for Weather, Texting, and Calling
For piston powered aircraft, weather packages start at $100 for 35 weather requests per month. Other services include voice and text (SMS) starting at $40 per month, and position reports starting at $20 per month. For more information regarding subscription options and pricing, visit:
https://fly.garmin.com/fly-garmin/connext/satellite-services/
To sign up for weather, texting, and/or calling service, visit:
https://fly.garmin.com/fly-garmin/connext/satellite-services/sign-up/