New D2 Pocket Panel, Reduced Price on D1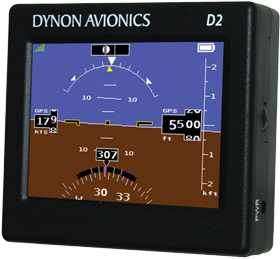 Dynon introduces their new
D2 Pocket Panel
. This is a second model to the Pocket Panel product line, adding Wi-Fi connectivity to allow flight data to be sent to popular iPad, smart phone, and tablet aviation applications. The D2 also has a second screen with a G-Meter. The D2 will sell for $1,425, while the original D1 has a new lower price of $1,195.
Wi-Fi connectivity allows attitude and GPS ground speed, altitude, G's, and ground track to be sent from the D2 in real-time to aviation applications, which can then show that data on a flight information display. Compatible applications include the WingX Pro7, AOPA FlyQ, BendixKing myWingMan, iHUD Remote, and Air Navigation Pro.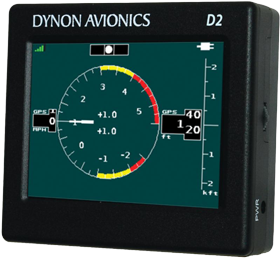 The D2's second page G-Meter shows a graphical round dial with the current load factor shown by a needle, plus it records the minimum and maximum G's since being last reset by the pilot.
So how do the D1 and D2 differ for some other "attitude" tablet products on the market? Both utilize Dynon MEMS-based AHRS technology, and both are true artificial horizons with accurate pitch and roll. This means they can find the horizon even if turned on in flight. The AHRS sensors also drive a turn rate indicator and slip/skid ball. Included is an internal GPS receiver to display GPS ground speed, altitude, vertical speed, and ground track.
The accessories included with the D2 are the same as the D1, including an AC power adapter, a DC vehicle power adaptor, a RAM® suction cup mount, 3 ?" portable "pinch" mount, internal Li-Ion battery, and external GPS antenna.

FEATURES:
Proven Dynon MEMS-based attitude sensors
Accurate pitch and roll: A true artificial horizon
Internal Li-Ion battery and GPS for hours of portable use
Versatile portable mounts: RAM suction mount and 3 ?" panel hole "pinch" mount both included
GPS ground speed and track (heading)
GPS altitude and vertical speed
Turn rate
Slip/skid ball
Dimmable screen for night flight
Truly pocket sized, approx. 3½" x 3¼" x 1"
WiFi connectivity
G-Meter Page