New Airgizmo Panel Dock for aera 795/796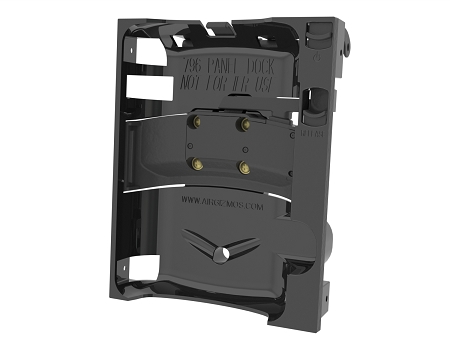 The Aigizmo Panel Dock for the aera 795/796 follows in the tradition of their other products by holding the GPS securely in the panel while allowing the GPS to be easily removed from the plane for flight planning or for use in a different plane.

The 796 is a big step up in capability from its predecessor, the 696, but it is also a bit larger. This required the need to take extra care to minimize the footprint that it will occupy in your panel. By sculpting the top and bottom of the Panel Dock, the overall dimensions were kept to 6.25" wide by 8" tall. If you already have the Airgizmo 696 Panel Dock installed you will be pleased to know that the new 796 Panel Dock is designed to fit in the same opening. The screw holes are in the same location as well, so you should be able to easily upgrade.

The included actuator "button" allows you to access the on/off switch that is located on top of the device; making it possible for you to turn the GPS on or off, or set the brightness, without removing the GPS from the Panel.

As with the 696 Panel Dock, there is an included cooling port on the back of the 795/796 Panel Dock. This port is compatible with standard avionics cooling fans if you decide you want to use this feature.

The 795/796 Panel Dock is designed to work with the existing Angle Adapter.