MyGoFlight Announces the iPad Sport Cool Case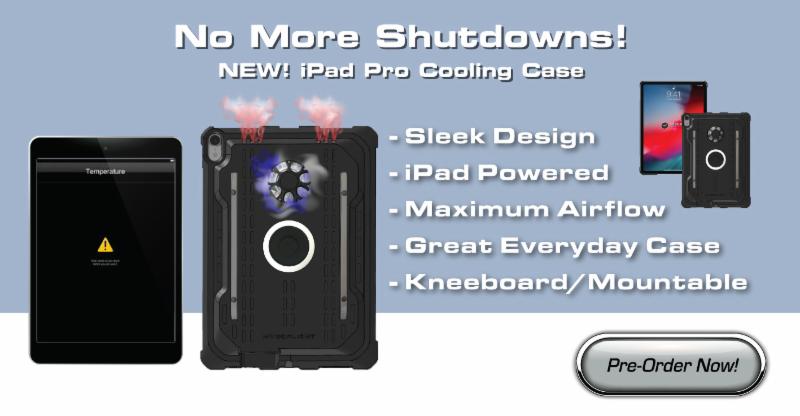 As the iPad has gotten thinner and is equipped with a more powerful processor and larger battery, it runs hotter. And, no matter the temperature in or outside the cockpit, direct sunlight on the screen of the iPad will cause it to overheat in about ten minutes. The iPad Sport Cool Case is the first iPad case to add high-end gaming laptop cooling technology engineered to provide maximum airflow with minimum noise powered from the iPad itself in a cool, sleek design. No extra batteries, minimal extra weight.
The iPad Sport Cool Case can be used either as a mountable case or kneeboard and can be used in direct sun. Used in cockpits of planes, trucks and cars and outside when flying a drone or at the beach.
GPU/CPU Thermal Blower Technology
Utilizing a single asymmetrical, high pressure cooling fan, air is drawn in from outside and blown across the back of the iPad to cool it. The hot air is expelled through six exhaust ports on the top of the case.
Maximum Airflow.
Thin polymer blades allow for more blades to be used and reduce blade flex, both contribute to maximum airflow.
Low noise.
Sculpted blade design coupled with a high-end brushless motor provides for maximum efficiency with the least amount of noise.
Low power consumption.
Efficient motor design operates on 5v.
Powered by iPad.
A power cord connected to the USB C port on the iPad runs the Thermal Blower. A fully charged iPad can run an aviation app and the fan for three hours with the iPad going to 40% - 50% power. No batteries. No cord.
Power the iPad.
Power can be applied to the case directly which will charge the iPad and power the Thermal Blower both.
Mountable & Kneeboard both.
As with all iPad Sport cases, this case comes a 360 degree mount attachment built in and a leg strap so that the case can be used as a kneeboard too.
Compatible with all MYGOFLIGHT mounts.
No extra parts required to be added to adapt this case to a MYGOFLIGHT mount. A RAM adapter is available to adapt the case to existing RAM mounts if desired.
Compatible with ArmorGlas by MYGOFLIGHT.
When the iPad is in the sun or a bright cockpit, reflection can make it unreadable. ArmorGlas Anti-Glare glass solves this problem. It will protect the screen of the iPad too.
Great Everyday Case.
New, good looking, sleek case design. Perfect for the airplane. Perfect for everyday use too.