Garmin Unveils Vantage Line of Certified ADS-B Solutions
Garmin is pleased to unveil Garmin Vantage, a family of existing Automatic Dependent Surveillance-Broadcast (ADS-B) solutions designed to exceed the needs of aircraft owners and operators around the world. These ADS-B solutions serve a diverse number of aircraft and their operators, including experimental, general aviation, helicopter, business and transport category aircraft.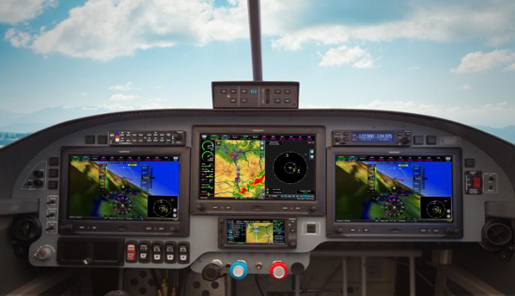 Garmin Vantage encompasses the industry's most comprehensive series of certified ADS-B solutions that are presently available to immediately address air traffic modernization initiatives around the world and offers safety enhancements to aircraft owners.
Vantage ADS-B Solutions for General Aviation are Timely and Simple
For aircraft without modern display technologies, the GDL 84 presents many aircraft owners with a cost-effective solution to meet NextGen requirements without the need to overhaul the panel of the aircraft. The GDL 84 offers experimental and general aviation aircraft the option to wirelessly display weather and traffic on a mobile device, while meeting regulatory requirements for ADS-B Out when operating below 18,000 feet. The GDL 88 goes one step further to provide the benefits of ADS-B on a compatible display installed in the panel. These Garmin Vantage ADS-B solutions are approved for hundreds of aircraft makes and models and provide pilots operating in the U.S. with a simple, straightforward option to meet airspace requirements.
Aircraft owners seeking an ADS-B Out transponder-based solution are offered an affordable path to compliance by integrating the GTX 330ES or GTX 33ES into their avionics suite with an approved WAAS position source on board. This Garmin Vantage ADS-B solution offers compliance for aircraft operating at any altitude around the world.
Industry-First Features Optimized for Helicopters
The GDL 84H and GDL 88H provide a rule-compliant ADS-B Out solution for helicopter operators in the U.S., while offering state-of-the-art traffic alerting capabilities tailored to these operators and their unique operations. As part of Garmin's Terminal Safety Suite, TerminalTraffic™ provides pilots with the most comprehensive picture of ADS-B-equipped aircraft and ground vehicles in the airport environment. ADS-B-equipped aircraft in-flight are easily distinguished from ground vehicles and taxiing aircraft, which are displayed using distinct colors and symbols.
Solutions for Business and Transport Aircraft
As part of Garmin's expansive ADS-B portfolio, the GTX 3000 meets current compliance standards as a certified ADS-B Out solution when paired with a compatible WAAS position source, such as the GDL 88, allowing this cohesive system to meet ADS-B requirements for a variety of business and transport category aircraft. With this Vantage solution, owners and operators can satisfy global ADS-B requirements and receive the benefits of ADS-B without the need to pursue costly Flight Management Systems (FMS) or cockpit display upgrades. Utilizing the internal WAAS/SBAS receiver within the GDL 88, the GTX 3000 transponder broadcasts aircraft identity, state and intent data (DO-260B compliant) to air traffic control, while integrating with existing equipment, such as TCAS systems and transponder controllers. This Vantage ADS-B solution is currently certified for the Gulfstream G150 and G200 business aircraft and is available at the Gulfstream Service Center in Dallas, Texas.
Additionally, Garmin is currently working with select Garmin Authorized Dealers to approve this Vantage solution via Supplemental Type Certificate (STC) in the following aircraft, which will be made available to the Garmin Dealer Network:
• Beechjet 400A/Hawker 400XP; Elliott Aviation
• Hawker 750, 800A/XP, 850XP; 900XP; Elliott Aviation
• Citation V; Executive Aircraft Maintenance
• Learjet 60; Butler National Corporation
• Learjet 35A; Butler National Corporation
Thousands of Garmin-Equipped Aircraft Owners Worldwide Are Close to ADS-B Compliance
Thousands of customers already equipped with Garmin avionics in their panel are provided an easy upgrade path to meet ADS-B airspace requirements around the globe, thanks to our heritage of scalable and upgradable product designs. Aircraft owners who already have a GTX 330 or GTX 33 transponder can optionally pursue a simple Extended Squitter (ES) upgrade for $1,200 (plus installation). When paired with a compatible WAAS position source, this quick and easy upgrade provides the transponder with the appropriate transmission capabilities to meet ADS-B Out requirements. For GNS non-WAAS customers, a path is available to upgrade existing avionics to WAAS for use as an approved ADS-B Out position source.
Integrated Flight Deck Upgrades
Many aircraft manufacturers are pursuing transponder-based solutions such as the GTX 33 ES, which are becoming available as an ADS-B Out compliant option for aircraft with a WAAS-enabled Integrated Flight Deck. For aircraft without WAAS, the GDL 84 can offer ADS-B Out compliance and ADS-B In capabilities for display on a mobile device later this year. Garmin continues to work on solutions for Integrated Flight Decks that will be made available to aircraft manufacturers.
Garmin Vantage ADS-B solutions are further extended to experimental amateur-built and light sport aircraft (LSA). Pilots who install the non-certified G3X™ and G3X Touch systems can become ADS-B Out compliant with the remote-mounted GTX 23 ES transponder, when paired with an approved WAAS position source, such as a GTN touchscreen navigator. Transponder control is provided on the display of G3X and G3X Touch, giving pilots convenient access to this remotely installed solution.
Preserve the Panel of the Aircraft
Minimally intrusive ADS-B solutions provided by Garmin Vantage are available to aircraft owners who do not wish to modify the panel of their aircraft. The GDL 84 and GDL 88 contains patented AutoSquawk wireless interrogation technology, which interfaces with existing equipment to sync the squawk code between the transponder and the ADS-B Out solution, eliminating the need to install a separate dedicated UAT control panel. These Garmin Vantage ADS-B solutions interface with a wide range of general aviation transponders so pilots are offered flexibility without the cost of a major installation.
Superior ADS-B In Features with Garmin Vantage
Dual-link technology that comes with the GDL 84 and GDL 88 provides pilots with the most comprehensive traffic picture available in the industry today, as these solutions receive on both approved ADS-B frequencies. Enhancing the traffic picture, TargetTrend™ offers pilots a heightened state of situational awareness. Traffic trajectories and potential conflicts are easier to identify with TargetTrend, which incorporates relative motion technology to help pilots visualize closure rate of nearby traffic targets. The traffic picture is further enhanced during taxi, takeoff and landing with TerminalTraffic™, which detects and displays other aircraft or ground vehicles on runways or taxiways who are also broadcasting their ADS-B position information.
Flight Information Service-Broadcast (FIS-B) weather products are another example of the many benefits offered by receiving ADS-B In. Select Garmin Vantage ADS-B solutions take advantage of subscription-free weather, including NEXRAD imagery, METARs, TAFs, winds and temperatures aloft, PIREPs, NOTAMs and more within the U.S. These weather products are accessible on a variety of certified displays and mobile devices, offering pilots a number of possibilities when it comes to receiving the benefits of weather and traffic in the cockpit.
Discover Educational Tools, Plan Your Installation, Save Money
Garmin Vantage is backed by decades of experience resulting in superior integration, industry leading technology and exclusive features unmatched by any other ADS-B solution available on the market. Aircraft owners can discover which Garmin Vantage solution best fits their needs by visiting our newly redesigned ADS-B website, which provides owners with the tools needed to make informed decisions regarding their individual installation. Garmin's new website guides pilots through a series of graphics, videos and features an interactive installation planner to suggest a Garmin Vantage solution tailored to their individual aircraft. For a limited time, the installation planner concludes by supplying a 30-day discount certificate good toward the purchase of select Garmin Vantage ADS-B solutions. Visit Garmin's updated website at: www.garmin.com/ads-b.