Garmin Unveils the GDL 88 Series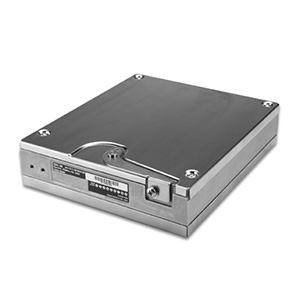 The GDL 88 Series is the first, dual-link solution for certified aircraft that not only provides a path to meet the ADS-B "Out" requirements for many aircraft owners, but also brings subscription-free weather and advanced traffic display to the cockpit. With the GDL 88, Garmin provides a turnkey solution for many aircraft types. Not only does this versatile unit provide both ADS-B "Out" and "In" capability for aircraft operating in U.S. Airspace and below 18,000 feet, but it is also able to receive on both 1090 MHz and 978 MHz UAT frequencies. That means it can link with these other transmitter formats within air-to-air range – and provide the most comprehensive display of ADS-B "Out" equipped traffic targets in the vicinity, regardless of your proximity to a ground station uplink. This all adds up to enhanced flight safety for aircraft equipped with Garmin's dual-link ADS-B transceiver.
The dual-link design overcomes several other limitations inherent with single-link ADS-B options. For example, if your 1090 MHz (Mode S) transponder has extended squitter (ES) functionality for ADS-B "Out", then your GDL 88 can be used in 1090/978 MHz receive mode to provide the display capabilities for ADS-B "In". Aircraft operating outside the U.S or above 18,000 feet may require 1090 MHz with ES compliant mode S transponder with Extended Squitter. In effect, the dual-link Garmin GDL 88 truly offers a more "Universal Access" solution than a single-link UAT. However, if you do only fly below 18,000 feet and stay within U.S. airspace, then the GDL 88 can serve as your all-in-one, ADS-B "Out" and "In" transceiver. Garmin's GDL 88 can provide a robust ADS-B experience for aircraft of all types and sizes. Everything from piston aircraft to larger GA business aircraft can benefit with an appropriately scaled Garmin GDL 88 installation.
Satisfy the ADS-B Mandate
Under the FAA's NextGen air traffic management system, all aircraft in controlled airspace will need to be equipped with ADS-B "Out" technology by 2020. For those who only fly below 18,000 feet and in U.S. airspace, the GDL 88 offers an affordable solution to obtaining compliance. With ADS-B "Out", the GDL 88 gathers information about your position, track and speed from either your existing WAAS GPS source or an optional built-in WAAS receiver. It then broadcasts this information to ADS-B ground stations over the 978 MHz Universal Access Transceiver (UAT) frequency. This gives ATC and ADS-B "In" equipped aircraft a more precise picture of what's happening in the sky, and allows for safe and efficient flight routing.
Subscription-free Aviation Weather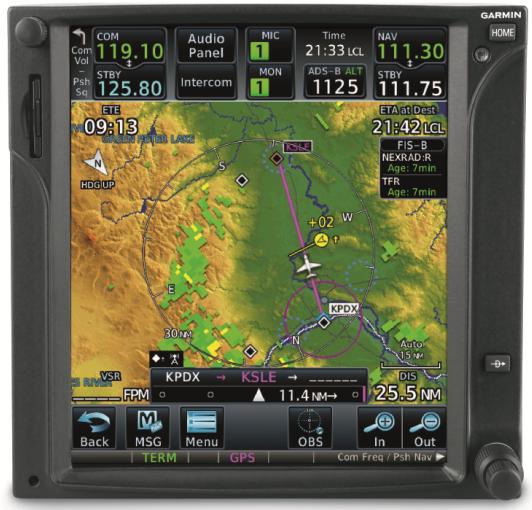 The GDL 88 also features ADS-B "In" datalink technology that allows it to receive subscription-free Flight Information Service-Broadcast (FIS-B) weather broadcast from ADS-B ground stations on the same 978 UAT frequency. The weather content available on this subscription free FIS-B datalink is comparable to the basic subscription services offered by leading commercial satellite weather providers. On a compatible flight display, this uplink allows you to view graphical NEXRAD radar, METARs, TAFs, SIGMETs, AIRMETs, NOTAMs, TFRs and more. This means there's a real economic advantage to be gained with the Garmin GDL 88 series as the choice for ADS-B 'In'. The FAA's ADS-B datalink traffic and subscription free weather is currently available and operational in many areas across the U.S. The FAA plans to have nationwide coverage by the end of 2013.
Spot Potential Traffic Threats
Since the GDL 88 has a dual-linked receiver, pilots will get a comprehensive view of all ADS-B "Out" equipped targets in the vicinity. The GDL 88 is also compatible with active traffic systems, enabling it to prioritize multiple traffic inputs and remove duplicate targets by choosing the highest integrity source available. When there are several traffic targets in an area, the advanced display capability of the GTN series will de-clutter the display by grouping the targets and showing only the one that is the highest priority. The pilot can touch a grouped target to ungroup and show all targets in the area. The GTN also allows the pilot to select any target on the display to view more detailed information including closure rate and ground speed.
With a new display feature called "TargetTrend™," Garmin's GDL 88 offers pilots a faster, more intuitive way for pilots to judge the direction and closure rate of intruding targets in relation to the their aircraft's position. Unlike a ground controller's traffic display, which has a fixed reference point, the reference point for your ADS-B airborne display is constantly moving through space. So, rather than a fixed "snapshot" of the traffic situation, TargetTrend™ provides a more dynamic "velocity-based" display that shows which aircraft trajectories are most likely to converge with your own. This, in essence, is what TargetTrend™ relative motion display does – providing an easy-to-interpret directional traffic picture that allows for faster, better decision making and increased safety of flight in high-density traffic environments. While today, not all targets will display with TargetTrend relative motion trajectories, as more aircraft become ADS-B 'Out' equipped, the more beneficial this capability will become to pilots.
| | | | | |
| --- | --- | --- | --- | --- |
| | | | | |
| | Absolute Motion (a traditional depiction of traffic) | | TargetTrend™ (Relative Motion) | |
Receive Audible Alerts
You can still take advantage of the GDL 88's ADS-B "In" traffic, even if you don't have a compatible flight display to view the data. When appropriately equipped aircraft are in your vicinity, a visual indicator light can alert you when traffic enters your vicinity and audible alerts will let you know of a conflicting aircraft's range, bearing, and relative altitude (when available). You'll hear this information through your cabin audio system in an ATC-like spoken format: "Traffic: 10 O'clock, High (or Low or Same Altitude), 2 miles."
Separate Control Panel Not Required
Under ADS-B requirements, your ADS-B "Out" source must squawk the same code as your transponder. Patent-pending technology allows the GDL 88 to be compatible with a wide range of general aviation transponders –synchronizing squawk code and ident to eliminate the need to install a dedicated UAT control panel. By opting for the "do it all" solution provided by Garmin's GDL 88, your path to ADS-B compliance is as simple, straightforward and cost-effective as it can possibly be.
Enhance Your Reception
Antenna options allow the performance of the GDL 88 to be optimized for any type of aircraft. For optimal performance, a diversity antenna version of the GDL 88 with both top- and bottom-mounted antennae enhance the signal reception both above and below, and works to minimize blind spots caused by the wings or fuselage during aircraft maneuvering. This is especially useful in maintaining optimal reception of ADS-B traffic during ground operations. A basic bottom-mount antenna version is also available as a more cost-effective alternative.
* 978/1090 MHz and WAAS/GPS antennae sold separately