Garmin Team X Offers New 7-inch Touchscreen Display and Connext Cockpit Connectivity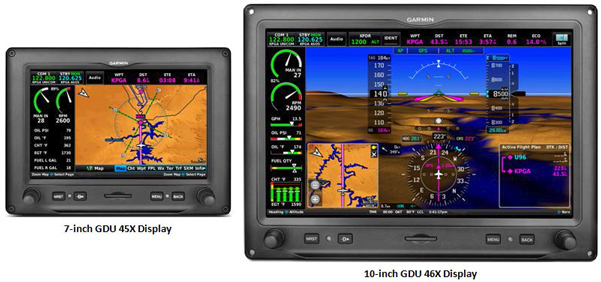 Garmin is pleased to announce a new 7-inch G3X Touch display option for experimental amateur-built and light sport aircraft. The new high-resolution infrared touchscreen display compliments the existing 10.6-inch G3X Touch system, offering new panel design options and redundancy. All G3X Touch displays support Connext cockpit connectivity between avionics and mobile devices featuring wireless flight plan transfer capabilities and more.
The 7-inch G3X Touch display features a robust, infrared touchscreen display, which demonstrates Garmin's industry-leading experience in glass cockpit technology. Pilots and homebuilders who own amateur-built and light sport aircraft that are tight on panel space will be delighted with the 7-inch display, particularly if height and width constraints are of concern in the aircraft panel. Additionally, owners who want multiple displays have the option of installing any combination of up to three 10.6-inch or 7-inch G3X Touch displays. Pilots will also notice a similar user-interface and seamless integration between multiple displays. Incorporating the different size G3X Touch displays into one panel provides added redundancy and enhanced functionality. When paired with a 10.6-inch display, the 7-inch G3X Touch system can serve as a dedicated display for a variety of features including traffic awareness, full-screen moving map, geo-referenced charts, engine information and even serve as a back-up primary flight display (PFD).
Connext Cockpit Connectivity
Also new, G3X Touch offers the benefits of Connext cockpit connectivity. Pilots are offered the convenience of flight planning on a tablet and the simplicity of wirelessly transferring flight plans via Bluetooth® to the G3X Touch system, including an optionally attached GTN navigator. A G3X Touch system with a GDL 39R can share GPS information to display position data, attitude, traffic and weather information within a mobile device using Garmin Pilot.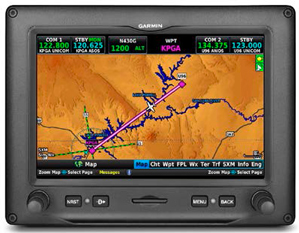 Integration
Pilots are offered the most comprehensive lineup of integration potential with G3X Touch, including the opportunity to incorporate an IFR navigator such as the GTN™, angle of attack information with the GI-260 and an active traffic system. G3X Touch supports additional connectivity with VIRB™, Garmin's HD action camera using an easy-access BNC composite video connection. Viewing live, full-screen video on the G3X Touch display is possible when integrating VIRB, which also allows pilots to start and stop video recording and take photos using up to 10 VIRB cameras from the touchscreen. Additionally, touchscreen control of Garmin's industry-leading experimental autopilot is offered, while still supporting the optional stand-alone GMC 305 autopilot control panel. Further touchscreen control for the remote-mounted GTX 23 ES transponder and GTR 20 remote transceiver saves panel space and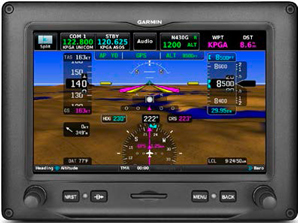 offers a simple and integrated cockpit.
Synthetic vision (SVX™) comes standard on G3X Touch, providing a rich, three-dimensional depiction of terrain, obstacles, water features, the runway environment and more. VFR Sectionals, IFR Enroute Charts, and geo-referenced SafeTaxi® airport diagrams and FliteCharts™ terminal procedures for the U.S., Europe and Canada are offered on all G3X Touch displays, providing pilots with the charts they need for both VFR and IFR flight. A version of G3X Touch includes access to SiriusXM satellite radio and SiriusXM Aviation weather, including weather products such as NEXRAD, METARs, TAFs, TFRs, winds aloft and more (SiriusXM subscription required).
Availability and Pricing
Team X is committed to offering industry-leading avionics to the experimental market, which is backed by Garmin's award-winning aviation support teams. A well-equipped, 7-inch G3X Touch system, which includes SVX, video input, a built-in WAAS GPS receiver, ADAHRS, magnetometer, OAT probe, interactive mapping and more, starts at $4,599. Connext capability via Bluetooth is provisioned in G3X Touch hardware and full support is anticipated before the end of year. Customers may also take advantage of lower database prices starting at $49.99 for G3X and G3X Touch.