Garmin Introduces GMA 345/342 Audio Panels
Garmin is pleased to announce the GMA 345 and GMA 342 all-digital audio panels designed for fixed-wing aircraft. The GMA 345 features Bluetooth® audio connectivity and a front-mounted USB charging port, while the GMA 342 contains a dedicated 3.5mm audio jack that allows pilots to connect a mobile device directly to the audio panel. These new panel-mount audio panels contain state-of-the-art sound quality and an impressive list of additional features, such as advanced auto squelch, music bass boost, advanced equalizer settings, 3D Audio processing and more, while also retaining a consistent user interface with the GMA 340. Contributing to an easy upgrade path, the GMA 345/342 are also pin-and-rack compatible and slide-in replaceable with the GMA 340 and select third-party audio panels.
Innovative Features at an Affordable Price
The GMA 345/342 combine patented features alongside innovative sound quality to provide pilots with a costeffective audio panel, rich with an exclusive feature set. Home theater-like music effects add to the rich audio characteristics provided by the GMA 345/342, allowing pilots to select bass boost levels as well as equalizer effects, that include rock, classical and pop. Advanced auto squelch automatically adapts to the noise level within the cockpit and allows for natural conversation through headsets. The GMA 345/342 include a 6-place stereo intercom and support for up to 3 stereo music inputs. Split-COMM mode also allows the pilot and co-pilot to broadcast independently on 2 separate frequencies. Additionally, a built-in digital clearance recorder can record up to 60 seconds of selected COMM radio transmissions so pilots can easily play back difficult clearances or radio calls. The GMA 345/342 also feature dedicated pilot and co-pilot music and intercom volume control knobs.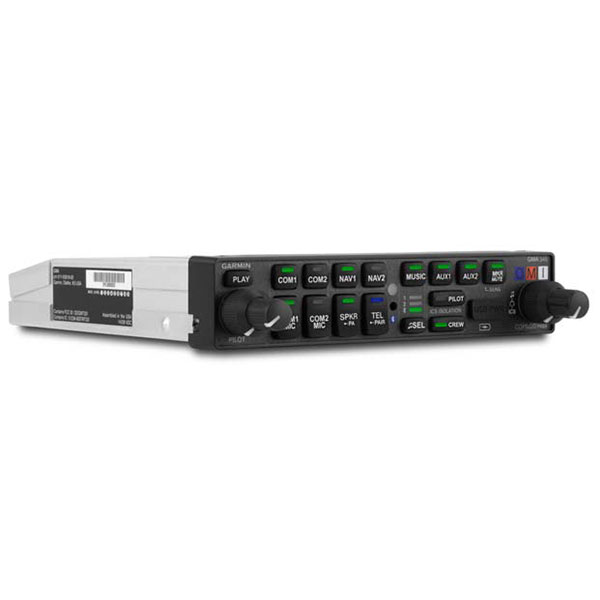 As a standard feature of the GMA 345, pilots can connect a smartphone or tablet via Bluetooth to easily make or receive phone calls, stream audio entertainment or wirelessly connect to select Garmin HD action cameras such as, VIRB® Ultra 30 as well as select third-party cameras that support a Bluetooth microphone. In place of a headset cable, the GMA 345 and VIRB Ultra 30 connect wirelessly so pilots can overlay intercom audio and air traffic control communications on top of high definition video. When connected, a front-mounted USB charging port on the GMA 345 helps keep mobile devices charged throughout flight. Alternatively, the GMA 342 excludes Bluetooth® and contains a dedicated 3.5mm audio jack on the faceplate and allows pilots to connect cell phones or portable music devices to the audio panel for use during flight.
The first to introduce 3D Audio to general aviation, Garmin incorporates 3D Audio processing into the GMA 345/342 audio panels. With stereo headsets, incoming audio is spatially separated to reflect how people process sound and conversations by differentiating audio sources by their unique locations or seat positions. For example, sound from COMM 1 will come from the left, whereas sound from COMM 2 will sound as though it's coming from the right. Using stereo headsets, listen to a demonstration of 3D Audio by visiting Garmin.com/3DAudio.