Garmin Introduces GDL® 52 and GDL 51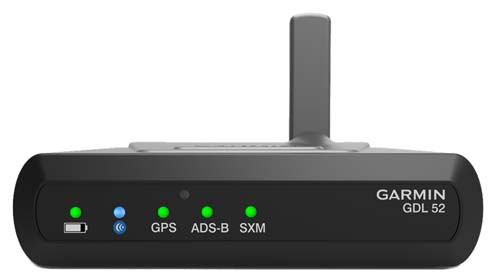 Garmin is pleased to announce GDL 52/51, a series of datalink receivers capable of receiving SiriusXM Aviation weather1 and audio for display and control on select portables and mobile devices and optionally available with an Automatic Dependent Surveillance-Broadcast (ADS-B) traffic and weather receiver. The flagship GDL 52 combines all of these functions into a single device, while GDL 51 specifically provides SiriusXM Aviation weather and audio entertainment1. Both variants include a built-in backup battery and provide GPS position data and back-up attitude information2 to compatible portable devices. Wireless and hardwired compatibility is extended to include G3X Touch™, aera® 660 and aera 795/796 aviation portables, as well as wireless connectivity with the Garmin Pilot™ app, allowing customers access to a full-featured suite of weather products, ADS-B traffic and more using a single receiver.
The Ultimate Weather Watchers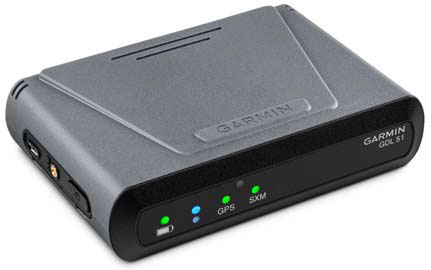 GDL 51 accesses the SiriusXM network's powerful satellites, to deliver continuous weather updates across the continental U.S. and its coastal regions as well as southern Canada. Pilots can choose from available SiriusXM Aviation packages that provide METAR data and animated NEXRAD imagery plus current reports on precipitation, lightning, winds aloft, echo tops, turbulence, freezing levels, TFRs and more¹.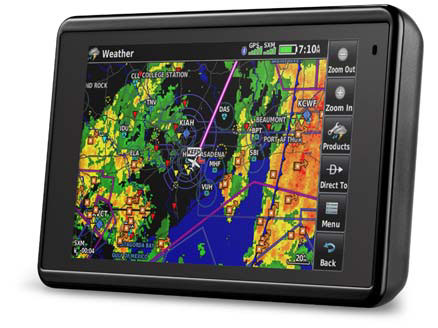 In addition to SiriusXM Aviation weather, GDL 52 also provides subscription-free access in the U.S. to ADS-B Flight Information Service-Broadcast (FIS-B) weather information. With this, compatible devices can display animated graphical weather plus METARs, TAFs, winds and temperatures aloft, PIREPs, NOTAMs and other features linked from ADS-B. And to help pilots maintain the most current weather picture, the GDL 52/51 receivers can queue weather updates while the compatible display device is sleeping or turned off so it automatically updates when the screen is turned back on.
Enhanced Traffic Features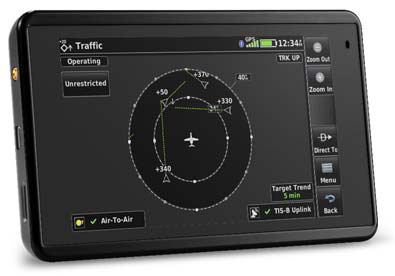 In addition to comprehensive weather data, pilots utilizing GDL 52 can receive "dual-link" ADS-B traffic information and audible alerts3 to easily identify potential traffic conflicts. ADS-B traffic can be overlaid on the dedicated traffic page or the moving map, as well as IFR/VFR charts on compatible devices. Exclusive to Garmin displays, patented TargetTrend™ and TerminalTraffic™ technologies further enhance the traffic picture. TargetTrend provides pilots with a more intuitive method of judging target trajectories and closure rates, while TerminalTraffic displays a comprehensive picture of ADS-B-equipped aircraft and ground vehicles throughout the airport environment on the moving map and SafeTaxi® airport diagram.
Great Sound Made Easy
By simply connecting a compatible Bluetooth® headset or audio panel (such as GMA™ 245/245R, GMA 345 and GMA 35c/350c/350Hc) to GDL 52/51, pilots can wirelessly listen to their choice of high-quality audio entertainment channels provided by SiriusXM®1. Volume adjustments and station selection may be accessed through a compatible Garmin aviation portable or mobile device app. Additionally, a 3.5 mm stereo audio jack positioned on the side of the receivers makes it easy to provide a hardwired audio out connection to an auxiliary device or audio panel.
Capabilities for a Variety of Devices
GDL 52/51 receivers are compatible with G3X Touch™, aera® 660 and aera 795/796 aviation portables and the Garmin Pilot™ app on Apple® or Android™ mobile devices. Capable of simultaneously supporting up to 2 wireless display devices, 1 wireless audio device, 2 wired display devices and 1 wired audio device, GDL 52/51 offer quick and convenient access to essential information throughout the cockpit. In addition to the traffic (GDL 52 only), weather and audio entertainment capabilities, GDL 52/51 also provide GPS position and back-up attitude information2 for display on select portables and mobile devices. Boasting superior battery life, a rechargeable lithiumion battery allows the GDL 52 to receive ADS-B and SiriusXM data for up to 5 hours on a single charge, while the GDL 51 can receive SiriusXM data for up to 7 hours.
Remote Mount Models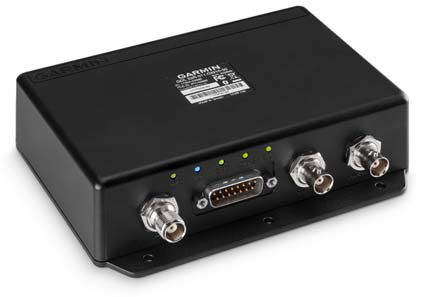 In addition to the portable receiver options, the GDL 52R and GDL 51R receivers offer similar feature sets in remote mount form factors designed for integration with G3X Touch™ flight displays and as a mounted/hard-wired option for aera 660 and aera 795/796 series portable products. GDL 52R/51R hardwire to aircraft power and can also simultaneously support up to 2 wireless display devices, 1 wireless audio device, 2 wired display devices and 1 wired audio device.
1
Compatible SiriusXM subscription required and sold separately.
2
The attitude information provided by GDL 52/51 is not intended to be a source of attitude information for flight in instrument meteorological conditions(IMC) and should not be used under these conditions.
3
Requires a compatible display.
4
See www.siriusxm.com/GDL52trial for details