Garmin introduces G5 electronic flight instrument for certificated aircraft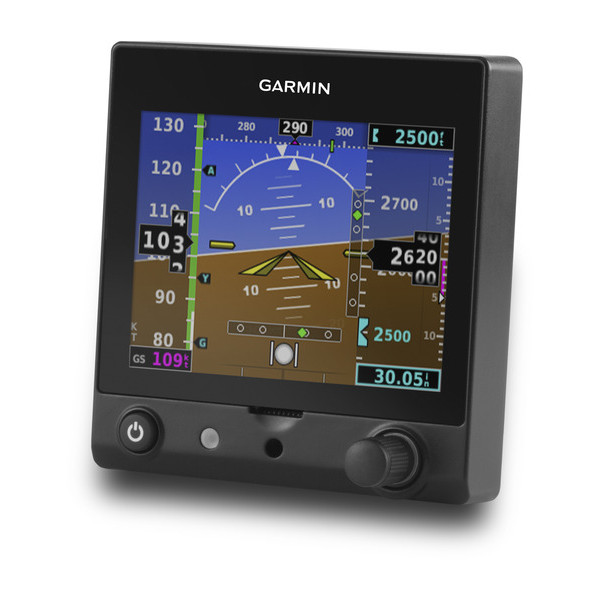 OLATHE, Kan.--(BUSINESS WIRE)--Garmin International Inc., a unit of Garmin Ltd. (NASDAQ: GRMN), today announced FAA approval of the
G5 electronic flight instrument
in type-certificated fixed-wing general aviation aircraft. Installation approval is accomplished via supplemental type certificate (STC) with a comprehensive approved model list (AML) containing 562 aircraft models. The compact and cost-effective G5 delivers exceptional performance and reliability as a standalone primary source for aircraft attitude or turn coordination information while also displaying secondary information such as airspeed, altitude and more. Availability of this STC is representative of the Federal Aviation Administration's (FAA) initiative to encourage and permit specific enhancements to aircraft in an effort to improve safety among the existing general aviation fleet.
"The FAA's Safer Skies initiative identified vacuum systems and gyro failures as a significant contributor to accidents in instrument meteorological conditions among GA, and with the support of the FAA, we're excited to bring the G5 electronic flight instrument to 562 aircraft models as an attitude indicator or turn coordinator replacement," said Carl Wolf, Garmin vice president of aviation sales and marketing. "This economical installation and upgrade path revolutionizes GA by bringing modern attitude reference to thousands of aircraft that would otherwise depend on older, vacuum-driven equipment. We look forward to working with the FAA to continue to identify and address additional solutions for aging and failure-prone equipment."
Bringing innovative, cost-effective technology to thousands of GA aircraft
In place of the aircraft's primary attitude indicator or turn coordinator, the G5 electronic flight instrument is approved for installation in either location via a Garmin-held STC for hundreds of certificated fixed-wing aircraft models. Valid for flight under VFR and IFR conditions, the G5 electronic flight instrument is an economical upgrade for thousands of aircraft owners who are seeking an electronic attitude indicator with greater dependability and internal redundancy over mechanical gyro-driven flight instruments.
Greater reliability and increased situational awareness
Boasting a bright, 3.5-inch sunlight readable liquid crystal display (LCD), the G5 is approved as a primary source for aircraft attitude or turn coordination information and secondary source for altitude, airspeed and vertical speed in a single instrument. Installation is simple and easy as the G5 integrates with the aircraft's existing pitot/static system to display attitude, airspeed, altitude, vertical speed, slip/skid, turn rate, configurable v-speed references, barometric setting and selected altitude, as well as visual alerts upon arriving at the pre-selected altitude. GPS-based track and groundspeed information is also displayed. A dedicated rotary knob also allows for easy adjustments to barometric pressure setting as well as altitude and ground track bugs.
Low intrusive and seamless installation
Suitable for installation in place of a standard 3-1/8-inch (79.4 mm.) flight instrument, G5 measures 3-inches in depth and includes a back-up battery so it can easily be integrated into a wide range of aircraft. Installation is further simplified as the G5 only needs power, ground, pitot/static inputs and a WAAS antenna or GPS input, so it easily integrates with the aircraft's existing systems. As part of the STC, the G5 includes a four-hour back-up battery and pilots can easily reference battery status in the upper left-hand corner of the display.
See the G5 in the AOPA Cessna 172 sweepstakes aircraft at AirVenture 2016
Garmin is proud to have been selected as the avionics provider for the 2016 AOPA 172 Sweepstakes, which features the G5 electronic flight instrument as part of the Yingling Ascend remanufactured program. Garmin has worked closely with AOPA and the FAA to lower cost and increase reliability through upgrades to the legacy fleet. The G5 is also accompanied by the GTN™ 650 touchscreen navigator, the newly announced Flight Stream 510, GTX 345 all-in-one ADS-B transponder, GMA 340 audio panel, GI 260 Angle of Attack indicator, GTR 225 COMM radio and the Garmin Pilot™ app on an iPad mini. An annual single navigator bundle subscription will provide the GTN 650 with the most up-to-date database information throughout the year. To see the AOPA 172 Sweepstakes aircraft take on its transformation, visit the AOPA campus at EAA AirVenture, July 25-31, 2016 in Oshkosh, Wisconsin.
The G5 electronic flight instrument for certificated fixed-wing aircraft can be purchased through the Garmin Authorized Dealer network starting at an expected street price of $2,149, which includes the install kit, back-up battery and STC and $2,499 with an optional GPS antenna. Deliveries for new orders are expected to begin in September. The G5 is also supported by Garmin's award-winning aviation support team, which provides 24/7 worldwide technical and warranty support. For additional information, visit: www.garmin.com/aviation.
Click here to view the G5 product page.