Garmin Announces New Flight Stream Upgrade Program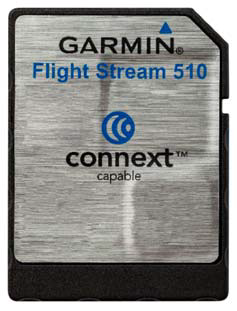 Garmin is pleased to announce a new upgrade program for existing Flight Stream 210 owners who wish to purchase a Flight Stream 510. Available now through Dec. 30, 2016, Flight Stream 210 owners can purchase a Flight Stream 510 for a reduced price! Flight Stream 510 installs easily into the existing card slot of a GTN touchscreen navigator and enables Garmin Database Concierge, a new, seamless way to update databases throughout the cockpit. In addition to Database Concierge, Flight Stream 510 enables two-way flight plan transfer between the GTN 650/750 and shares traffic, weather, GPS information, back-up attitude information from a G500/G600 and enables text messaging via compatible mobile devices and avionics.
Flight Stream 510 Upgrade Program Details
Through December 30, 2016, Flight Stream 210 owners can save on the purchase of a Flight Stream 510. A warranty registered serial number of the Flight Stream 210 must be provided at the time of order placement. The discount will be instantly applied at the time of order entry, and cannot be retroactively applied after the order has shipped.
The Flight Stream 210 does not need to be returned to Garmin and can continue to serve customers. As a reminder, the Flight Stream 210 has a built-in AHRS (attitude sensor) whereas the Flight Stream 510 will only provide back-up attitude information with a G500/G600 installed. Please note a unique Flight Stream 210 serial number must be provided for each Flight Stream 510 discount applied.