Garmin Announces Installation Approval of GDL 84H and GDL 88H
Garmin is pleased to announce that the GDL 84H and GDL 88H Automatic Dependent Surveillance-Broadcast (ADS-B) datalink systems have received FAA Supplemental Type Certificate from the FAA which approves equipment installation in Bell 206/407 model helicopters. And now that Garmin has achieved initial airworthiness approval for installation of the GDL 84H and GDL 88H in Part 27 rotorcraft, installations in other helicopter models are planned to be accomplished by Garmin dealers via field approval.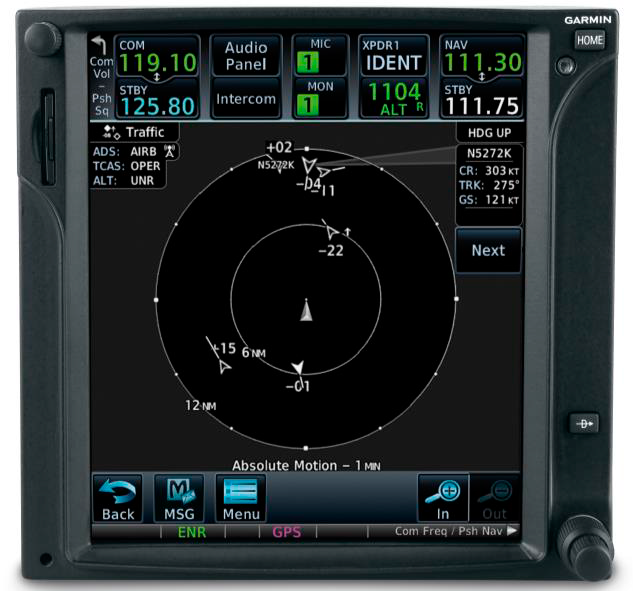 Owners and operators are offered enhanced situational awareness benefits with the GDL 84H and GDL 88H, which meet equipage requirements for ADS-B Out while receiving ADS-B In traffic and weather on a compatible display device. These solutions provide industry leading traffic alerting capabilities and include visual and aural alerts tailored to these operators and their unique operations.

The GDL 84H and GDL 88H provide a rule-compliant ADS-B Out solution for helicopter operators in the U.S., while offering state-of-the-art traffic alerting capabilities. TargetTrend relative motion technology helps pilots visualize the trend of traffic threats as it relates to their aircraft, while innovative dual-link technology provides pilots with the most comprehensive ADS-B traffic picture available in the industry. Additionally, Flight Information Service-Broadcast (FIS-B) weather allows pilots to easily access the benefits of in-flight weather products including NEXRAD, METARs, TAFs and TFRs on an installed compatible display or mobile device in the cockpit using Garmin Pilot.

Garmin offers unique features and capabilities to provide helicopter operators alerts tailored to their specific operations. While conducting Electronic News Gathering operations, On Scene Mode minimizes nuisance traffic alerts when intentionally operating in close proximity to other ADS-B equipped helicopters. When operating in the airport environment, Garmin's traffic alerting technology minimizes nuisance alerts while providing timely alerts for other ADS-B equipped aircraft which pose the threat of collision. As part of Garmin's Terminal Safety Solutions, TerminalTraffic provides pilots with the most comprehensive picture of ADS-B-equipped aircraft and ground vehicles in the airport environment. ADS-B-equipped aircraft in-flight are easily distinguished from ground vehicles and taxiing aircraft, which are displayed using distinct colors and symbols. The GDL 84H and GDL 88H contain patented AutoSquawk wireless interrogation technology, which interfaces with existing equipment to synchronize the squawk code between the transponder and the ADS-B Out solution, eliminating the need to install a separate dedicated UAT control panel.

The flexibility and versatility provided by the GDL 84H and GDL 88H give operators a wide range of display choices to receive the operational benefits offered by these products. The GDL 88H conveniently interfaces with the GTN touchscreen series or GNS WAAS navigators to display ADS-B traffic and weather in the cockpit. For operators without a compatible display, the GDL 84H wirelessly transmits weather and traffic information to the aera 796 or a mobile device using Garmin Pilot when paired with the included Flight Stream 110/210 Bluetooth wireless gateway. Additionally, for helicopters that do not already have an approved WAAS position source on board, the GDL 84H includes a built-in WAAS GPS receiver, while the GDL 88H has the option for a built-in WAAS GPS receiver.