Aspen Avionics takes $1,000 off VFR Primary Flight Display
Sun 'n Fun Fly-In, Lakeland, FL, April 3, 2017: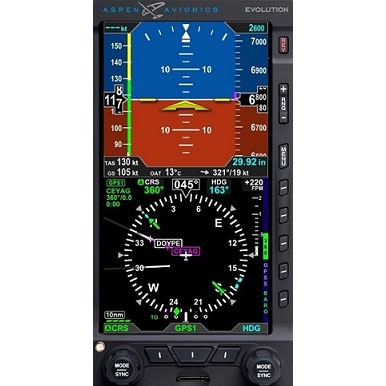 Aspen Avionics (Hangar C, booth 10-12) announced today it is offering Aspen's industry leading FAA-TSO and STC certified VFR primary flight display (PFD) for $3,995 for the month of April, a $1,000 discount off list pricing.

Developed and certified in accordance with FAA TSO standards, the VFR PFD offers a long list of robust features and proven operation with many units installed and operated worldwide.
Advanced features include:
Integrated air data computer
Slaved directional gyro
Course deviation needle
Integration with a wide range of autopilots (with optional aircraft converter unit (ACU)
Airspeed indicator
Altimeter
Altitude
Vertical speed
Turn coordinator
Wind indication
Display of ADS-B weather and traffic
Because the VFR PFD is TSO'd and comes from Aspen's well-known legacy of developing expandable and flexible architecture, the VFR PFD can be upgraded to a full IFR Pro 1000 or Pro Plus PFD in the future as pilot/owner's needs and skills expand. Upgrades to *IFR safety-enhancing functionality can be performed through a software upgrade eliminating the need for future cockpit overhauls.

Aspen's VFR PFD is also NextGen capable displaying ADS-B traffic and NEXRAD weather when coupled with a variety of ADS-B solution providers including, Garmin, L-3, FreeFlight Systems and Aspen's ADS-B transceivers at a price on parity with non-certified, and non-NextGen capable PFDs.

"Aspen has been committed to developing general aviation solutions that are innovative, safe, affordable, and contribute to the future growth of the pilot community. We continue to invest in this segment of the flying public that has been underserved with an affordable glass panel solution that offers more value, features and functions than displays manufactured to the recently loosened certification standards," said Mark Ferrari, vice president sales and customer support.
Additional features:
Consolidates traditional six-pack instrument information plus CDI into a single display
Displays winds aloft, OAT, TAS and ground speed
Navigation display with 360-degree company and ARC modes
Flight plan overlay with plan legs and waypoints, curved flight paths and nearby navaids
Integral air data computer and attitude heading reference system
Built-in battery and emergency GPS
Works with existing avionics
Unique PFD design slides into existing panel cutouts
Options:
Analog Converter Unit (ACU) connects to autopilot for GPS steering
Evolution Hazard Awareness System (EHA) provides weather, lightning and traffic hazards
Angle of Attack (AOA)
VFR to Pro 1000 software upgrade
* The VFR PFD is IFR capable with limitations