Aspen Avionics' Max Out Your Pro Promotion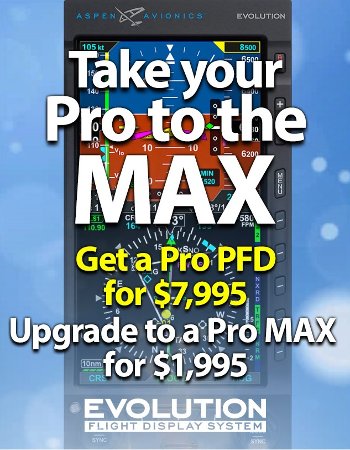 Save BIG on an Aspen Pro 1000 PFD, Aspen's Most Popular PFD, for $7,995, and Upgrade to a Pro MAX for only $1,995*! Get the latest generation technology and enhanced capabilities with new 2-year warranty.
Promotion details:
Purchase an EFD1000 Pro PFD by December 31, 2018 for only $7,995 ($3,000 off of list!)
Receive your choice of either a free ADS-B unlock or synthetic vision to be included with the EFD1000 Pro PFD
Upgrade to the MAX (expected availability: Q1 2019) anytime before March 2020 at a locked in price of only $1,995 (normally $2,995)
Receive an extended two-year warranty when you upgrade to the MAX
Please call or Email our sales department for complete details.
*$1,995 upgrade applies to new EFD1000 Pro PFD purchases only. Pre-order upgrade pricing for existing Aspen customers is $2,995.