Aspen Avionics' Deal of the Decade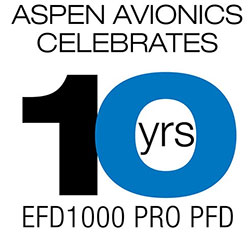 Aspen Avionics is approaching the 10th anniversary of the certification of the EFD1000 Pro Primary Flight Display, and they are celebrating this event during the month of July and at Oshkosh with the lowest prices ever on Aspen's award-winning glass cockpit solution.
New customers:
Save $4,500 on a fully loaded EFD1000 Pro PFD with FREE Synthetic Vision AND enabled ADS-B capability. AND as an added bonus Sarasota Avionics will include the AOA unlock kit for FREE!*
Current Aspen customers:
Save $4,400 in customer loyalty software upgrades. Get the Synthetic Vision, AOA, and ADS-B unlock kits for only $1,295!*
Please call or email our sales department for a custom installation quote for your aircraft!
Or send us a Request for Quote online.
*Labor hours required for Angle-of-attack flight calibration not included. Offers valid through 7/31/17.