The UltraThin iPad Panel Mount is a new lightweight aircraft grade aluminum mounting system to easily dock and seamlessly integrate your Apple iPad into your aircraft instrument panel – giving it an elegant, professional appearance in an easy to view position! Once installed, the UltraThin iPad Panel Mount allows your iPad to be mounted in seconds, and fully connected to power and audio with built-in cable ports. Removal is just as easy - just slide the face plate off and remove the iPad. iPad can be mounted in portrait or landscape mode.
No large cutout required
Maintains integrity and strength of the panel. Fits in tight spaces - Zero protrusion behind the panel.
The UltraThin iPad Panel Mount is mounted on the surface of the panel using four screws for maximum security and reliability. It can also be mounted using the included VHB adhesive when the panel is a smooth, strong, non-papercoated surface. Unlike other products that require a large hole cutout in your panel this mount does not. Vent holes are recommended for keeping the iPad cool. Allow 24 hours cure time for VHB adhesive installation.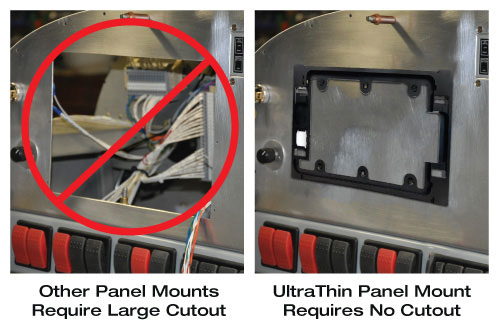 Future Proof
Upgrade to new iPad without the concern of an overcut hole or having to re-drill.
Patented design keeps the mounting holes in the same place forever (for same screen sized iPads). When you upgrade to a new iPad of the same screen size, future UltraThin iPad Panel Mounts will utilize the same hole configuration so you do not have to drill additional holes in your panel.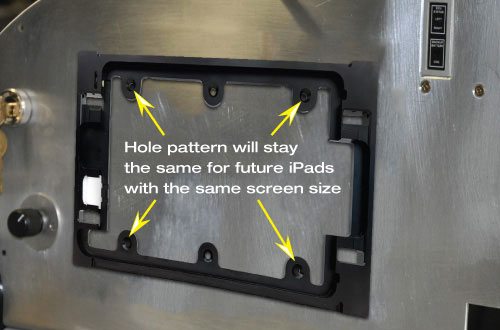 Keep Your iPad Cool
As they are being used, iPads generate heat that can affect performance – resulting in a high-temperature shut down when you might need it most. The UltraThin iPad Panel Mount was designed with cooling in mind. The open back of the UltraThin iPad Panel Mount allows you to create airflow to cool the iPad by cutting two small vent holes in the panel. The UltraThin iPad Panel Mount can be used with a 5/8" air hose connector, allowing you to attach it to a standard avionics cooling fan.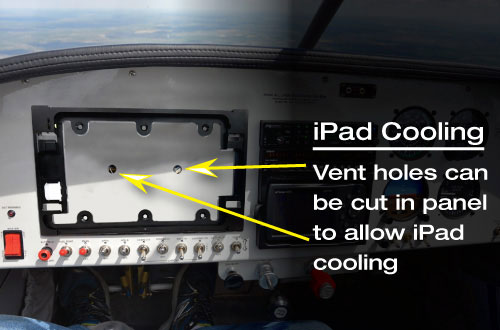 Keep The iPad Charged
The UltraThin iPad Panel Mount has a power cable slot that allows you to keep your iPad charged while mounted on the panel. The UltraThin iPad Panel Mount comes with a 90° lightning cable to keep the iPad charged. We recommend using the RapidCharger Dual Micro 12-28v for in front of the panel power. Please call us for options if you are looking for behind the panel power.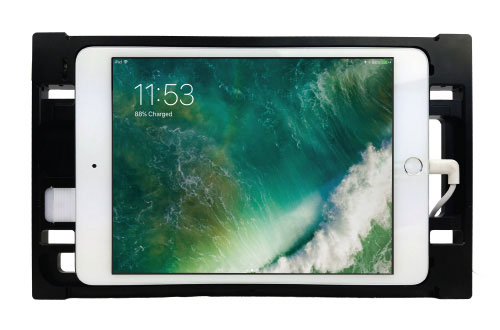 Works With Armor Glas Anti-Glare Glass Screen Protectors
The UltraThin iPad Panel Mount was designed to accomadate the use of ArmorGlas. ArmorGlas eliminates glare and reflection without affecting the clarity of the screen. Light hits the etched surface of the ArmorGlas and is scattered, eliminating glare and mirror effects. When it comes to screen protection, nothing is better than the feel and clarity of pure glass. ArmorGlas is like having no screen protector on at all - you won't even realize it's there.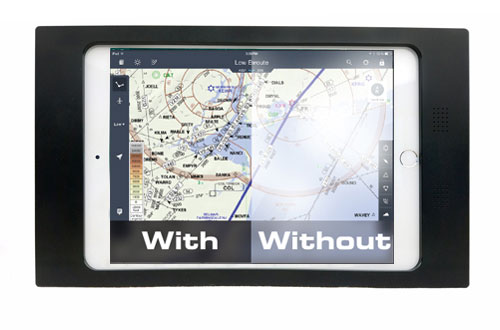 Dimensions: 11-3/4" X 7-1/4" x 5/8"