New G3X Touch 7" Portrait Display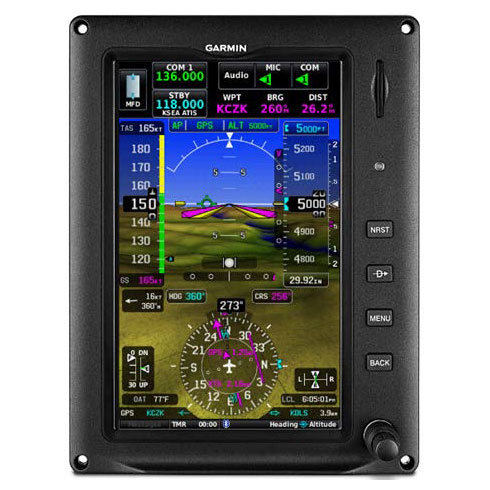 Garmin is pleased to announce a new addition to the G3X Touch glass flight display family — the 7" G3X Touch portrait display. For new panels, aircraft builders now have three display formats that can be selected. For first-generation G3X™ customers, the new 7" portrait display offers an easy upgrade path as the existing footprint is easily adaptable to the new display and includes most of the same great features as the popular G3X Touch 10.6" and 7" landscape displays. Additionally, the new GMU 11 magnetometer also allows for more flexible and cost-effective installation options for experimental amateur-built and light sport aircraft (LSA).
The Most Scalable Flight Display System for Experimental Aircraft
The G3X Touch glass flight display family has grown from the 10.6-inch and 7-inch landscape displays, to now include the 7-inch portrait G3X Touch. Systems support seamless integration throughout the cockpit as up to four G3X Touch displays of varying sizes can be incorporated into a single aircraft. The 7-inch portrait display can be used as a primary flight display (PFD) or multi-function display (MFD) when paired with multiple G3X Touch displays or as a single standalone screen comprising of a combination PFD/MFD. A dual concentric knob and dedicated nearest, direct-to, menu and back buttons also offer improved efficiency in performing common in-flight functions, such as direct-to navigation, selecting altitude, changing heading or radio tuning. Integration options include the display of engine indication system (EIS) information, ADS-B traffic and weather, SiriusXM aviation weather1, transponder, remote COMM radio, audio panel, autopilot and more. Additional features such as built-in Bluetooth®, wireless flight plan transfer and additional connectivity with Connext®, synthetic vision (SVX), as well as worldwide VFR/IFR charts add to the G3X Touch feature set.
Aircraft owners can easily upgrade a G3X system to G3X Touch using all of the existing sensors and pin-compatible connectors, so there is no need to replace any equipment behind the panel. For aircraft where space constraints are of concern, the portrait 7-inch display offers more installation flexibility in panel design for experimental or light sport aircraft.
New, Builder-friendly GMU 11 Magnetometer
Aircraft builders can incorporate the new GMU 11 to integrate with G3X Touch or the G5 electronic flight instrument to display magnetic heading. GMU 11 is smaller, lighter and can be mounted in multiple directions for easier installation. For aircraft with more than one G3X Touch display or G5 electronic flight instrument, a single GMU 11 magnetometer is capable of supplying magnetic heading to more than one display simultaneously.
New G3X Ordering Process
To simplify the G3X ordering process and provide a multitude of display configuration options to customers, Garmin is updating the experimental display and LRU kit ordering process. With the new ordering process, customers are not required to purchase displays at the same time as the core LRU kit. This offers customers more flexibility to purchase equipment as their project progresses. For example, a customer can purchase and install GSU 25, GMU 11 and GTP 59 first and then purchase the displays when they are ready to install the panel.
Availability for the GDU 470 and GMU 11 is expected in Q2 of 2017.
Click here to use our G3X Worksheet to request a custom quote from our sales department.