inReach from DeLorme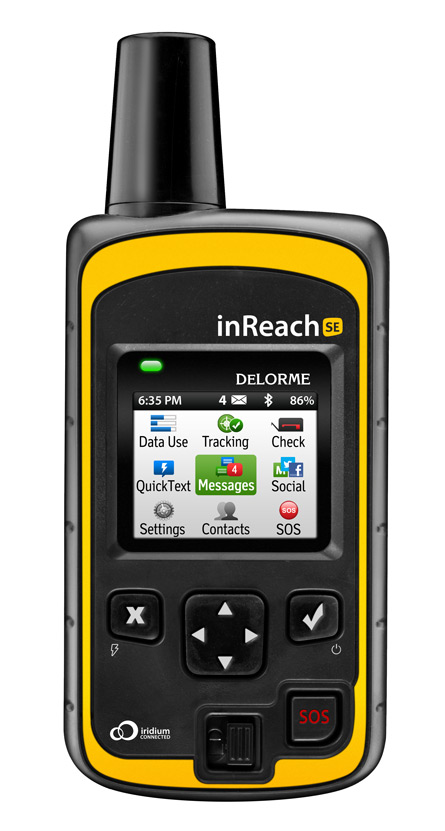 Stay connected and safe anywhere in the world with the affordable two-way satellite communication solution --
inReach SE
-- from DeLorme. Featuring a color screen, virtual keyboard, slim design and long-lasting internal lithium battery, this rugged Screen Edition of inReach is waterproof, dustproof and impact resistant to withstand just about any adventure.
With 90% of the earth's surface lacking cell phone coverage, inReach can be used as a standalone device or paired with your smartphone or tablet to: send and receive text messages to and from cell phone numbers, email contacts and other inReach users; track and share your GPS location with family and friends; and trigger an SOS in the event of an emergency. Whether you're deep in the backwoods or floating on a remote lake, inReach provides peace of mind and enables your family and friends to know where you are and how to reach you when your adventures take you out of cell phone range.
When used in conjunction with DeLorme's free Earthmate app and Explore website, the seamless inReach experience provides worry-free navigation and journey tracking with unlimited downloadable topographic maps, NOAA charts, and GPS position updates. Unlike streaming maps on most cell phone apps, downloaded DeLorme maps remain available in the Earthmate app even when you're outside of cellular coverage and are perfect for planning a long hunting trip, hike, remote camping trip or fishing excursion. Family and friends can even log into your MapShare page to follow a detailed breadcrumb trail of your trip, ping your location, and send messages.
In the event of an emergency, inReach's SOS capability provides peace of mind by automatically triggering remote tracking and allowing users to describe and update their situation so proper resources can be deployed (in standalone or paired mode). As the only satellite communication device that both sends and receives messages in its price category, inReach is an essential tool for staying safe and in touch with family and friends in remote locations - whether on land, in the air or on water. It's also the perfect device to keep on-hand in case of weather emergencies, such as hurricanes or earthquakes.
Unlike other satellite communicators, consistent global service is available through Iridium, which is the world's furthest-reaching satellite communications network. inReach can maintain satellite signal lock even in difficult GPS environments and embeds precise location coordinates in sent messages.

Product Overview
As the next generation satellite communicator from DeLorme, inReach SE builds on the proven, award-winning technology of the company's original satellite communicator.
Combines the latest satellite communication technology and product innovation to make it the most feature-rich, and easy to use satellite communicator that both sends and receives messages available on the market at an affordable price point.
With a color screen and virtual keyboard, standalone mode provides full, free-form texting capabilities to any cell phone number or email address, social media posting, the ability to change service modes and configure user settings - all without the need for a paired, companion device.
Offers a sleek, pocket-sized design, intuitive LED indicator for satellite availability, audible message notifications, and a long-lasting internal rechargeable lithium battery for ultimate convenience and portability.
Designed for maximum durability in harsh environments. Waterproof/dustproof (IP67; standard submersion to 1 meter for 30 minutes) Impact-resistant (Mil-STD-810F for vibration/shock).
Provides 100% pole-to-pole coverage via the Iridium satellite communications network, with no gaps, fringe or weak signal areas. Satellite subscription plans start at $9.95 per month.
Optional paired mode provides access to unlimited, downloadable topographic maps and NOAA charts.
Accessories for inReach include: vehicle and bike mounts

Standalone Mode Features
Emergency/SOS - Trigger an SOS from anywhere in the world with automatic GPS location tracking. Interact with 24-hour emergency monitoring center via two-way text messaging to describe the nature of your distress in detail and stay in touch throughout the rescue process.
Send and receive text messaging -- Send and receive160-character, free-form text messages to and from any cell phone number, email address, and other inReach users. View and respond to incoming messages directly on the screen.
Convenient, quick messaging -- Send simple, predefined text messages to email and cell phone contacts for anticipated situations.
Follow-me/find-me tracking - Turn on and off tracking to share your GPS coordinates, course, speed and elevation in real-time with friends and family. Tracking intervals can be configured between 10 minutes and four hours.
Delivery confirmation - Audible alerts, built-in LED light, and on-screen cues confirm communication with the satellite and indicate two-way message delivery.
Social media posting - Send out a message or create a post via Facebook or Twitter.


Paired Mode Features
Transform your mobile device into a global satellite communication and navigation tool when you pair your inReach via Bluetooth with the Earthmate app:
Real-time GPS location, trackingand text messages are overlaid on the digital maps for easy navigation and position location from anywhere in the world.
Unlimited downloadable topographic maps and NOAA charts on your paired mobile device when downloaded via an Internet connection. Unlike streaming maps on most cellphone apps, downloaded DeLorme maps remain cached in the Earthmate app even when you're outside cellular coverage.
Automatically syncs with your mobile device's address book for easy message sending
View all your previous trips and messages


Exclusive Online Features
Give family and friends peace of mind with the ability to see your GPS coordinates, breadcrumb trail and initiate a message exchange with you from DeLorme's exclusive MapShare portal.
Manage your inReach device with our Explore portal, including:

Pre-load messages to your inReach.
Set-up access to your social media accounts.
View all your previous trips and messages.
Manage your account and settings, including emergency contacts.
Update your inReach firmware.
Technical Specifications
Rugged, durable housing that is waterproof/dustproof (IP67; standard submersion to 1 meter for 30 minutes) and impact-resistant (Mil-STD-810F for vibration/shock).
Length: 2.44 in (62 mm)
Width: 1.02 in (26 mm)
Height (including antenna): 5.87 in (149 mm)
Weight: 7.05 oz (200 g)
Operational temperature range: -4 F to 140 F (-20 C to +60 C)
Storage temperature range: -40 F to 185 F (-40 C to +85 C)
Battery charging temperature range: 32 F to 113 F (0 C to +45 C)
GPS accuracy to +/- 5 meters
GPS fix reports position, speed, course, and elevation with each track or message sent
Internal, rechargeable lithium battery delivers about 100 hours of operation in tracking mode
Color screen with predictive, virtual keyboard for standalone two-way messaging
SOS locking mechanism complies with RTCM SC-128 for satellite emergency notification devices (SEND); prevents false alarms and supports one-handed gloved operation
Pairs via Bluetooth with Apple iOS or Android devices
100% global coverage via the Iridium satellite network
SOS messages are received by GEOS, a worldwide emergency response coordination center with 24/7/365 staffing