Garmin's Purchase More and Save More Spring Rebate Promotion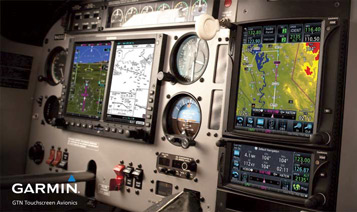 Beginning today, you can save up to $7,000 when purchasing select Garmin avionics for each aircraft retrofit. Pick your choice of products, at least two (2) in total and up to six (6) products per aircraft: Flight Display (G500 with SVT or G600), Garmin GTN™ 750/650 Series, GWX 70 and/or Traffic System (GTS™ 800, 825, or 855) to quaify for up to $7,000 in rebates. The tables below illustrate the number of qualifying purchases and the corresponding rebate amount. The more qualifying Garmin products installed, the more you save.

This rebate is valid for purchases from April 1, 2013 through May 31, 2013. Rebate submissions must be postmarked by June 30, 2013. Please download rebate form or call for complete details.

With savings this good, there has never been a better time to install a complete Garmin avionics package. These special rebates are for a limited time only and won't last long. This rebate will end May 31, 2013, so take advantage of this limited time offer now.
Qualifying Purchase
Amount
Rebate
Amount
Buy 2
$ 2,000.00
Buy 3
$ 3,250.00
Buy 4
$ 4,000.00
Buy 5
$ 5,750.00
Buy 6
$ 7,000.00

Qualifying Products
G500 w/SVT or G600 (Single Install)
G500 w/SVT or G600 (Dual Install)
G500H
GTS 800, 825, 855
GTN 750 or GTN 650 (Single Install)
GTN 750 or GTN 650 (Dual Install)
GWX 70