Garmin Introduces D2™ Charlie Aviator Watch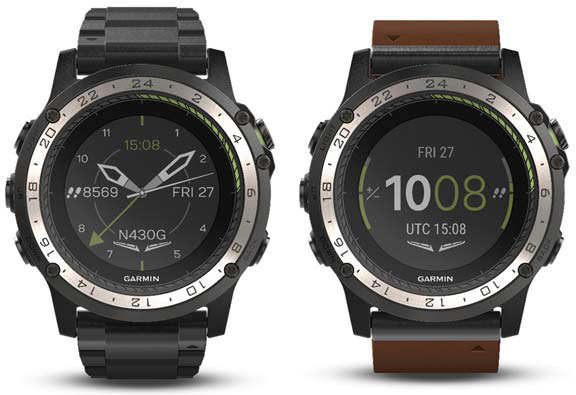 Garmin is pleased to announce the D2 Charlie aviator watch, an elegant and functional timepiece that boasts global navigation information, rich and colorful moving maps and a host of connectivity options. Designed with pilots, aviation enthusiasts and aspiring pilots in mind, the D2 Charlie aviator watch features high-resolution mapping, real-time worldwide weather radar as well as airport information that includes frequencies, runway information, METAR data and more. Garmin Elevate™ wrist heart rate technology also allows customers to measure heart rate 24/7 alongside daily activity tracking1. Available with leather and silicone bands or in a titanium edition featuring titanium and silicone bands, D2 Charlie can easily adapt in seconds using these new QuickFit™ bands for use in the cockpit, on the golf course or in the boardroom.
Detail-rich Moving Map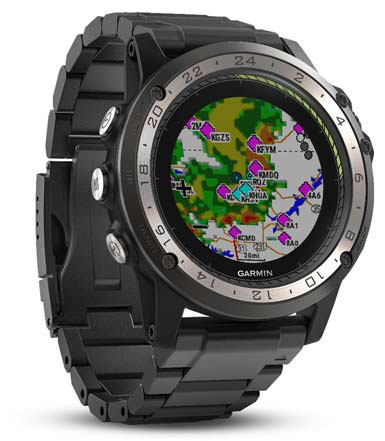 Aviation-inspired signature accents along the bezel and a unique feature set tailored to aviators bring additional functionality to the cockpit. A colorful, dynamic moving map incorporates key landmarks, such as airports, NAVAIDs, roads, bodies of water, cities and more, offering improved situational awareness. Dedicated Direct-to and Nearest buttons along the side of the bezel allows for immediate navigation commands. When D2 Charlie is paired with Garmin Connect™ on a connected mobile device, customers can view weather radar on top of the map display relative to flight plan information. To easily access local weather radar, pilots can simply press and hold the Directto and Down buttons. Pilots can also overlay estimated time enroute (ETE), universal coordinated time (UTC) or other pilot-selectable data fields on top of the map, so it's easy to monitor the progress of a flight and view pertinent flight information simultaneously.
Premium Materials, Elegant Style
For improved durability, D2 Charlie offers a bold design made of premium materials, including a sapphire scratch resistant crystal lens and a diamond-like carbon (DLC) coated titanium bezel. Thanks to the new QuickFit™ bands, pilots can mix and match between their choice of titanium or leather and silicone watchbands and switch between them in seconds without tools. A sunlight-readable, high-resolution color display with an LED backlight on the watch face allows customers to view data in most lighting conditions in the cockpit. D2 Charlie offers up to 20 hours of battery life in GPS mode, up to 12 days in smartwatch mode and up to 3 weeks in watch mode.
Create Flight Plans, View Airport Information and More
To aid in navigation3, D2 Charlie incorporates many new exclusive functions and capabilities. Airport information pages display communication frequencies, runway information (including dimensions and surface type), weather data and more for a specified airport. D2 Charlie also comes with free, wireless lifetime aviation database updates. The flight log page allows pilots to conveniently reference recent flights at their wrist, displaying date, flight duration, total distance and more of a particular flight. Additionally, improved flight planning capabilities include the option to add multiple waypoints within a single flight plan and the ability to navigate direct to any waypoint in a flight plan.
Comprehensive integration within the Connext® ecosystem sets the D2 Charlie aviator watch apart from other aviator watches on the market. When using the Garmin Pilot™ application on a compatible Apple® or Android™ mobile device, pilots can wirelessly transfer a flight plan to D2 Charlie. GPS data from the watch can also be shared and used by the Garmin Pilot application. Remote control of the VIRB® Ultra 30 action camera and VIRB 360 is also available using the D2 Charlie aviator watch.
Advanced Multisport Features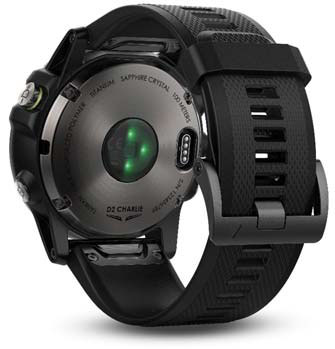 The D2 Charlie aviator watch comes preloaded with a full multisport toolset for running, golfing, cycling, swimming, skiing and more. Whether customers are in the cockpit, at the gym or on the golf course, Garmin Elevate™ wrist heart rate technology provides 24/7 heart rate monitoring, without the need for a chest strap. Water rated to 100 meters2, it can also withstand swimming and other water activities. In addition to a wide variety of sport profiles, D2 Charlie incorporates activity tracking functions, which count steps and provides a customized step goal each morning, while also counting calories and distance throughout the day1. It also features a vibration move alert after 1 hour of inactivity, and its sleep mode to monitor quality of rest at night.
More Ways to Stay Connected
Boasting a variety of connected features, the D2 Charlie merges style and sophistication into a single timepiece. Two built-in aviation-tailored customizable watch faces allow pilots to input the tail number of their aircraft. When paired with a compatible smartphone, customers can view phone calls, text and email smart notifications4 at their wrist. D2 Charlie is compatible with Connect IQ™, so pilots and aviation enthusiasts can customize their watch with apps, widgets, data fields and watch faces that can proudly display the tail number of their aircraft. Customers can even personalize the watch face of their D2 Charlie with a favorite image such as a logo or photo of their favorite aircraft thanks to the Garmin Face It™ app that lets customers create a watch face using a JPEG image.