Garmin Expands GDL 88 ADS-B Display Compatibility
Garmin is excited to announce new ADS-B display compatibilities with select G1000 Integrated Flight Decks, GMX 200/MX 20 multi-function displays (MFDs) and third-party displays using the GDL 88® ADS-B datalink and a publicly available protocol.
Through this new compatibility, customers can receive and display select ADS-B In traffic and weather benefits while Connext™ provides wireless access to complete display benefits on a mobile device using Garmin Pilot™, as well as the aera® 796/795 aviation portable. In addition to ADS-B In, the GDL 88 provides pilots with a rule-compliant ADS-B Out solution for customers operating below 18,000 feet within the U.S.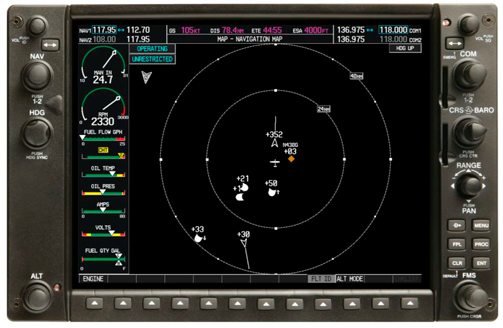 ADS-B traffic and weather displays on the GMX 200 and MX 20 MFDs, providing these customers with select ADS-B In benefits, including NEXRAD and textual weather products such as METARs, TAFs, PIREPs and winds aloft. Third-party display support is also available, giving even more customers ADS-B In/Out capabilities. Through a third-party interface in the GDL 88, compatibility is also expanded to include select Aspen Avionics flight displays, which is expected later this year.

Customers with a G1000 Integrated Flight Deck with a GDL 90 ADS-B transceiver can now take advantage of an easy upgrade path by substituting the GDL 90 with the GDL 88 to meet ADS-B Out requirements when operating below 18,000 feet. ADS-B In traffic information, as well as NEXRAD and METAR information is derived from Flight Information Service-Broadcast (FIS-B) weather, for display on the G1000. Additionally, for most aircraft owners with G1000-equipped aircraft, Garmin has identified cost-effective solutions that will bring ADS-B Out to WAAS and non-WAAS G1000-equipped aircraft through our global partners, while also providing select ADS-B In benefits. Complete ADS-B In benefits like Garmin's exclusive TargetTrend™ and TerminalTraffic™ will be optionally available using the Connext wireless cockpit connectivity interface on mobile devices. Additionally, aircraft manufacturers continue to work on a completely integrated solution. Expect an update on Garmin's progress in early 2016.

The GDL 88 ADS-B datalink provides full ADS-B benefits on compatible displays in the panel. As part of the Garmin Vantage ADS-B suite, the GDL 88 is approved for hundreds of makes and models of aircraft, providing pilots who operate in the U.S. with a simple, straightforward option to meet airspace requirements.

The GDL 88 provides even more benefits when incorporating Flight Stream 210/110, a small, Bluetooth® wireless gateway, which is easily installed with Garmin avionics, enabling communication between avionics and up to two compatible devices. Flight planning is simplified with Flight Stream and the Garmin Pilot app on an iPad/iPhone and select Android devices, enabling communication between the GTN™ 650/750 touchscreen series and the GNS 430W/530W navigators. Unique features such as TargetTrend and TerminalTraffic display within Garmin Pilot to provide pilots with added situational awareness as it relates to traffic in the surrounding airspace and airport environment.