Garmin - New Comm Radio for Experimental Aircraft

Announcing the GTR 200 panel mount comm radio for experimental and light sport aircraft that offers a slim design and powerful features, including advanced auto-squelch, 3D audio, stereo intercom, stereo music input, alert inputs, best-in-class standby frequency monitoring, on-screen frequency identification, and much more.
The GTR 200 is the first to integrate advanced audio panel features like a two place auto-squelch stereo intercom, which senses the amount of sound in the cockpit and automatically adjusts the mic squelch for effortless intercom use regardless of the cockpit noise level. With 3D audio, the GTR 200 makes it easy to discern between the active and monitored standby frequencies as well as the other passengers. The radio's best-in-class standby monitor is enhanced with patent-pending digital processing, so it seems as though there are two radios in one.
With its advanced integration with the Garmin G3X glass flight display, or other compatible Garmin portable products (see list on Page 2), the GTR 200 is able to receive a frequency and identifier in the comm's standby position directly from the G3X's waypoint page, allowing the pilot to ensure accurate transfer and reduce workload.

This same integration, automatically, and without the need for a database, displays the airport identifier and type on the GTR 200, like "KOSH ATIS" should the pilot manually tune the frequency. And further compatible Garmin portable products constantly stream the flight plan and nearest airports to the GTR 200 for quick access and retrieval of any airport frequency with a single push of the knob.

Accessing these features on the GTR 200 is extremely easy and intuitive, with a sunlight readable display and built-in shortcuts including configurable soft keys to help reduce cockpit workload (for example, configuring one-touch access to music mute or pilot isolate). Optionally installed switches, typically on the flight controls, allow pilots to keep their hands on the controls while performing functions like swapping active and standby frequencies. And for easy retrieval of the most commonly used frequencies, the GTR 200 stores up to 20 pilot-defined frequencies as well as the 20 most recent frequencies used for easy retrieval. The radios are easy to install, with a standard density 37 pin connector and they support both 14 and 28 volt aircraft and offer 25 kHz channel spacing.
The GTR 200 is anticipated to be available in August, with an expect price of $1,199.00.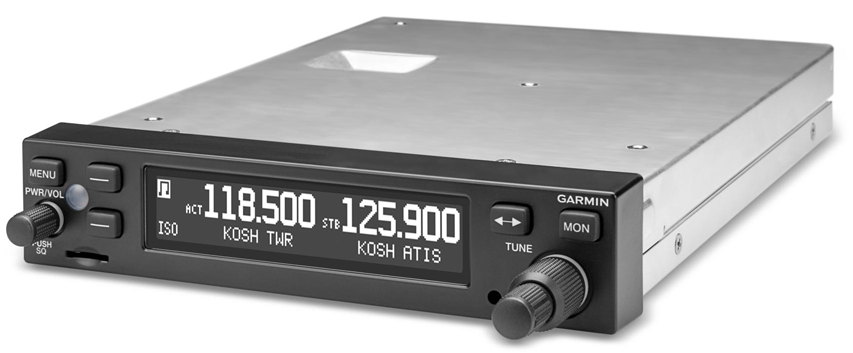 List of Compatabile Garmin Products
GPSMAP 696
GPSMAP 695
aera 796
aera 795
aera 560
aera 550
aera 510
aera 500
G3X