Dynon Certified Update - Bonanza 35 Series Now STC Approved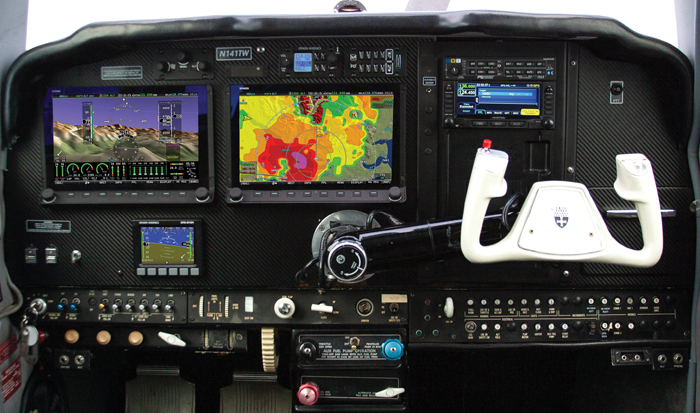 Dynon's certified SkyView HDX system is now STC and PMA approved for installation into the Bonanza 35 series, ushering in a new era of truly affordable, safety-enhancing integrated avionics systems for thousands of aircraft.
The Bonanza approval covers Dynon's full suite of avionics, including its three-axis autopilot with coupled approach capability. Pilots benefit from an uncluttered, elegant panel layout that reduces workload, is fun to fly behind, and enhances safety. A Dynon Certified installation is typically 50 to 80 pounds lighter than the instruments it replaces and usually allows the removal of unreliable legacy equipment like the vacuum pump.
SkyView for the Bonanza 35 Series includes the following comprehensive set of features:
10" SkyView HDX display with all required primary flight instruments with integral moving map and VFR GPS Navigator
Three-axis autopilot with coupled approach capability and yaw damper
Engine monitor with CHTs, EGTs, fuel flow, fuel computer, and lean assist
Up to two more additional displays (7" or 10" SkyView HDX display)
COM Radio
Mode S Transponder with 2020-Compliant ADS-B Out
ADS-B In Traffic and Weather
EFIS-D10A back-up flight display
The SkyView HDX Approved Model List (AML) now covers Bonanza P35, S35, V35, V35A, and V35B models. Dynon expects further approvals for both single and twin-engine aircraft in the coming months.