Avidyne Announces MLB100 ADS-B IN Datalink Receiver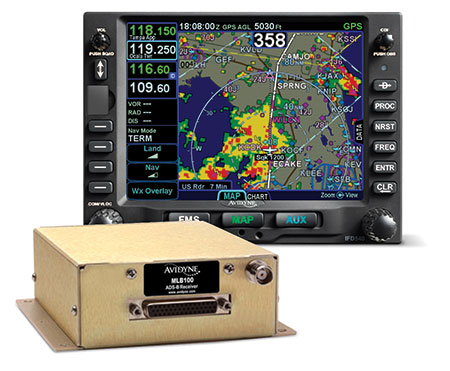 Avidyne Corporation introduced the
MLB100 Datalink Receiver
for ADS-B (Automatic Dependent Surveillance-Broadcast) IN. The MLB100 is designed to provide ADS-B traffic and Flight Information System-Broadcast (FIS-B) weather information for display on Avidyne's new IFD540 and IFD440 FMS/GPS/NAV/COMs, as well as EX600, EX500 and EX5000 Multi-Function Displays (MFD).
The MLB100 brings ADS-B traffic and FIS-B weather to the market for Avidyne consumers. The AXP340 Mode S Transponder provides ADS-B OUT to comply with the 2020 mandate, and the MLB100 gives U.S.-based customers a low-cost ADS-B IN solution for traffic, plus the ability to receive weather data without the monthly subscription costs associated with other broadcast systems. The addition of the MLB100 gives Avidyne a full portfolio of ADS-B solutions to meet the needs of customers flying in NextGen airspace in the U.S. and around the world.
About the MLB100
Using the 978MHz datalink frequency band, the MLB100 receives Flight Information System-Broadcast (FIS-B) weather information, including NEXRAD radar, METARs,TAFs, AIRMETs, SIGMETs, Special Use Airspace (SUA), and Temporary Flight Restrictions (TFRs). The MLB100 also receives traffic information directly from nearby 978MHz-equipped aircraft, and indirectly through the rebroadcast of 1090MHz-equipped aircraft via 978MHz ADS-R. Traffic information from aircraft not participating in ADS-B is received from ground stations via 978MHz TIS-B transmissions (Traffic Information Service-Broadcast).
Avidyne display systems that are already in service will require a field-loadable software upgrade to accommodate the MLB100 data stream. Announcements regarding certifications and software upgrade availability for each specific display type will be forthcoming.
ADS-B Products from Avidyne
In addition to the MLB100, Avidyne also offers the panel-mounted AXP340 Mode S Transponder with 1090MHz Extended Squitter for ADS-B OUT. Full reception of ADS-B IN traffic information by the MLB100 from ATC (ADS-R and TIS-B) requires an ADS-B compliant Mode-S ADS-B Out Transponder and approved position source (such as Avidyne AXP340 and IFD540, IFD440). Avidyne has also announced 1090MHz ADS-B IN capability for their TAS600A active-surveillance Traffic Advisory Systems (TAS-A Series).
Pricing and Availability
The MLB100 Datalink Receiver has a retail price of $2,495 and will be certified and available in early 2015. Connector kit and Mounting Tray are included. Antenna is sold separately.