Becker Avionics
Becker Avionics has a history of over 50 years in providing equipment to General and Corporate Aviation.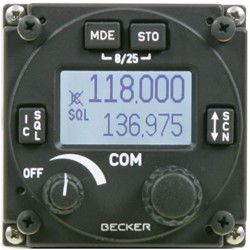 VHF/AM Transceiver
Becker Avionics Part #: AR6201
The AR6201 VHF transceiver is smaller and lighter than the legendary AR 4201 due to implementation of state-of-art Digital Signal Processing technology. Its full graphic LCD is sunlight readable and dimmable for night operation. TSO Certified.
View More