Step up to the world of premium ANR headsets with the value-priced Sierra. Picked as the "hands-down favorite" in Aviation Consumer's real-world test of budget ANR headsets, Sierra delivers the comfort, quiet, and advanced features you've come to expect from Lightspeed.
Active noise reduction (ANR) and Bluetooth connectivity bring top-of-the-line features to Sierra. Plush ear seals and sturdy fiber reinforced polymer construction add to Sierra's durability. Bluetooth for audio devices and ComPriority™ enrich your flying experience. A reversible headband design allows microphone placement on the left or right. Sierra is everything you've been looking for in a budget-priced premium ANR headset.
Sierra is now compatible with FlightLink, the first in-flight cockpit recording application for the Apple iPad® and iPhone®.
NEW — Full Bluetooth® Integration. Enjoy excellent call clarity, music fidelity, and wireless access to critical audio alerts from aviation apps on mobile devices.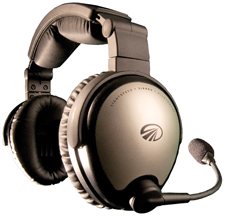 At 16 ounces, Sierra includes plush ear seals and solidly designed ear cups for extended comfort and durability.
Never miss important radio communications with patented ComPriority which lowers the volume of any auxiliary device automatically during radio or intercom transmissions.
Sierra's reversible headband design allows microphone placement on the left or right.
Active noise cancellation over a broad range of low frequency noise brings state of the art technology to Sierra.
Sierra's features include ANR, Bluetooth™ connectivity, wired input for audio devices, auto ComPriority, and a reversible headband design that allows microphone placement on the left or right.
Specifications
Headphone Impedance: OFF Mono-180, ON Mono-300, OFF Stereo-250, ON Stereo-600, All @ 1kHz
Speaker Frequency Response (Active): 20Hz to 20kHz (volume sliders max)
Microphone Electret: Bias: 8-16V (Not polarity sensitive), Bias Resistance: 220?-2200?, Dual Aperture Disc
Sensitivity Electret: 20mV-80mV across 8-16V, Bias Re: 94dB SPL input at 6mm
Frequency Response: 200Hz-6000Hz
Maximum SPL for Microphone: 114db
Power Source (Battery): 3V, 2(AA) Alkaline batteries
Maximum SPL for ANR: > 120dB @ 100Hz
Weight: 16 oz. / 453.59 grams
Bluetooth Enabled Phone
Auto Music Mute: Receiving radio communications is a snap with Music Mute which automatically decreases a music player by 80 percent,lessening the chance of missing important interactions.
Power Source and Connectors: Two AA batteries,Dual GA.
Accessories: Carrying case, music patchcord, cord clip,foamwind screen.