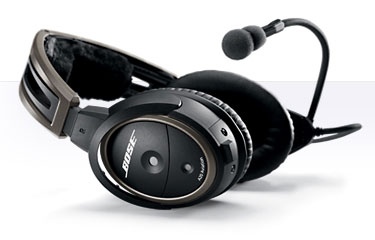 It features breakthrough innovations to reduce noise and provide comfort—without compromising the clear audio you expect from Bose. It also includes an auxiliary audio input and Bluetooth® phone connectivity.
Acclaimed noise reduction, even in loud environments
Comfortable, stable fit with plenty of ear-room
Clear audio for reliable communications
Auxiliary audio input for GPS and other devices; Bluetooth® phone connectivity
Made in the US, meets or exceeds all TSO requirements
Enjoy a peaceful flight
Proprietary technologies in the A20 Aviation Headset reduce noise across the full spectrum of human hearing, even in loud environments. Advanced electronics use microphones both inside and outside each earcup to sense and reduce ambient sound. Watch video. Bose® ear cushion technology helps further reduce unwanted noise. Innovative cushion materials block sound before it enters the earcups, providing an even quieter headset experience.
Comfort for the long haul
The A20 Aviation Headset also provides significant comfort and stability. While the overall headset profile is compact, the earcup cavity allows plenty of ear room. The proprietary cushions provide quality acoustic seals, even over eyeglasses, and remain comfortable during long flights. The solid magnesium headband is extremely durable, yet lightweight, and its sheepskin cushion eliminates hot spots. The A20 headset weighs just 12 ounces and exerts minimal clamping force.
AUX IN and Bluetooth® technology convenience
The ergonomic control module includes an auxiliary audio input with Intercom/AUX priority switching. Many pilots will want to use this for dedicated GPS and traffic warning systems. You can set audio priority to mute the AUX input completely when an intercom signal is detected, or to simply lower the AUX volume appropriately. On select models, Bluetooth® mobile phone connectivity allows you to receive calls wirelessly while wearing the A20 headset. And its enhanced EMI protection helps minimize interference from the mobile phone. Plus, the headset's integrated sidetone provides natural sounding communications when you're on a call and disconnected from the intercom.
For all types of aircraft
The A20 Aviation Headset is available in dual plug, 6-pin plug and U174 plug models designed for use in all types of general aviation aircraft, including helicopters. The 6-pin plug model has a flexible power system for increased versatility using custom adapters. When connected to the optional dual G/A plug adapter, it seamlessly converts your aircraft-powered headset to a battery-powered unit—ideal when taking your headset from one plane to another. Similarly, you can connect the 6-pin plug to the optional U174 adapter to use the A20 headset in helicopters, too.

Significant noise reduction across a wide range of frequencies. Proprietary Bose innovations use microphones both inside and outside each earcup to sense and reduce the sounds around you.

Proprietary ear cushions are compact, yet have a large interior cavity allowing plenty of ear room; redistribution of headset weight also helps provide overall comfort and stability.

Center torsion spring on magnesium headband provides a consistent, comfortable fit for any size head—with minimal clamping force.

TriPort® acoustic headset structure, available only from Bose, produces tonally balanced audio from relatively small and lightweight headphones.

Active equalization electronically tunes the headphones' frequency response, enabling outstanding audio performance.

Adjustable powered microphone can be connected to either earcup and set in a range of stable positions for optimal communications.

Auxiliary audio input on control module for connection to GPS and other devices.

Bluetooth phone connectivity lets you take calls wirelessly through the headset.

EMI protection to minimize communications interference.

Integrated sidetone provides natural sounding communications when you're on a call and disconnected from the intercom.

Smart shutoff helps provide at least 45 hours of use from just two AA alkaline batteries.

Ergonomic control module is easy to use and includes a contoured grip and streamlined interface with high-contrast icons on main controls.

Custom carrying case helps protect headset during storage and transport.
TSO certified by FAA/JAA to meet performance standards for headsets used on civil aircraft. Made in the US, it also meets RTCA/DO-160D and DO-214 environmental requirements.

Five-year transferable limited warranty covers parts, labor and second-day return shipping expenses for non-abuse malfunctions.
Specifications
Dimensions: 8.4"H x 6.3"W x 3.2"D (21.4 x 16.1 x 8 cm)
Weight: 12 oz (340 g)