EXPLORE THE POSSIBILITIES
Create your ideal panel with the advanced, large-format G3X Touch family of touchscreen flight displays for experimental/amateur-built aircraft.

Navigate confidently with built-in VFR WAAS GPS — or pair with optional IFR navigators.

Touch and go. The touchscreen interface blends seamlessly with familiar buttons and knobs.

See your situation with PFD, MFD and highly configurable EIS.

Choose your size. Displays are available in 10.6" landscape, 7" landscape and 7" portrait formats. Then install up to six displays.

Take control. Integrate G3X Touch with your other Garmin avionics to display traffic, weather, radios, audio and more.

Wirelessly transfer flight plans and more by using built-in Connext® technology.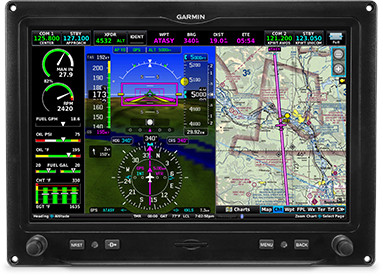 EASY-TO-READ SCREENS
These bright, high-resolution, large-format LCD displays are easy to read and easy to use — so you have a whole new perspective on situational awareness.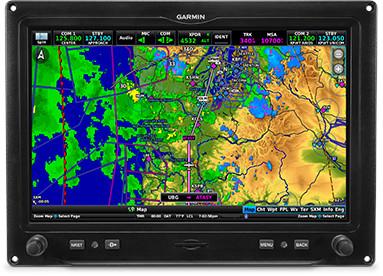 DISPLAY OPTIONS
Choose any combination of up to six of the 10.6″ and 7″ landscape or 7″ portrait displays — or install one display now, and scale up your panel as your needs change.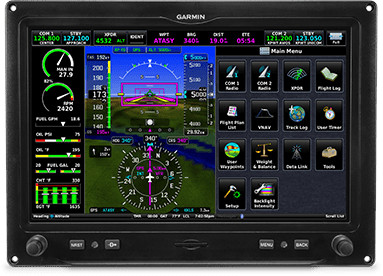 TOUCH AND KNOB CONTROL
Access display functions easily with either touchscreen inputs or the dual concentric knobs — so you can effectively navigate your G3X™ system, even in turbulence.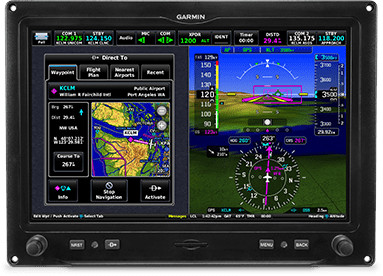 FLY DIRECT
Dedicated buttons on each display's bezel allow you to quickly enter a direct course to an airport — or select from a menu of nearest airports or waypoints.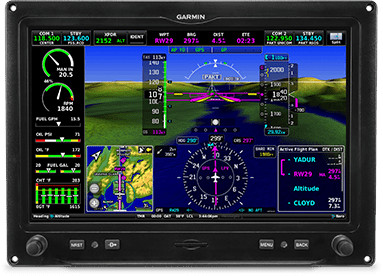 DIGITAL ADAHRS
GSU 25C ADAHRS provides highly accurate and reliable referencing of your aircraft position, rate, vector and acceleration data at a fraction of the space and weight of gyro-based instrument systems..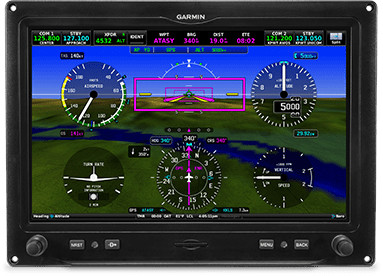 PRIMARY FLIGHT DATA
See attitude, airspeed, altitude, heading, vertical speed and more. Plus, navigate on course with an HSI that accepts VOR/LOC and/or GPS course guidance.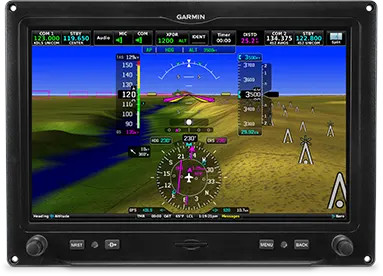 SYNTHETIC VISION
Our standard SVX™ synthetic vision technology enhances situational awareness in all phases of flight by including 3D depictions of terrain, obstacles and airports.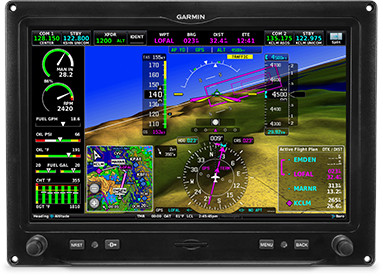 HIGHWAY IN THE SKY
Easily visualize your flight path, including en route legs, course intercepts, glidepath and more, with our pathway boxes.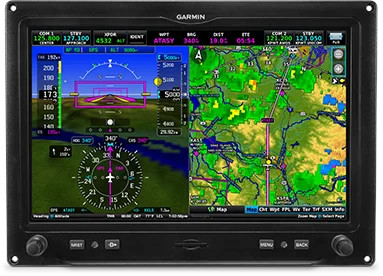 VERSATILE DISPLAY
With a touch, switch from full-screen PFD to split PFD/MFD to put more valuable flight information directly in your field of view. Multiple display installations can also utilize a full-page MFD.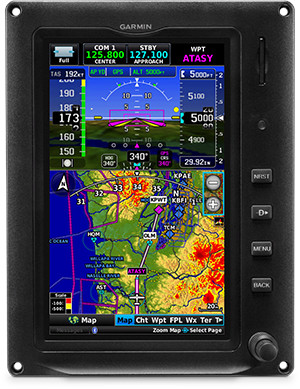 DYNAMIC TOPOGRAPHY
By referencing built-in terrain, mapping and obstacle databases, the G3X Touch flight display shows detailed surface features, cities, airports, SUAs and more on the dynamic map display.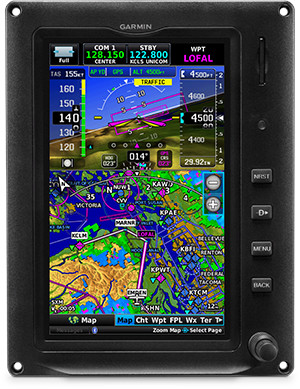 INTERACTIVE MAP
Get all your flight information at your fingertips. Easily pan across the moving map using your finger, or pinch to zoom for more detail. You can also touch anywhere, and, using your current position, the display shows the bearing, distance and time to that location.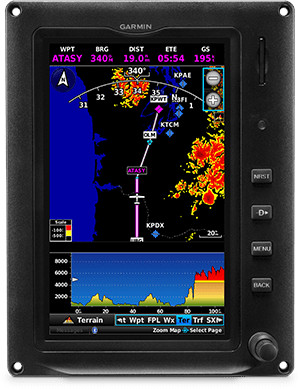 TERRAIN ALERTING
A built-in database depicts terrain and obstacles with color-coded 2D or profile displays — or both — while visual and audible alerts indicate when potential terrain conflicts loom ahead.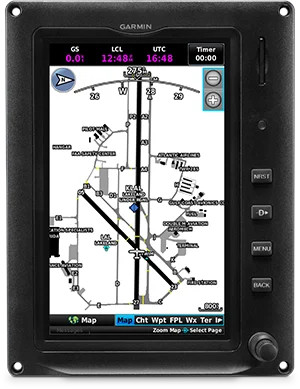 SAFETAXI™ DATABASE
Upon touchdown, our built-in SafeTaxi diagrams help you navigate airport environments safely, with your aircraft position overlaid onto taxiways, runways, ramps and more.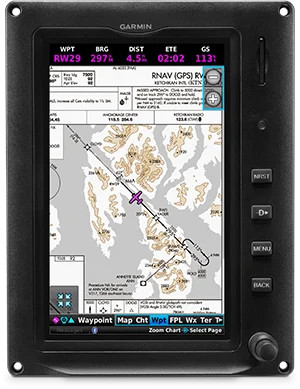 CHARTS IN CONTEXT
Our standard FliteCharts® procedural charts or optional Jeppesen® style ChartView™ plates — available with a subscription — provide georeferenced approaches and terminal procedures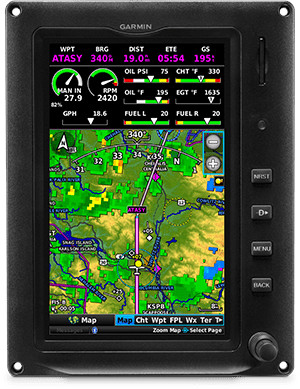 TRAFFIC, WEATHER AND MUSIC
With available Garmin ADS-B "In" solutions, G3X Touch can display up to 60 ADS-B traffic targets as well as subscription-free U.S. weather. Add SiriusXM® satellite weather coverage — including NEXRAD radar — plus listen to audio entertainment1 with a GDL® 51R or GDL 52R SiriusXM receiver (sold separately)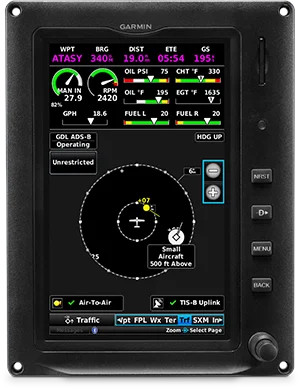 MONITOR TRAFFIC TARGETS
Pair G3X Touch with your compatible ADS-B receiver, and enjoy our proprietary TargetTrend™ and TerminalTraffic™ technologies to more intuitively monitor ADS-B traffic targets in the air and on the ground.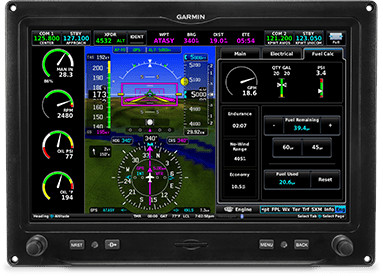 ENGINE INDICATION SYSTEM
Display engine information with the addition of our GEA™ 24 module and appropriate sensors to show engine gauges, color bands, alerts, fuel, flaps, trim and other vital sensor data.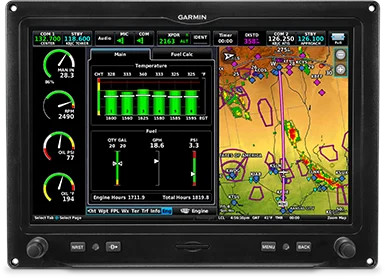 SUPPORTS POPULAR ENGINES
Engine sensor kits are available for most popular engine configurations used in experimental/amateur-built aircraft, or you can manually configure gauges with any electrically compatible sensor (see installation manual for details).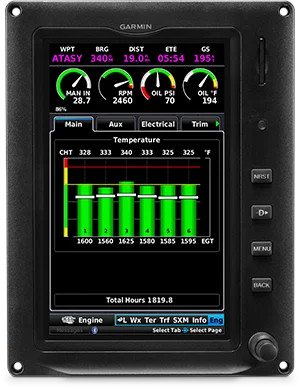 ADAPTS TO YOUR AIRCRAFT
A single GEA 24 module can support piston engines of up to six cylinders and turbine applications, while a second GEA 24 allows monitoring for up to 12 cylinders — including radials and twin-engine applications. It also works with CAN bus interfaces for compatible FADEC engines, such as Rotax® iS series engines.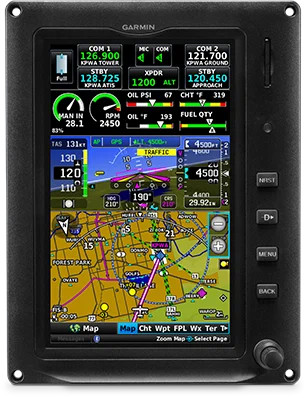 REVERSIONARY MODE
In the unlikely event of a display failure, reversionary mode enables the remaining flight displays — in a multiple display application — to present all essential flight information in a single-screen consolidated presentation.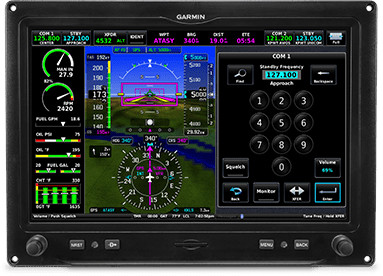 COMMS CONTROL
Add up to two COMM radios (such as the panel-mounted GTR 200 or remote-mounted GTR 20), and simply twist the display knobs, or touch the frequency on the G3X Touch flight display to load it into standby.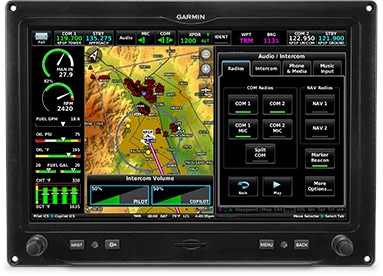 AUDIO PANEL
Control the advanced audio functions of a GMA™ 245 or remote-mount GMA 245R audio panel right from your G3X Touch display.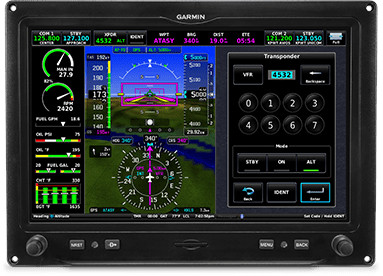 TRANSPONDER CONTROL
Easily enter squawk codes via your G3X Touch to control your compatible transponder, such as our GTX™ 35R or GTX 45R. You can also control a GNX 375 or GTX 345 transponder.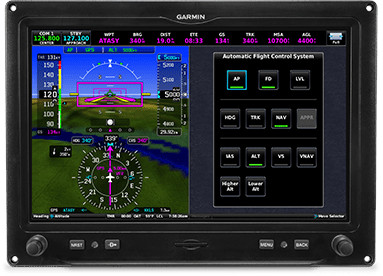 ADVANCED AUTOPILOT
Pair G3X Touch with our affordable G3X autopilot, which offers a silky smooth ride with advanced features such as full coupled approaches, VNAV, auto-trim and our Garmin ESP™ (Electronic Stability and Protection) corrective technology.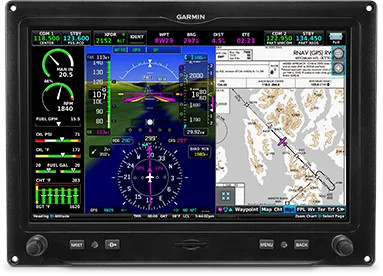 IFR APPROACH CAPABILITY
Pair the G3X Touch display with the GTN™ 650Xi or GTN 750Xi navigators — or the GNX 375, GNC® 355 or GPS 175 navigators — for LPV/RNAV capability, coupled approaches and missed approaches with the G3X Touch autopilot. Also, enjoy full VHF navigation capabilities for complete airspace system access.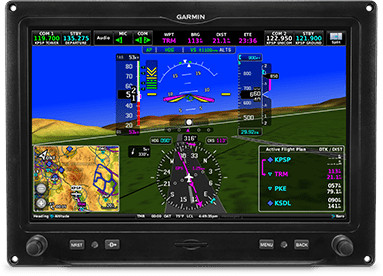 IMPROVE AWARENESS
Add a GAP 26 angle of attack (AOA) probe to be more in tune with your aircraft. See your AOA alongside your airspeed on your PFD, and receive AOA alerting with audible tones.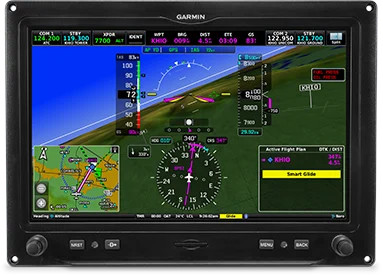 ENGINE-OUT HELP
In case of an engine power loss situation, G3X Touch offers Smart Glide technology2 to help reduce your workload — so you can focus more attention on other tasks during the emergency.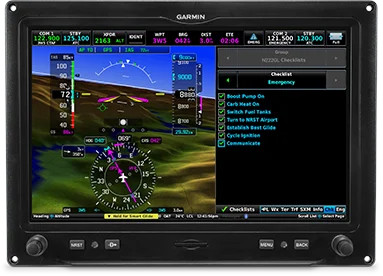 EASY ACTIVATION
The Smart Glide system can be activated with the press of an optional dedicated panel button or through your PFD, with a shortcut to integrated emergency checklists (if configured).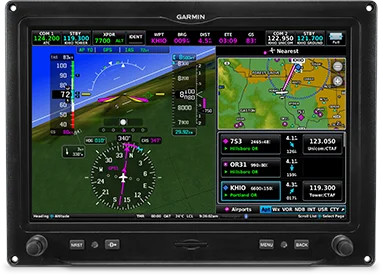 RECOMMENDS AN AIRPORT
Considering the aircraft's estimated glide range (including terrain and obstacles), the system recommends a suitable airport for landing and offers a list of alternatives, or it advises if no airport is estimated to be within glide range.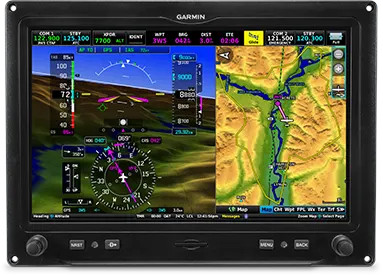 DIRECT-TO ROUTING
If an airport is available, the G3X Touch display creates a Direct-to route to the selected airport. And if you're equipped with a Garmin autopilot, the system will engage navigation and airspeed modes to fly the aircraft near the selected airport.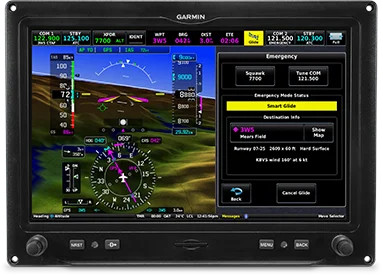 EMERGENCY INFORMATION
Smart Glide provides information for the selected airport and loads the airport CTAF frequency into the G3X Touch standby radio position while providing a shortcut to enter an emergency code in your compatible transponder.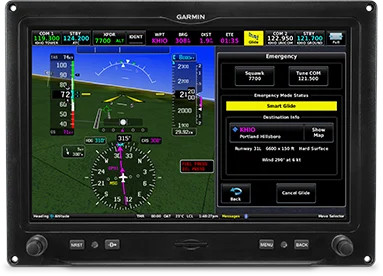 LANDING
Once the aircraft is near the airport, the pilot resumes control and prepares the aircraft for arrival — for example, bleeding off altitude and making the final approach to the selected runway — then lands the aircraft.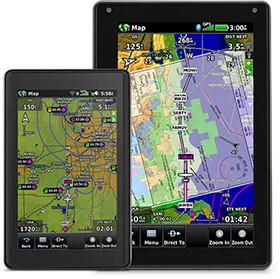 CONNEXT COMPATIBLE
Built-in Connext wireless connectivity makes true cockpit companions of your compatible mobile devices running the Garmin Pilot™ app, FltPlan Go and ForeFlight Mobile apps — as well as aera® 660 and aera 760 aviation portables.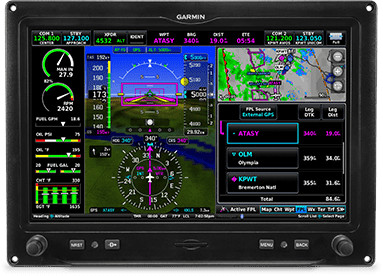 CREATE FLIGHT PLANS
Use your compatible mobile device or portable to create a flight plan in the comfort of your home, office or pilot lounge, and then transfer it to your G3X Touch with a tap.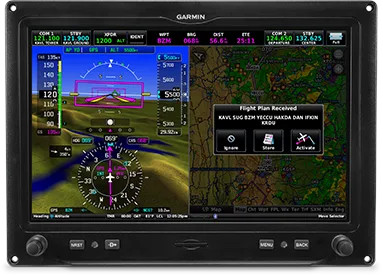 UPDATE EN ROUTE
It's easy to add last-minute or en route flight plan amendments from ATC or because of weather. Simply make them on your mobile device or Garmin portable, and sync to manage your cockpit conveniently and efficiently.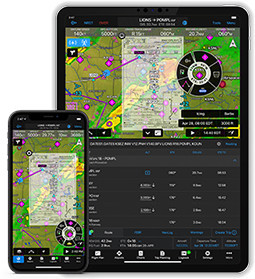 FLIGHT DATA STREAMING
Wirelessly stream GPS, attitude information and EIS data to the Garmin Pilot app by using your compatible GDL 5X datalink or GTX transponder.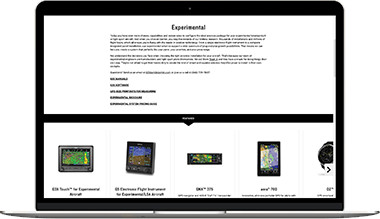 BUILDER SUPPORT
We provide the information you need to complete your G3X Touch system in your aircraft, including complete documentation and live support with Garmin aviation pros. Send us an email to G3Xpert@garmin.com, or call us at (866) 739-5687.
INSTALLATION MANUALS
Download detailed instructions for installing your G3X Touch display in your aircraft.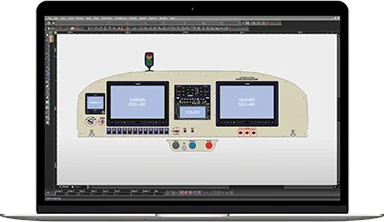 AUTOCAD TEMPLATES
Cut your panel with accuracy by using digital templates for each display in your system.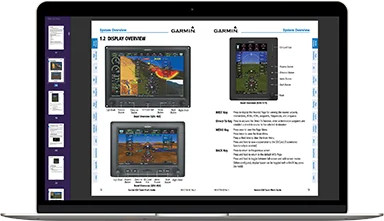 PILOT GUIDE
Everything you need to know to confidently operate the G3X Touch system can be found in our Pilot Guide.