.<%--BEGINCONTROL--%>DISCLAIMERCONTROL<%--ENDCONTROL--%> <%--BEGINCONTROL--%>HOMEROTATOR<%--ENDCONTROL--%>
SarasotaAvionics.com - Aviation's Panel Mount Installation Leader, Featuring Garmin
Aircraft Avionics Sales and Service, Pilot Supplies and More!
Why Do More Aircraft Pilots Choose Sarasota Avionics?
Quality, Service and Price! Sarasota Avionics is the world's leading avionics installation dealer for Garmin avionics, Aspen Avionics, L-3 Avionics, Avidyne, and S-TEC autopilots. With multiple FAA-certified repair stations, we strive to be every pilot's first choice for avionics sales and expert aircraft installation. Other aircraft maintenance and repair capabilities include a full avionics radio repair bench, instrument overhaul, aircraft maintenance, interiors, glass, and paint. As a dealer for all major avionics brands, we sell and install panel mount avionics, aircraft autopilots, flight instruments, pilot headsets, aircraft engine monitors, glass cockpits, portable aviation GPS handhelds, and pilot supplies, along with a huge inventory of reconditioned used avionics.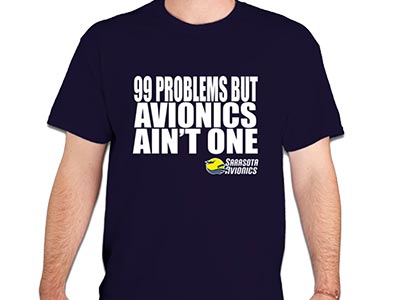 <%--BEGINCONTROL--%>PRODUCTHOMEBESTSELLERS<%--ENDCONTROL--%>
<%--BEGINCONTROL--%>PRODUCTHOMESPECIALS<%--ENDCONTROL--%>
LEARN ABOUT OUR
CIRRUS SERVICE CENTER
Sarasota Avionics is proud to announce the opening of our newest Avionics and Maintenance facility located at the Peter O. Knight Airport on beautiful Davis Island in Tampa, Florida.
Check out our Aircraft Panel Gallery for examples of avionics installations in all types of general aviation aircraft, including Cessna, Beechcraft, Mooney, Piper, Cirrus, as well as light-sport experimental aircraft and helicopters. Please call one of our expert avionics consultants for all your aviation needs, or with a request for quote on the new Garmin GTN series customized for your aircraft. See the NEW GFC-600 Series Autopilot.

<%--BEGINCONTROL--%>PRODUCTHOMEMANUFACTURERS<%--ENDCONTROL--%><%--BEGINCONTROL--%>PRODUCTHOMENEWSLETTER<%--ENDCONTROL--%>