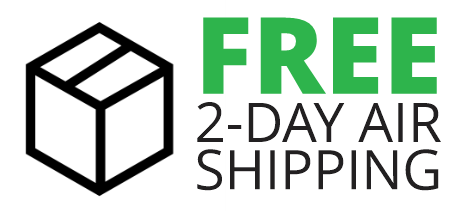 Get it quick!
For a limited time, get FREE 2nd Day Air shipping to the continental U.S. on most orders over $100!
*Only applies to orders placed on SarasotaAvionics.com, and excludes items that are considered hazardous materials which cannot be shipped via air. If an item is not in stock, we will contact you immediately with an estimated ship date.
Pre-Owned Overstock Deals
GTN 750
Complete system
$12,189
GTN 650
Complete system
$9,189
GNS 530W
Complete system
$8,289
GNS 430
Complete system
$4,589
GTX 330ES
Complete system
$2,289
GTX 327
Complete system
$549
ADS-B "Last Chance" Deals
Appareo
Stratus Power/3i Promotion
BendixKing
KT 74
only $2,349
Garmin
GDL 82 Package/Bundles
Garmin
GTX 335 w/GPS Bundles
L3 Harris
NGT9000 Lynx
Low Price
Bose
Free Gift with Purchase
Electronics International
Spring Rebate
Garmin
EIS Rebate
Save up to $2,000
Icom
Save $50-100
off select radios
uAvionix
Gift card with purchase
Yaesu
Save $20-30
off select radios
Aspen
Refurb PFD Bundle: $5,995
Aspen
E5 Promo Bundle: $7,995
Dynon
$100 off D3 Pocket Panel
Garmin
GPS + Indicator Bundles
Raytalk
10% off all cables and adapters
TQ Aviation
Com/Transponder Discounts
True Blue Power
TA102 Lower Price
Trade-in and Upgrade Your Old Equipment
Garmin TXi Upgrade
Trade-in your legacy G500/600


Garmin GTN Xi Upgrade
Trade-in your GNS430/530
or legacy GTN 650/750
Avidyne IFD Upgrade
Trade-in your legacy GNS430/530


Garmin GI 275 Upgrade
Trade-in your GI 106 or KI 206 indicator
Worksheets
If you already know which items you are looking for, our exclusive worksheets are designed to help select specific part numbers and get an immediate quote.
Garmin TXi Worksheet
Certified
Garmin G3X Worksheet
Experimental
Dynon Skyview Worksheet
Experimental
Need some help?
Our proprietary "wizards" assist the selection process with a focus on what functions and features are desired.
Garmin TXi Wizard
Certified
Garmin G3X Wizard
Experimental